Cherry blossoms highlight Wuhan's beauty and strength
Share - WeChat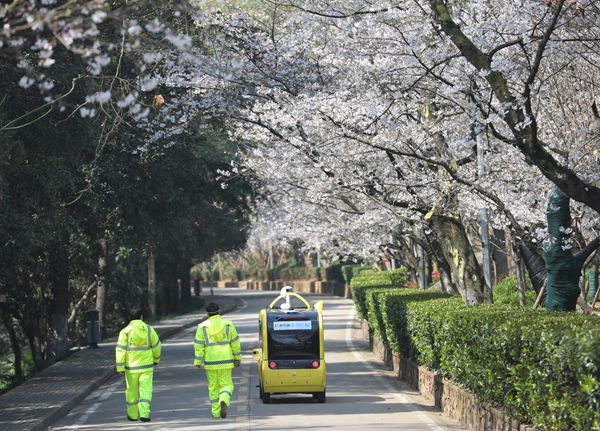 "To see a sea of people is the dream of every cherry blossom petal." The witticism is widely known to teachers and students at Wuhan University, Hubei province.
Every year, tourists flock to the university in March, when cherry blossoms, in full bloom, lush rolling hills and retro-style architecture form a poetic scene.
However, the petals may feel a bit lonely this year, as the university closes itself from outsiders due to virus control, and they may have to "feel" the enthusiasm of crowds through cameras.
Multiple media outlets opened livestreaming coverage of those cheery blossoms on platforms such as Sina Weibo, Taobao, Douyin and news apps during March 16-25. The topic "cloud appreciation of cherry blossoms at Wuhan University" gained about 67 million views and 24,000 discussions on Sina Weibo by Friday.
Although sometimes the live broadcast camera didn't move and the audience were actually watching a still picture, views of the cherry blossoms livestreaming at Wuhan University's official Weibo account still reached over 4.7 million on the first day.
"Cherry blossom is a symbol of Wuhan University, which features the spirit of simplicity, virtuousness, perseverance, openness and inclusiveness," says Long Jiang, a teacher of the university. "It links the memory of students and teachers from generation to generation."
Long, in his 50s, has studied and worked at the university for more than three decades. He said it's the first time for him to see the campus closed. Now he lives with his family in Shantou, Guangdong province, and is waiting for the reopening of the campus.
"The live broadcast shows how much people from around China care about Wuhan and its people, which, to me, is very moving," he says.
Yang Xinyue, 20, an English major of the university, has been at home in Chongqing since early January when all courses in the semester ended. She says it's a pity to be absent from the annual cherry blossom festival due to the outbreak, but the live broadcast fills the gap to some extent.
"I've never seen the Cherry Avenue to be that quiet. It's beautiful, indeed, but I think it's more beautiful with lively crowds," she says. "I hope life can get back to normal soon, and I can see those flowers with my own eyes." Yang, like many college students who cannot return to school, is taking online courses.
Of course, besides being a campus attraction, the flowering cherry blossom is an icon of Wuhan. The number of daily visitors to the university was limited to 15,000 on workdays and 30,000 at weekends last year, recalls Cheng Qishan, a 22-year-old student studying geographic information science in the university.
Cheng worked at the college gate for three years during each cherry blossom season to check visitors. "It's people mountain people sea," she says, referring to an old Chinese saying about large crowds. "Many of them were from outside Wuhan. I met tourists from Hong Kong, Macao and Taiwan, who traveled in groups."
The university allows people to get in and out freely before 8 am and after 5 pm, but there were still piles of people until eight at night, she adds.
On Jan 23, Wuhan was locked down due to the epidemic. And many netizens made a wish to "take off face masks, eat a bowl of hot dry noodles and appreciate cherry blossoms at Wuhan University" when the outbreak ends.
Ma Jiahui, a medic from Jilin province who helped treat patients in Wuhan, wrote in her diary on Feb 4 that she made an appointment with local medical staff, to visit the city and see cherry blossoms next year.
Over 42,000 medics were sent from across the country to Hubei, the hardest hit province, in the fight against COVID-19. Among them, 7,118 medics from 51 teams worked at two affiliated hospitals of the university. It released an open letter on March 8 saying frontline medical staff and their family members are welcomed to visit the campus during the cherry bloom season without having to make an appointment for three consecutive years.
Various cultural and art activities were scheduled to be held during the period, including photography, painting, calligraphy and poem competitions, but these have been postponed this time, says Xie Aobo, a student majoring in humanities.
Now over 1,000 cherry trees are scattered across the campus. Some of the oldest are given by Japanese people in the 1970s, when China and Japan established diplomatic relations.