UK PM pledges to 'turn the tide within next 12 weeks' in fight against COVID-19
Share - WeChat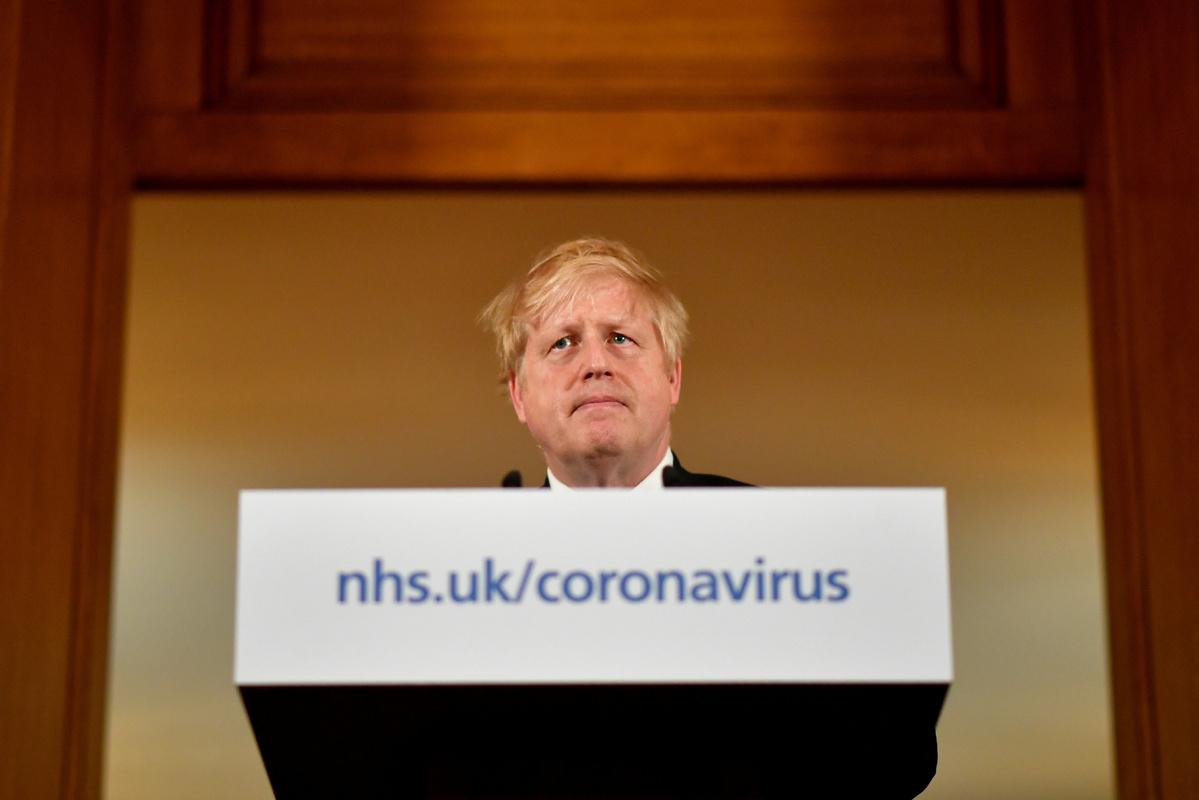 LONDON - British Prime Minister Boris Johnson on Thursday vowed to turn the tide within the next 12 weeks in the country's combat against the novel coronavirus.
"We can turn the tide within the next 12 weeks. But only if we all take the steps that we've outlined. That is vital. That's how we're going to reduce the peak and once we've achieved that, and I think that we will if we take the steps I've said, then the scientific progress that we've been making will really start coming into play," Johnson told reporters during Thursday's daily press conference.
The first COVID-19 patient has been put into randomized trial on drugs that may treat the disease. Britain is getting better at testing whether individuals are having the disease and scientists are "rapidly becoming so much better at understanding" the disease and how to tackle it, Johnson said.
The government is also in negotiations to buy a so-called antibody test as simple as a pregnancy test and can tell whether one have had the disease, said Johnson.
As of 9 am (0900 GMT) Thursday, the number of confirmed COVID-19 cases in Britain reached 3,269, said the Department of Health and Social Care. As of 1 pm (1300 GMT), 144 patients tested positive for COVID-19 have died in Britain.
Responding to the increasing number, a partial shutdown of London underground network will take place from Thursday. The city has seen more cases than other places in Britain.
However, the prime minister said at the press conference that there is "no prospect" of stopping public transport in London, reaffirming that the government wants people to avoid gatherings where they can transmit the disease.
In response to speculation that a full-scale lockdown of London is on the way, Downing Street has clarified earlier Thursday that there is "zero prospect" of any restrictions being placed on travelling in and out of London.
Police will continue to have responsibility for maintaining law and order and there are no plans to draft in the military for this purpose, said a Downing Street spokesperson.
The Department of Health and Social Care also announced Thursday that 1.6 billion pounds ($1.85 billion) will go to local authorities to help them respond to other COVID-19 pressures across all the services they deliver. This includes increasing support for the adult social care workforce and for services helping the most vulnerable, including homeless people.
Another 1.3 billion pounds will be used to enhance the National Health Service discharge process so patients who no longer need urgent treatment can return home safely and quickly, said the department.