Tutoring classes on internet growing in popularity
Share - WeChat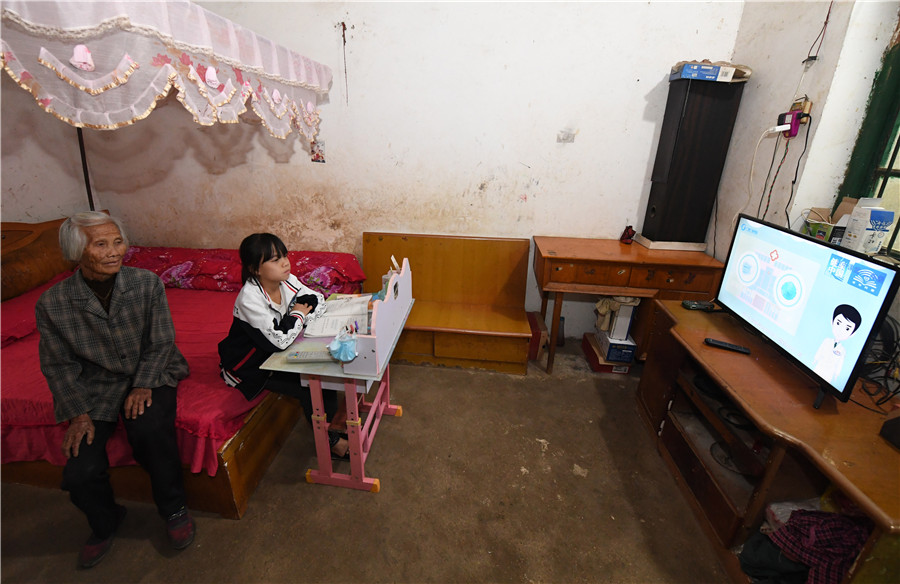 Taking an after-school tutoring class has been a luxury for Xin Yu, a middle school student from Qimen county, East China's Anhui province. With a combined average family income of 2,000 yuan ($288) per month, the top priority of the family is to put food on the table.
"This is life, a class of 100 yuan per hour is of course impossible for us. We've never tried to get more information about after-school tutoring due to our financial limitations," said Xin's mother, who works as a supermarket custodian.
However, the sudden novel coronavirus outbreak seems to have opened a new window for Xin and her family as over 80 educational companies have offered free online livestreaming classes.
While the online education sector is quickly penetrating into nearly every corner in China, it is involving more users from lower-tier cities and totally changing their habits from fully learning offline to partially or wholly learning online.
Since the epidemic outbreak, a string of online education apps including Xueersi and Yuanfudao, which are quite familiar to students in cities, have approached Xin and her mom. Xin has tried one mathematics class on Zuoyebang as math is her weakest subject. She has also taken an online English course on VIPKid as she has never learned with foreign teachers before.
"For us, they are strange but amazing," said Xin's mother. "At first, I was worried that she might not catch up with these online courses as these advanced courses are developed for top-tier students. But the fact is that she can catch up quite well."
The family now tries to use their smartphones as little as possible so that their limited internet traffic packages can be left for their daughter to study online.
Zhang Lijun, an education veteran and partner of Sinovation Ventures, a venture capital firm founded by noted investor Kai-Fu Lee, said: "In the long run, the outbreak will speed up the convergence of online and offline education to reach more students across the country."
Recent data showed that there are around 180 million primary and middle school students in the country, yet more than 73 percent of them live in third to sixth-tier cities and rural areas. Many of them are not able to get access to high-quality educational resources.
"We've also discovered that in many areas, the studying environment is quite tough. Those classes suitable for students in top-tier cities may not suit those from lower-tier cities," said Zhang Mingzhe, a middle school math teacher at Zuoyebang.
"Therefore, we have done our utmost to develop an all-around teaching system, where students from across the nation can well fit in and catch up with the online live lessons," Zhang said.
The latest data from Zuoyebang showed that since 2014, it has accumulated 800 million users from across the nation with monthly active users of its apps standing at 170 million.