Guangdong enterprises on steady resumption track
Share - WeChat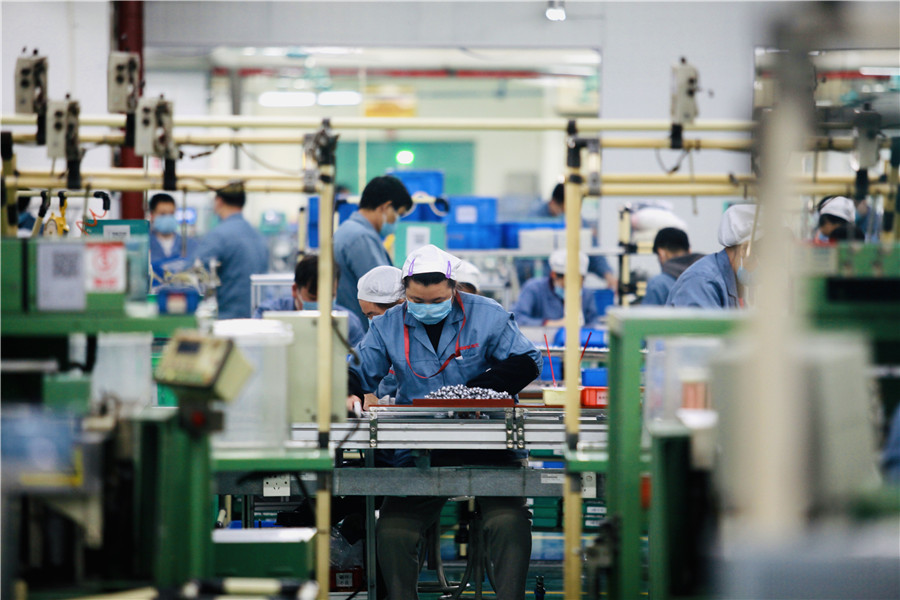 Nearly 94 percent of the 15,000 monitored enterprises in the manufacturing sector in Guangdong province have resumed work as of Sunday, according to the provincial human resources and social security department.
More than 83 percent of the employees in the sector have returned to their positions, with labor shortages mostly for general workers, including equipment operators, packaging workers and tally clerks.
With an eye on the novel coronavirus outbreak, local governments in Guangdong made plans to help employees return to their workplaces while trying to ensure they do not get infected.
To this end, 46 chartered trains and 1,563 chartered buses bound for the province finished their mission as of Sunday, with more such services being arranged going forward.
For Guangzhou-based Guoguang Electronic Co, one of the largest audio equipment and device makers in China, 80 percent of its total staff have returned to their positions, said Board Secretary Zhang Jinhui. Some of those employees were brought back by chartered trains and buses.
The company still lacks about 1,000 employees and the human resources department is looking both online and offline for candidates to fill the positions, Zhang said.
To help the nation's battle against COVID-19 and tap the booming demand for healthcare products, nutrition supplement maker By-Health Co rebooted part of its production facilities in Zhuhai, Guangdong province, in early February to make products like vitamin C for sales and donation.
More than 90 percent of its staff are in position at the Zhuhai facilities, according to the company.
Foshan-based Guangdong Vanward New Electric Co, a water heater and kitchen appliance producer, has managed to operate at 90 percent of capacity. Among the total 1,700 employees of the company, 1,600 workers have returned as of Friday, to workplace to keep company operations running.
The company attributed its fast resumption to support by the local government. The support included chartered bus services, an easing of social insurance payments and subsidies to stabilize employment, the company's HR department said.
"Except for one person from Wuhan, Hubei province, all the other employees returned to their workplaces," said He Zhi, technology director at Foshan Tiandixing Technology Co, a high-tech company specializing in internet technology for vehicles.
Tiandixing leveraged various high-tech methods to mitigate the impact of the epidemic by ramping up efforts in research and development and upgrades, He said.
One of the products developed is in-car sterilization which can be controlled with a mobile phone app and has become a hit on the internet, He explained.
More than 52,000 large industrial enterprises in Guangdong, or 97.4 percent, have resumed production since Feb 10, a report by the Nanfang Daily said.
The companies include instrument and meter firms, computer, telecommunications and other electronic equipment, printing and recording reproduction outfits.
The provincial authority released measures to facilitate the resumption of production on Feb 6 and announced more measures on Feb 26 to help boost the economy.
To help vulnerable small and medium-sized enterprises, the provincial government held a meeting in early March regarding further measures to help the firms overcome difficulties caused by the outbreak.