Trump declares national emergency
Share - WeChat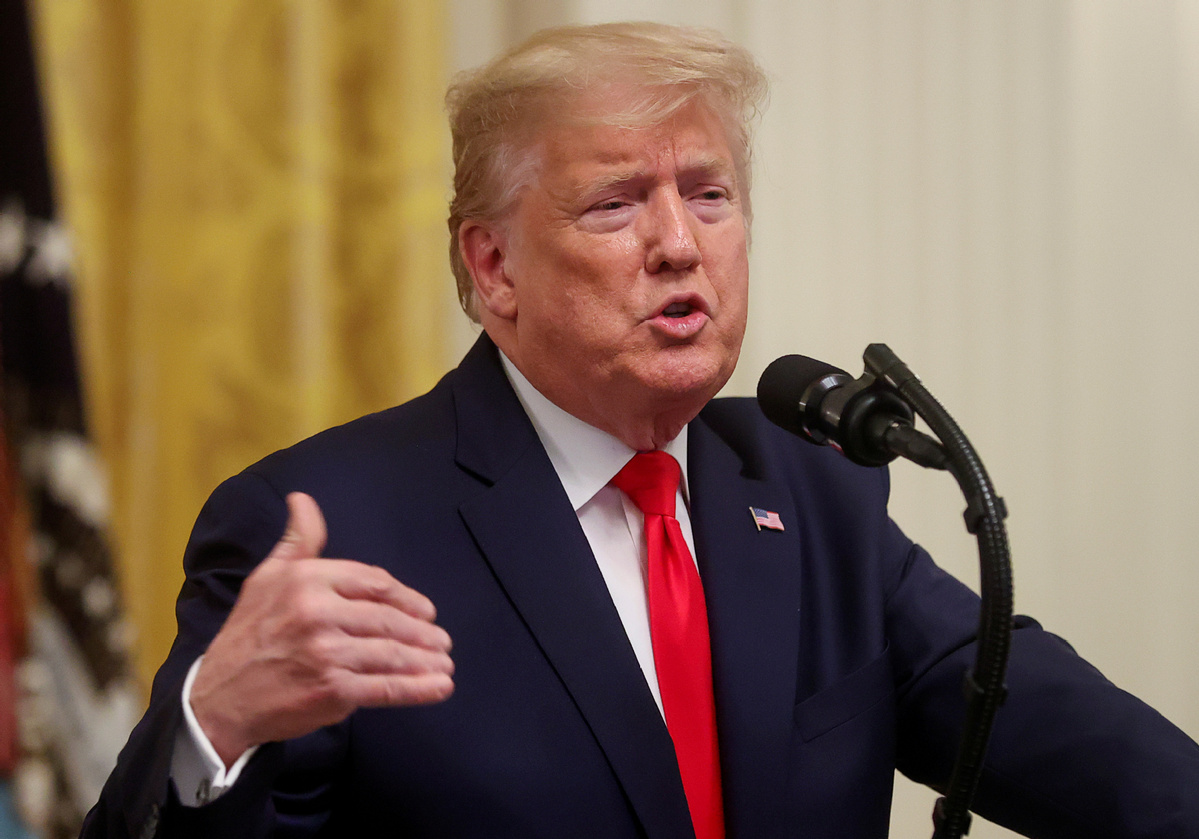 US President Donald Trump declared a national state of emergency on Friday afternoon, a move that will enable federal officials to direct up $50 billion of funds allocated by Congress for disaster relief to address the coronavirus crisis.
"I am officially declaring a national emergency, two very big words," he said at a televised news conference from the Rose Garden.
"This will pass, this will pass through, and we will be even stronger for it," the president said.
As Trump held the news conference, House Democrats moved toward approving a sweeping relief package to assist people affected by the coronavirus, but after days of intensive negotiations with members of the Republican-controlled Senate, it remained unclear whether Trump would agree to it.
At his news conference, he said Democrats were "not giving enough".
Asked by a reporter why the UK has been exempted from his 30-day ban on visitors from Europe when the number of coronavirus cases there have been increasing, Trump said the US may add the UK to the list of European countries affected by the ban that started on Friday and that the US may take some countries off of it. He gave no further details.
Responding to a question about China, Trump said China's numbers showing a decrease in the number of coronavirus cases are "looking good'' and that the US is sharing data with China. He said US drug companies are working very closely with companies in China.
Trump also said on Friday that he will "most likely" get tested for the COVID-19 coronavirus, responding to questions from reporters.
He said he hadn't experienced any symptoms of the disease, but was consulting with his doctors on whether, and when, to do so.
"I think I will do it anyway," the president said, though he didn't commit to sharing the results of a possible test. "We are working out a schedule."
Brazilian President Jair Bolsonaro denied a published report that he had tested positive for the virus less than a week after meeting with Trump at his Mar-a-Lago resort in Florida.
On Friday morning, the Brazilian president himself posted on his social media accounts that he had tested negative for the disease.
Trump confirmed in his briefing that Bolsonaro tested negative for coronavirus and added that members of his delegation at the Mar-a-Lago meeting had "no symptoms whatsoever''.
To declare the national emergency, Trump invoked the Stafford Act, which empowers the Federal Emergency Management Agency to coordinate disaster response and aid state and local governments.
Trump announced plans to partner with pharmaceutical and retail companies to set up drive-through test sites for coronavirus to catch up to a nationwide demand and deliver on the administration's promise for wider access.
"The goal is for individuals to drive up and be swabbed without having to leave your car," he said.
By allowing people remain in their car, health officials say it limits the chance for exposure. Trump said the administration is working with Google to create a web portal to direct people to those locations.
Trump said he was also waiving regulations to allow hospitals to "do as they want. They could do what they have to do".
"I'm urging every state to set up emergency operations centers effective immediately," he added.
Trump said that millions of virus testing kits would become available, but added that he didn't think that many would be needed.
His administration has been criticized heavily over a shortage of tests for coronavirus. Trump promised to increase the number of tests but said administering them to everyone wasn't necessary.
"Our overriding goal is to stop the spread of the virus and to help all Americans who have been impacted by this," Trump said. "Again, we don't want everybody taking this test. It's totally unnecessary. And this will pass. This will pass through and we're going to be stronger for it."
Trump said his order would waive several key regulations.
It will waive rules so that tele-health can be more easily accessed, providing care in ways that won't require patients to come into a doctor's office.