'Stinky' noodles trend amid epidemic
Share - WeChat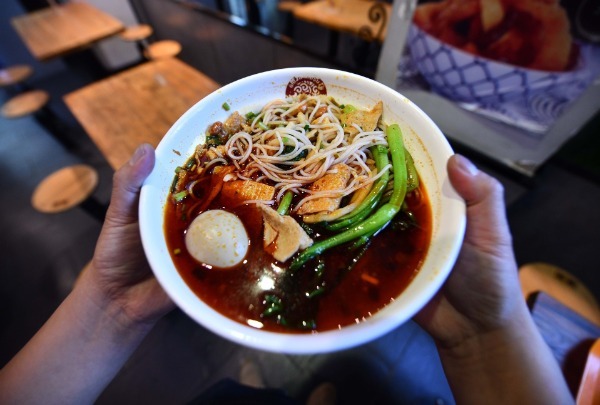 One of the best-selling ready-to-serve food for stay-at-home foodies amid the epidemic in China might surprise many -- an instant river-snail noodle known for its stinky smell, just like the durian.
Its unique flavor has conquered food lovers. "For the first time in so many years, we haven't seen it more popular. We still have orders for 20 to 30 million noodles to be delivered," said a noodle company in Liuzhou, southern China's Guangxi Zhuang Autonomous Region.
The river-snail noodle, or Luosifen, is an iconic dish in Liuzhou, known for its pungent smell.
A combination of Han, Miao and Dong cuisine, Luosifen is made from pickled bamboo, dried turnip, fresh vegetables and peanuts and served in a spicy noodle broth flavored with river-snails.
In its birthplace, Luosifen is usually sold at roadside stands or night markets.
Listed as an intangible cultural heritage for Guangxi in 2008, the dish was featured in one of the most acclaimed food documentaries "A Bite of China" in 2012.
"Sales of famous brands of instant river-snail rice noodles have tripled this year from the same period last year, with an average increase of 70 percent to 80 percent for all Luosifen companies," said Chen Dongwei, deputy director of the management committee of Yufeng District Industrial Park in Liuzhou.
Liu Qingshi, CEO of Liuzhou Luozhuangyuan Food Co., Ltd., said his company has hired more workers, and their daily output has almost doubled from 78,000 packages to 120,000 to meet the soaring demand.
"The river-snails are purchased from local farmers, who live on breeding this kind of shellfish," Liu said. "River-snail breeding has become a featured industry in Liuzhou and brought many farmers out of poverty."
Data released by e-commerce giant Taobao in late February showed that the term "Luosifen" had been searched 3.2 million times a week, and take-out orders of Luosifen also rose by 58 percent year on year.
"The production of the noodles and some ingredients in the upstream industrial chain has not yet fully resumed due to the impact of the epidemic, and it will take some time for new employees to adapt to the work, so it may take us one to three months to fully resume production," said Ling Yunshang, sales manager of Liuzhou Luozhuangyuan Food Co., Ltd.
Chen said that 23 Luosifen producers in the park have resumed operations, with 80 percent of workers back to their posts.
The city has taken measures to ensure safe and efficient production for the producers. "We prepared protective gear and disinfectant and cut down rent for companies," Chen said, adding that the government has also recruited volunteers to help with production.
The city of Liuzhou has donated over 170,000 packages of the noodles to Shiyan in the hard-hit Hubei Province to satisfy the stomachs of local Luosifen fans.
Most Popular