No beef about it
Share - WeChat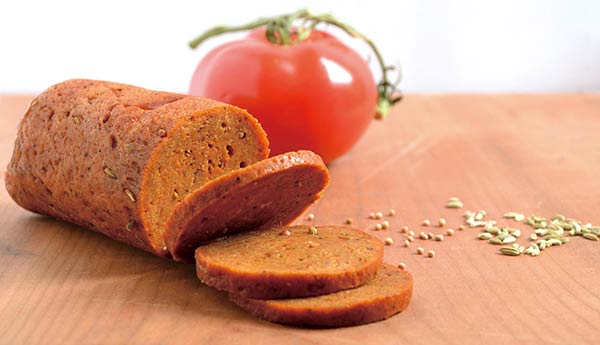 Are you a flexitarian? If you like a nice, juicy hamburger or a curried chicken as much as the next carnivore, but you're reducing your meat intake due to its environmental unsustainability, then welcome to the club.
You've probably already heard (or maybe even tried) those new plant-based protein products that have the look, feel and taste of the real thing. However, I've never sunk my teeth into a fake burger – because I'm allergic to them. Many of these products contain sunflower or coconut oil, which I can't eat.
A friend recently posted his latest attempt at making vegan fried chicken on social media – and that got me intrigued. Could I make a juicy vegan burger at home? I quickly consulted the experts at Google Search and found dozens of recipes for something called "seitan". Seitan is the Japanese word for food made from wheat gluten, but it's apparently the Chinese who invented the concept of fake meat more than a thousand years ago. If you've ever had a plate of fake duck, beef rib and curry chicken as an appetiser in a vegetarian Chinese restaurant, that's seitan. And just like real meat, seitan can be baked, roasted, fried, steamed, grilled and even eaten raw. One of its qualities is that it absorbs the flavours of seasonings that are directly added or in the liquid it cooks in – so pretty much anything you can you make with meat, you can make with seitan.
As a meat substitute, seitan is higher in protein than tofu, and has as much protein per ounce as beef and chicken. It's also high in selenium, iron, phosphorus and a few other essential elements while being low in carbohydrates and fat. On the downside, though, seitan is low in lysine, which is an essential amino acid. It's also unsuitable for celiacs and those who are sensitive to gluten.
For my first foray into homemade seitan, I thought I'd start with something easy. All it took was ten minutes to prepare, plus another 60 to steam, and my vegan pepperoni was good to go. At last, I can enjoy a vegetarian pepperoni pizza or a hearty "meaty" soup with rich smoky flavor.
Now that I've mastered pepperoni, I'm going to turn my sights to more complex seitan fare, such as wiener schnitzel and chicken piccata. My adventure in plant-based proteins has only begun!
Seitan Pepperoni
1½ cups vital wheat gluten
¼ cup nutritional yeast
2 tsp paprika
2 tsp mustard powder
1½ tsp cumin
1 tsp garlic powder
1 tsp cayenne pepper
1 tsp salt
1 tsp ground pepper
½ tsp oregano
½ tsp white sugar
¾ cup cold water
¼ cup tomato paste
2 Tbsp olive oil
2 Tbsp liquid aminos (or soy sauce)
2 tsp liquid smoke flavouring
Mix the dry ingredients in a large bowl. In a separate bowl, mix the wet ingredients. Stir the wet mixture into the dry mixture and combine. (I used my mixer's bread hook to bring the dough together.) Turn the dough out onto a work surface and knead until smooth. Divide in half and roll each into a log that's about 1½ inches in diameter. Tightly wrap in baking paper or aluminum foil, and twist the ends to secure.
Add several inches of water to a large pot with a steamer basket and bring to a boil. Steam for 30 minutes. After steaming, remove the logs and allow to cool to room temperature. Unwrap and store in the refrigerator in an air-tight container or wrapped in plastic. You can also freeze one until you're ready to use it.