Macao's star of spice
Share - WeChat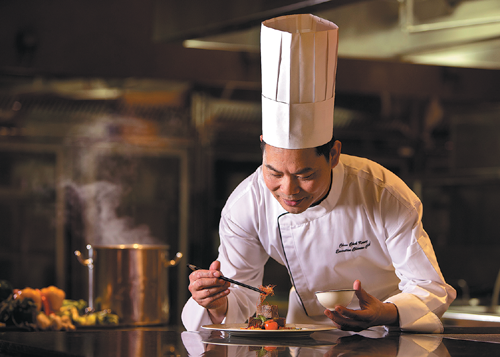 A restaurant focusing on fiery Hunan and Sichuan fare has won recognition from Michelin and diners.
Most of the 90 restaurants awarded by the Michelin Guide Hong Kong Macao 2020 on Dec 17 serve Cantonese fare. But Sichuan-and-Hunan eatery Feng Wei Ju shone as an exception, taking two stars for the fourth consecutive year.
The Michelin Guide inspectors recommend such Sichuan dishes as sauteed chicken with peanuts and chilies, and Hunan-style favorites like steamed carp head with chilies and hand-pulled noodles. The noodles double as tableside entertainment, as diners watch cooks shape them in the open kitchen.
Feng Wei Ju's executive chef, Macao native Chan Chak-keong, started his culinary explorations over 30 years ago, starting with Cantonese cuisine. He began learning about Sichuan fare over a decade ago, when it was difficult to find authentic offerings in Macao.
The chef spent two years traveling through such mainland provinces as Hunan, Guangdong and Heilongjiang to learn about their respective cuisines before opening his restaurant in 2014.
Chan spent eight days sampling everything from street food to fine dining in Sichuan's provincial capital, Chengdu. He also visited rural destinations in the province to better understand the ingredients and seasonings used in the countryside.
"The Sichuan food I'd eaten in Macao was quite different from what I had in Chengdu," he says.
The special administrative region is a melting pot in every sense.
"Macao attracts people from around the world. So, its food is mixed," he explains.
"I want to bring Sichuan flavors to my hometown."
Chan's team has 25 chefs, including several from Sichuan and Guangdong, in addition to a noodle team.
"I not only bring my chefs to Chengdu but also invite Sichuan chefs to visit our restaurant in Macao," he says.
He asks them for advice.
Chan believes the types of spiciness that defines Hunan's and Sichuan's cuisines are quite different.
"Hunan cuisine will make you sweat immediately. Sichuan food is more about numbness," he explains.
He enjoys visiting local markets to find the most-seasonal fresh ingredients.
Chan took his team to Beijing from Jan 8 to 11, bringing diners in the capital his signature dishes, focusing on Sichuan flavors.
He pairs spicy Sichuan fare with light yet flavorful delicacies.
His approach pays homage to a popular saying in Sichuan: "Each Sichuan dish has a unique flavor, and a hundred Sichuan dishes have a hundred unique flavors."
Shredded chicken with spicy sesame sauce is a typical Sichuan cold dish that blends numbingly hot, sweet-and-sour, fresh, salty and savory flavors in each bite.
Pork neck with garlic sauce requires intricate knife work and careful seasoning. The meat is cut into 2-millimeter, translucent slices so the rich sauce can be fully absorbed to make it tender and juicy.
Stewed minced chicken bouillon with matsutake mushrooms is a light yet flavorful soup that's recognized among the"10 classic Sichuan dishes".
Every detail, from controlling the heat to shaping the mushrooms, requires tremendous skill. The result is that the meat and matsutakes become a silky smooth pudding.
Most Popular