Innovations catch attention of both industry experts and lay people alike
Share - WeChat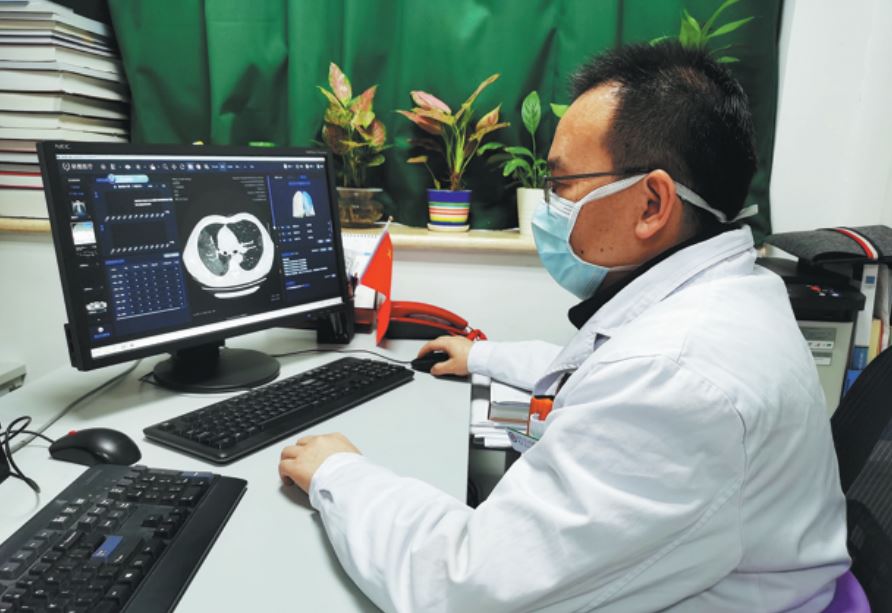 Ever since the novel coronavirus outbreak, high-tech companies in China have been working overtime to make themselves central to the fight against time.
They have tweaked, customized, or innovated their gadgets, appliances, machines, systems and technologies in a variety of ways, to adapt them to the specific needs of the virus fight scenarios.
The following five systems or applications have caught the attention of both industry experts and lay people alike.
AI-powered medical imaging evaluation system
The intelligent imaging evaluation system, developed by Shanghai-based Yitu Technology, has been operating at the Shanghai Public Health Clinical Center since Jan 28 to help with the diagnosis of novel coronavirus pneumonia.
The system uses innovative AI quantitative analysis technology to provide clinical experts with new coronavirus lesion analysis and curative effect evaluation services based on CT images. It provides more efficient and accurate decision-making basis for clinicians and helps in infection prevention and control.
Traditional quantitative analysis performed by humans would require five to six hours. The new AI-enabled system is able to perform the same task in just three seconds or less.
Moreover, the system has been adopted by Union Hospital affiliated to Tongji Medical College of the Huazhong University of Science and Technology, Renmin Hospital of Wuhan University, Zhongnan Hospital of Wuhan University and the First Affiliated Hospital of Wenzhou Medical University.
Another AI pioneer SenseTime has developed a SenseCare smart health platform, which has already been widely adopted by a number of hospitals.
Using image processing technology, the platform assists doctors to analyze images of suspected pneumonia cases and assess the level of lung abnormalities, which improves the efficiency of diagnostic procedures.
It is expected that the application of AI-powered technology in the field of image-aided diagnosis will become a trend in the future.
Drone as disinfectant sprayer, temperature monitor
Farm drones have been converted into autonomous precision-spraying tools. They can be highly effective alternatives to clunky machines to accurately release disinfectants over public places.
DJI, the world's largest commercial drone manufacturer by market share, has pledged almost $1.5 million in aid to help contain the epidemic.
It has also deployed its agricultural drones in certain areas to spray disinfectants. Target areas include factories, residential areas, hospitals, and waste treatment plants.
The aircraft have sprayed disinfectants over 600 million square meters across the country so far. With this solution, spraying efficiency can be 50 times faster than traditional methods.
Moreover, DJI drones have been used for remote temperature detection in many communities and at road checkpoints.
Sticking a cotton swab on the DJI's Mavic 2 Enterprise drones improves the accuracy of measuring a person's temperature by acting as a reference for reducing the thermal imaging camera error margin to 0.5 degree Celsius.
China's largest agricultural drone maker XAG has also provided its drone users with technical support to properly carry out aerial disinfectant sprays, especially in rural villages with weaker health systems and poorer sanitation.
Operations will target densely populated outdoor areas like public places, and communities that have confirmed or suspected cases of coronavirus infections.