Innovations catch attention of both industry experts and lay people alike
Share - WeChat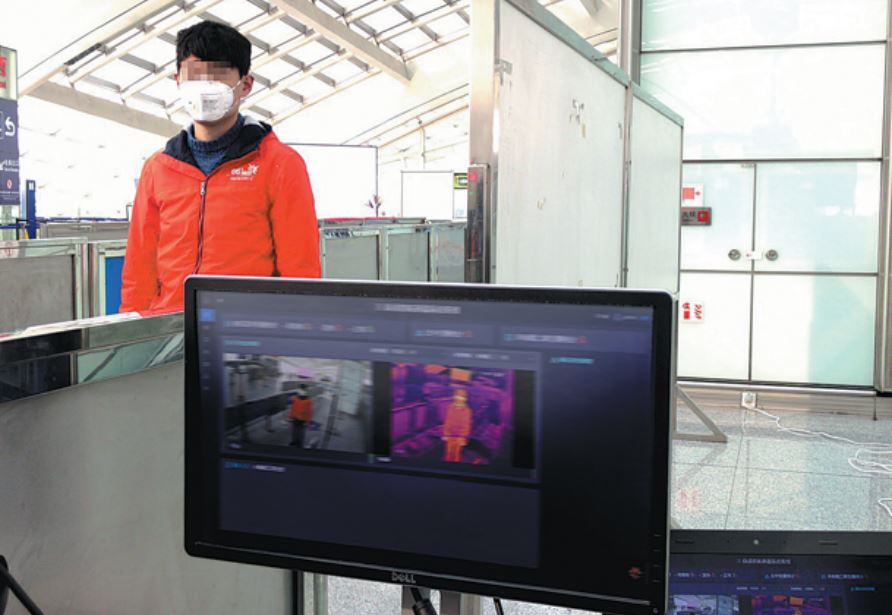 Non-contact remote temperature screening
As body temperature measurement is the key to containing the further spread of the novel coronavirus, Chinese artificial intelligence or AI companies have come up with cutting-edge solutions that can rapidly detect people with fever in a crowd.
Both SenseTime and Megvii have developed their own facial recognition algorithms and thermal imaging temperature measurement technologies to launch their AI-enabled intelligent epidemic prevention solutions.
The AI-powered thermal cameras have now been deployed at airports, railway stations, subway stations and bus terminals, as well as office buildings, to help detect in a crowd those people whose body temperature exceeds 37.3 C.
Liu Ruiwei, a senior product manager of Megvii, said the system it developed supports non-contact remote temperature screening from a distance of 3 meters.
The system's margin of error is within 0.3 degree Celsius, Liu said.
It can send fever alerts for up to 15 people per second. Even at crowded subway stations, only one employee is required to work on-site, further reducing the risk of infection, he said.
"In light of the large group of returnees to major cities after the extended Spring Festival holiday, we built a team of about 100 people before the Chinese Lunar New Year started, to develop the system. With the help of AI technology, we can track the whereabouts of people with fever as well as their close contacts," said Liu.
Remote work and smart community management
Chinese tech powerhouses have added new functionalities to their popular mobile apps to both facilitate remote work and neighborhood management from afar.
Tencent Holdings Ltd and Alibaba Group Holding Ltd have seen that the usage of remote work apps skyrocketed as people use these apps for long-distance, real time communications.
Tens of millions of white-collar workers work from home these days to dodge the potential bullet of the novel coronavirus epidemic in public areas.
These apps support conference calls, file transfers and data-sharing, notice distribution, as well as collection of information on employees' health status.
Targeting the online education industry, Tencent's WeChat Work also enable notifications to parents so that they receive messages from teachers in a prompt and timely manner.
More than 12 million students from around 20,000 schools across China are now taking online courses on the Alibaba's DingTalk app.
For its part, Tencent introduced an electronic exit and entry system at residential compounds by using Tencent Haina, a smart community management system.
Operations started this month. The service allows property management teams to keep precise track of people entering and leaving the neighborhood, including the time, frequency and their health conditions.
A suite of similar mini-programs embedded in digital wallet Alipay was launched earlier this month.
The mini-programs assist residential property management teams with a range of issues, such as the reservation of masks, outbreak notifications, as well as exit and entry logging.
Both WeChat and Alipay have also unveiled a health recording system that can be activated by simply scanning a quick-response or QR code.
This helps the government to have a better overview of people's health condition for the purpose of containing the spread of the novel coronavirus.
Cloud computing for R&D of new drugs, vaccines
Chinese internet search giant Baidu Inc is mobilizing its genome research capabilities to fight the novel coronavirus epidemic.
The company announced that it is making its gene sequencing algorithm available to scientists, as the secret to stop the spread of the novel coronavirus is hidden in its genome.
Baidu Research has offered the LinearFold algorithm for free, along with a dedicated computing website, to gene-testing agencies, epidemic control centers, and research institutions not just in China but around the world.
Baidu says this algorithm can significantly speed up RNA structure prediction. Baidu Research's AI scientists have used LinearFold to analyze the secondary structure of the novel coronavirus' RNA sequence in only 27 seconds, compared to 55 minutes required if you use conventional algorithms.
Chinese AI pioneer SenseTime is using its supercomputing power to assist scientists researching the novel coronavirus. After receiving a request from the National Supercomputing Center in Shenzhen, Guangdong province, for more computing power, SenseTime has allocated 20 GPU server nodes for free to help Luo Haibin, a professor at the School of Pharmaceutical Sciences, which is part of Sun Yat-sen University.
The professor is conducting research into large-scale screening of drugs against the novel coronaviruses and the prediction of virus mutations.