Online sector is the height of fashion
Share - WeChat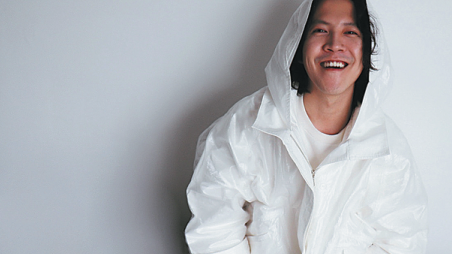 Independent designer Meng Yueming wears a re-designed jacket with enhanced protective functionalities, which he released on Feb 19. CHINA DAILY
Spring for the fashion industry is bringing an unseasonable winter chill. The novel coronavirus outbreak has seen many offline stores close temporarily amid labor shortages and most logistics services are suspended. Fashion brands and products are unable to reach consumers.
Operations of offline stores are in dire straits.
Women's clothing brand Eifini said that due to the impact of the epidemic, it has decided to temporarily close about 1,300 offline stores, accounting for two thirds of its total number.
Some international clothing brands have also made corresponding adjustments.
According to newspaper, China Business Herald, a GAP Group representative said that it had decided to temporarily close its head office and factories in China. Some stores will adjust opening hours as needed, and some will close. Fast-fashion brand H&M's 13 stores in Wuhan, Hubei province, the epicenter of the epidemic in the country, have all been closed.
Jeans brand Levi Strauss has closed around half of its stores in China, including the biggest flagship store in Asia, which was newly opened in Wuhan. Harmit Singh, chief financial officer of its parent company, said that the brand's performance will be affected to some extent in the short term. The down jacket brand, France Moncler, has temporarily closed one third of its stores in China. It also found the traffic flow in the shopping malls, where its stores remain open, has also been reduced by about 80 percent.
In an article published by Sohu Business news platform, Xu Weidong, the former planning supervisor of fast-fashion brand Metersbonwe, claimed that cash flow and inventory problems are two of the main obstacles facing businesses.
"As the winter of 2019 was warmer than usual, the dead stock of winter clothing of the entire Chinese clothing industry is already quite large. Also, March to May is a peak period for spring and summer sales, and also the time for fall and winter order fairs. Enterprises are now facing serious challenges as factories and offline sales are extensively closed and blocked," Xu said.
Min Guangye, a fashion retailing specialist, told China Business Herald that as brands are now closing physical stores, but still facing rent and employment outgoings, such a situation will be a fatal blow for brands with lower operating capabilities and cash-flow problems.
Beijing and Shanghai Fashion Week, which were due to start from March 25 and 26, respectively, are now delayed with a rescheduling date unknown.
Not surprisingly, fashion shows held overseas are missing out on Chinese participants.
Chinese brands Mashama, Shiatzy Chen, Uma Wang, Jarel Zhang, Calvinlou and Maison Mai canceled their shows during Paris Fashion Week.
At a publicity event for Burberry during London Fashion Week, Chinese film star Zhou Dongyu, who is also the brand ambassador, and some invited guests, including actor Chen Kun, didn't show up.
According to a news conference held by National Chamber of Italian Fashion on Feb 4, 80 percent of the Chinese names on the guest list ditched Milan Fashion Week events due to the coronavirus outbreak, including more than 1,000 Chinese designers, buyers and journalists.
China accounts for over a third of global luxury consumption and the crisis has already cost Italy's fashion sector millions of euros, the media reported.
As a result of Chinese skipping fashion week events, domestic brands have to handle declining sales and publicity and local designers are unable to present new collections to foreign buyers. This will run into next season's ordering schedule.
Consequently, online sales are now the core battlefield.
Local brands including Peacebird, Semir, La Chapelle and Eifini are trying to increase sales through daily livestreaming, and some brands, including Dazzle, opened online stores on WeChat, one of the popular Chinese social media platforms.
Peacebird launched a variety of sales models during Spring Festival, such as discounts and live broadcasts on its online shopping platform, inviting fans to "cloud shop".All products purchased will be delivered through SF Express.
Some clothing enterprises, such as Yongor, Erdos, Saint Angelo and Huafang, temporarily shifted their focus to producing medical protective clothing and masks.
Independent designer Meng Yueming, 29, released a re-designed jacket with enhanced protective functionalities on Feb 19 through his personal social media. Originally from Shanxi province, Meng is now based in Beijing running his personal fashion brand KZ Ksiezyc.
The jacket was first launched as part of last year's spring and summer collection. It's made with waterproof polyester fiber, which allows the wearer to disinfect it with ethanol spray without wetting the cotton inside. Meng also lengthened the collar and added a brim to the hood to meet people's need to cover their bodies as much as possible.
"I already canceled my booth at Shanghai Fashion Week. Due to the severe epidemic, we are not able to present our designs through offline channels. Many designers I know decided to skip their fall and winter collection this year, because we don't know how long the epidemic will last, and how much time it will take for the market to recover," he says.
Meng claims that it's a very bad time to develop a fashion business, or simply just to keep one running. In the short term, he will focus on producing a themed collection which includes only 7 or 8 pieces, hoping to create some best-sellers.
From a logistics perspective, when there is a shortage of delivery staff, consumers begin to feel anxious about making purchases that may take a long time to arrive at their homes.
Min predicts that after the epidemic, diversified sales channels, such as live broadcasts and community marketing in the clothing industry will heat up; offline store operations and the establishment of new stores will be more scientific, and more cautious.
xuhaoyu@chinadaily.com.cn
Most Popular