Mythbusters look for nature's truths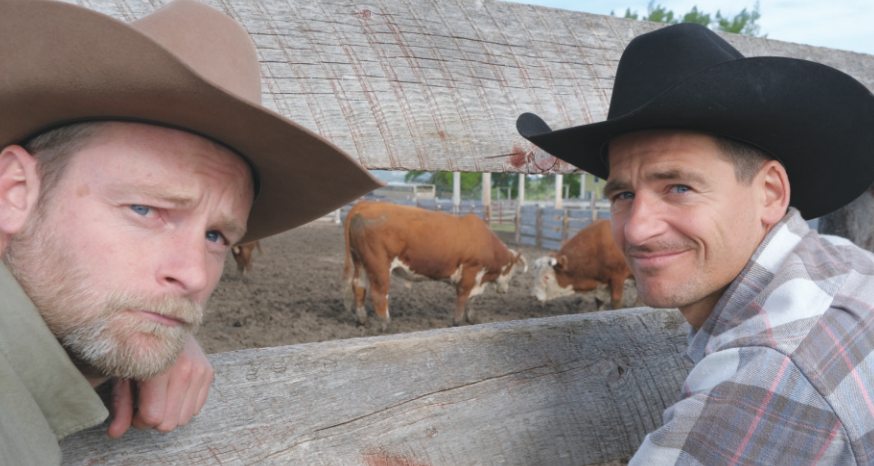 China Mobile's video platform MIGU Video has teamed up with the BBC's world-renowned Natural History Unit for an unlikely sounding new series in which some of the natural world's most widely-held myths and assumptions are put to the test by two former professional snowboarders in a show called Animal Impossible.
Fronted by Tim Warwood and Adam Gendle, the show takes viewers on a global tour to uncover the truth about such debated points as what is the best way to escape from a shark, is spider thread stronger than steel, and how to deal with being confronted by a bear.
"It's a straight-forward idea, mythbusting things in the animal kingdom that we take for granted," producer Ben Roy told China Daily. "How do we know these things, who has ever proved it? We send the boys off to find out. They're not animal experts so the audience is learning with them, and along the way they turn up some truths which are even stranger than the myths we began with.
"It's very traditional BBC Natural History Unit content, but presented in an entertainment-skewed way, so we hope it will appeal to all people and hopefully you come away with a new respect for the natural world."
The format is simple which, longterm, gives it great adaptability. "We take ideas like an eagle can pick up a child, an electric eel is strong enough to kill a human, that sort of thing, and put that to the test, and see what we learn along the way," said Warwood.
Transmission details are not yet confirmed, but the show's 10 episodes take the presenters all over the world, in search of adventure and answers. "We went to Morocco, Germany, Costa Rica, the United States, all over the place, but China really stood out," said Gendle.
"Neither of us had been anywhere like that before. We had a fantastic experience there, and to go to the panda reserve when we were making our episode about bears was mind-blowing."
The culture clash of some of the world's most experienced wildlife photographers working alongside two former adrenalin sports competitors may seem significant, but Gendle said it was helpful.
"It really was two worlds thrown together, but I think seeing things from our perspective, for the first time, rather than working with an expert who knows it all, maybe revitalized them," he said.
Once the concept was explained, Roy said, MIGU was very quickly on board. "They had a previous relationship with the Natural History Unit, and when this was floated, they loved it," he said.
"It shows the universal global appeal of the show, anyone, anywhere in the world can get the idea. They were a good check on us too, in terms of thinking globally-sometimes the guys would make jokes or use references that would be familiar to the British audience but not overseas, so they made us more aware of avoiding that, which was helpful."
Each episode ends with a big stunt, as a theory is put to the test, and that is when the presenters' friendship emerges most. "My most adrenalin-pumping moment was in the episode where we tested the strength of spiders' thread, and I was dangling 300 meters over a canyon on a rope made of spider silk," said Warwood. "And the funniest part was in the electric eel episode, watching Gendle get tasered. I couldn't stop laughing."
"That's our way of dealing with things," added Gendle. "When I was swimming with a great white shark, Tim was giggling. It happens naturally between us."
The presenters' distinctive approach seems ideal for what promises to be a show that is equally big on entertainment, knowledge-and thrills. "There's a unique dynamic between these two, from 25 years of friendship," said Roy. "One gets scared and the other one laughs. You can't fake that."