Foreign students experience care, concern during epidemic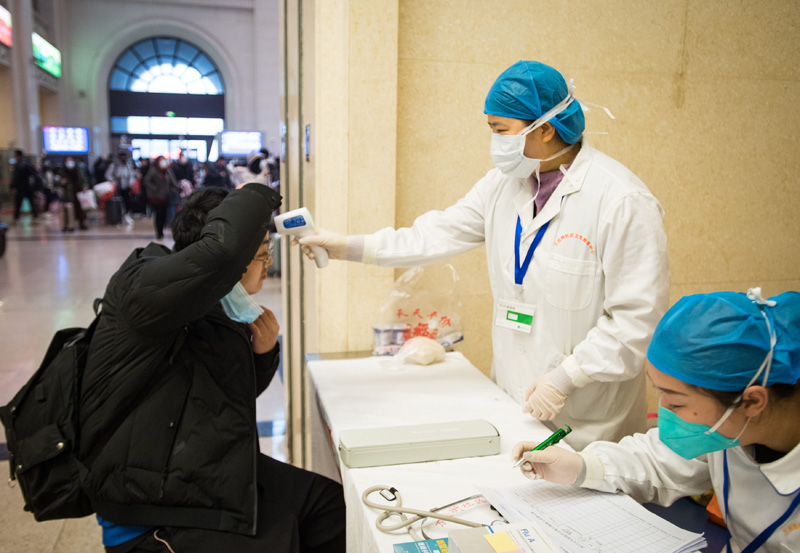 Before the start of the coronavirus epidemic we had a great time in class at my university. Later, after the semester was over, few students from the class went back home to meet their families during Spring Festival. Almost 40 students remained at the university with "a great dream", planning to explore different parts of China, including Changsha, and other business cities, like Guangzhou, that we have seen on the map and heard about in stories. We really wished to celebrate Spring Festival in China and experience the rich culture. We could only imagine the great moments that ahead of us, like making dumplings, posting spring couplets and, having New Year's Eve dinner. We were very excited.
Just few days after finishing our examinations, the novel coronavirus emerged, which turned all winter vacation plans and dreams to nothing.
The start of the epidemic was a huge disappointment accompanied by a lot of anxieties and fears. This was all because we were away from our loved ones and families in a new country and had to face this epidemic. In the beginning life was not very stressful because we could go out shopping, visit friends, and enjoy fresh air in the sunshine outside. We realized that this situation was getting serious when we saw news showing that the number of people being affected was increasing each day. Later we came to understand that it was not a simple epidemic when we saw the government taking serious measures, including building a special hospital for this epidemic, restricting movement of people, especially in its source, and restricting public transport in different parts of the country to make sure that the epidemic would not affect a larger number of people. For us, things changed when we were asked to go out with a mask on and only when we had serious needs could we go shop and keep stocks of food for more than a week.
The worst experience came when we received a notice from the university that we could no longer leave the dormitories, which was done in the best interest of our health because the number of cases had increased and going out could place us at great risk of contracting the disease. Our rooms were the only safe place to stay, thus we had less time to even visit friends' rooms inside the dormitory. Anxieties and stresses increased when we communicated with our families, who were receiving a lot of news from untrusted sources. They were calling every day as they were always very concerned about our health and the whole situation of the epidemic. Our life schedule during this period of the epidemic can be summarized in 4 letters (SELS) Sleep for long hours, Eat, Little socialization and Sleep.
To be honest this period has been frustrating and exhausting socially, emotionally and academically, which was difficult to cope with. It is a lifelong experience and a lifetime story.
However, this has also given us an experience on how China is able to deal with difficult situations like this novel coronavirus epidemic. It seems a very expensive and resource consuming process; restricting movement, conducting quarantines, hospital constructions, stopping business and taking care of its people in all important aspects. Not every nation could manage to do this. The government seems so organized and focused on preventing further spread of this infection inside China and other countries all over the world. This has been one of the biggest reasons that made us believe that China will conquer the epidemic, which decreased our anxieties a bit. Furthermore, we have learned that people in China are very cooperative and follow instructions from the government.
Being nurses we have learned so much seeing news on how healthy professional working staffs, including nurses and doctors, have been devoting themselves to saving people who are suffering from this epidemic. This is putting their lives on the line for others. They work tirelessly day and night away from their loved ones, which is more than solidarity and loyalty. Keep it up China!
Nevertheless, with all the challenges mentioned above, we are still surviving and we would like to express our heartfelt appreciation to the Chinese government, Ministry of Finance and Commerce, Central South University, School of International Education, and Xiangya School of Nursing.
The university has kept us well up to date with new developments about the epidemic and the school calendar, which has given us more confidence.
We have always received a lot of reminders about the preventive measures to stem the spread of the virus and how we must take care of ourselves. We have also, in turn, shared this information with our families so that they know how to protect themselves too.
The university has been providing three meals everyday to us and these meals have been adequate and always on time. The university has also been supplying masks for all the international students on campus and checking our body temperatures daily at least twice a day to ensure early detection of any symptoms related to the novel coronavirus infection.
There has been consistent and continuous cleaning and disinfecting of our dormitories to provide an even more conducive environment for us.
Our mentors have been acting like parents making calls and sending us wechat messages to check on us, providing reassurance and insisting on adhering to preventive measures.
Our personal needs have also been met through our group coordinators who have gone the extra mile in sourcing our groceries and other necessities upon request during the time we stay in dormitories. She and her assistant even created a platform in which we know each of the students on campus or students who go off campus, reporting their health status and so forth. Bravo!
This may seem little but trust me, it has made us cope, develop a positive experience, and feel valued and loved. We really feel at home. What an experience knowing that especially in this hard time, we have people who are so concerned about us.
We cannot ask for another country to study more than China, and no other university more than Central South University.
We all stand with China during the novel coronavirus epidemic.
We all pray and hope that China is strong and will conquer this virus and stay strong always.
God bless China and its people!
Emmanuel Sumari, on behalf of 40 students working on their master's degree in nursing at the Xiangya School of Nursing, Central South University.
Most Viewed in 24 Hours
China Views