Robust growth seen in online fresh food sales
Share - WeChat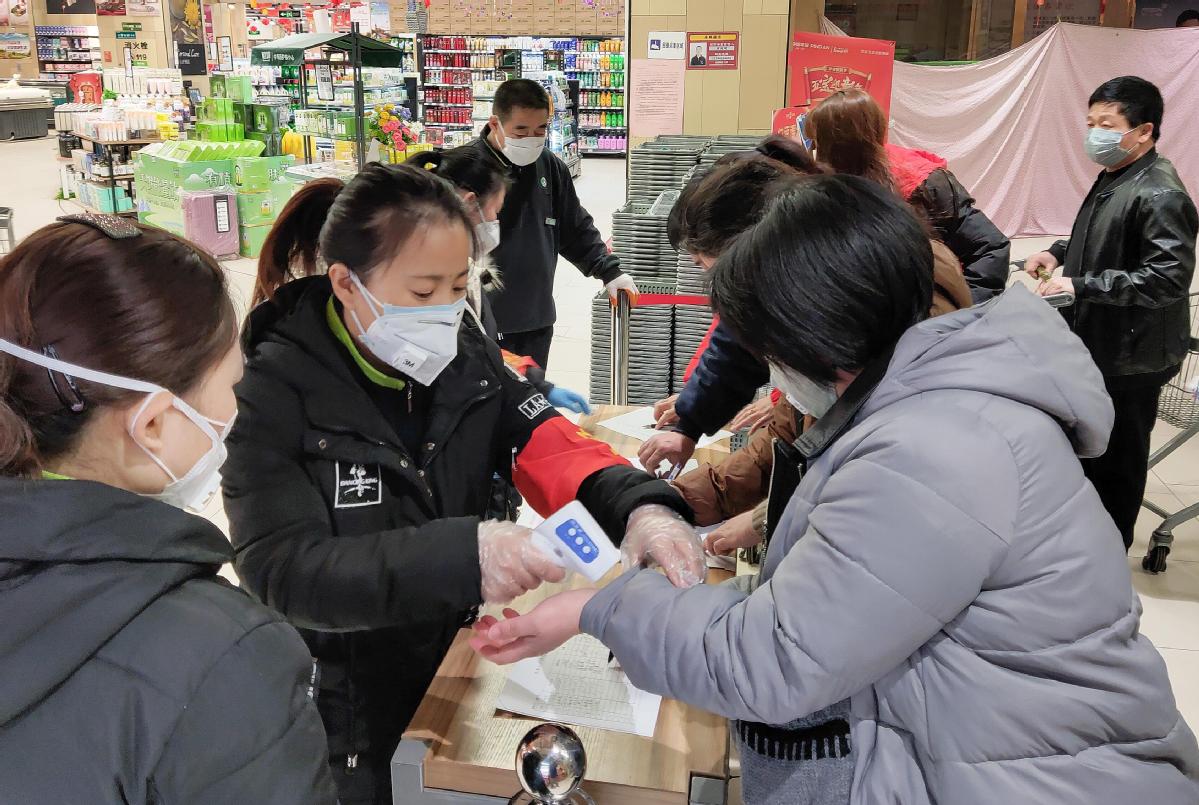 E-commerce platforms witness huge demand as consumers prefer to make daily purchases from home to avoid infections
"The two-week-long home quarantine has forced everyone to be a chef." There seems a touch of dark humor in that sardonic quip.
The reason for that is that the Chinese people are less willing to eat outside to avoid possible infection during the novel coronavirus outbreak, leaving them few options but to cook themselves.
The demand for fresh food, especially via e-commerce platforms, has consequently boomed.
JD Fresh, the fresh food arm of Chinese e-commerce giant JD, reported a 215 percent growth in orders over the first nine days since Lunar New Year's eve, which falls on Jan 24 this year. Online orders in Hema Fresh, Alibaba's fresh food chain, have also witnessed a big surge during the outbreak.
Turnover in fresh food delivery app Missfresh surged by more than 300 percent year-on-year during the Spring Festival holiday. The per customer transaction amount jumped to 120 yuan ($17.1) from about 85 yuan, data from the company showed.
"Due to the outbreak, consumers reduced travel and try to avoid visiting the brick-and-mortar stores. E-commerce platforms providing fresh food are seeing soaring demand," said Jason Yu, general manager of consultancy Kantar Worldpanel in China.
Beijing media worker Gao Jie, 38, made two huge orders online within the 20-day period of living and working at home. It cost about 1,000 yuan in total to ensure food supplies for the four people in the family. Before, she often bought fresh food once a month for about 300 yuan.
There are three big supermarkets five kilometers from her home, but she now prefers to do it online.
"While purchasing a lot of goods at one time, it's convenient to have someone deliver it for you. But most importantly, all supermarkets are in a confined space. It's not safe to stay there searching around for what you need and wait in long lines to check out."
She said she used the app of supermarket brand Walmart and Yonghui, and the WeChat mini-program of Carrefour and Missfresh.
Over the last few years, big investments have poured into the fresh food e-commerce sector. By now, about 4,000 companies are operating in China, with the shared idea to "offer convenience and guaranteed freshness."
As the money flowed in, many companies have prioritized customer acquisition over profitability by offering deep discounts or free small-ticket deliveries. This has resulted in exponential expansion of the market with an annual growth rate of over 40 percent, said Eric Hor, associate partner of global consultancy Prophet.
But about 80 percent of companies are posting losses and only 1 percent are profitable, he said, adding the outbreak would accelerate consolidation and elimination of some firms in the industry.
The business also faces challenges in food preservation, unstable supply chains, product quality, and the high cost of logistics, Wu Jingcao, an expert from Sinolink Securities, told btime.com, a local media outlet in Beijing.
The recent novel coronavirus outbreak might be an unexpected turning point for the industry.
"Since most people need to stay at home, they are 'forced' to try fresh e-tailing for the first time and many people would have formed a new habit of buying fresh food in the past few weeks. Customer acquisition suddenly becomes a non-issue," Hor said.
George Ren, senior partner and vice-president of Roland Berger China, added that before the outbreak, most of the early adopters were the young generation in first-and second-tier cities. "Now other ages and geographic groups have become aware of it and are willing to use online channels for daily fresh goods shopping," he said.
The soaring demand has put those companies to the test since many are not agile enough to cope with the surge throughout the supply chain from sourcing, logistics to last-mile delivery. They are likewise being burdened by the fact that their supply chain and workforce are also being affected by the epidemic, Hor added.