Food delivery feeds recovery
Share - WeChat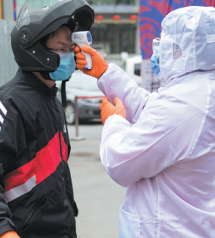 Western-cuisine restaurants in Beijing that had previously focused on fine dining and serving experiences are also starting delivery. Hulu by TRB in the city's Sanlitun area launched lunch and dinner menus for delivery in early February. The entire process from cooking to delivery is done by its own staff.
Many restaurants have also started services selling raw ingredients, including vegetables, meat and eggs. They have plenty in store because of the holiday season. And people prefer to stay home and avoid local markets.
Because many of the delivery people haven't returned to Beijing due to the extended holidays, online fresh-produce-delivery platforms, such as Hemaxiansheng and Jingdongdaojia, are shorthanded.
Orders were usually delivered within an hour before the outbreak. But users have to wait longer now.
Jia says about 1,000 of his employees at Xibei are temporarily working for Hemaxiansheng.
Meizhou Dongpo has not only started to sell ingredients but also is offering semifinished products.
"We have prepared thousands of metric tons of ingredients, and the clients can buy raw ingredients without going out," Wang says.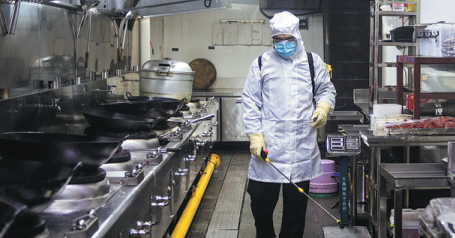 Box meals
Meizhou Dongpo has five branches in Hubei province-two in Wuhan and three in Huanggang.
"We have around 210 employees working in branches in Hubei. And we are launching special canteens to make meals for medical workers, journalists and police officers in Wuhan and Huanggang," Wang says.
The canteen can prepare hundreds of free box meals for local hospitals and the construction site of the Huoshenshan Hospital every day.
It's not the first time that Meizhou Dongpo has set up a special canteen. In 2013, after the earthquake in Ya'an, Sichuan province, the catering group established one to serve local people.
Jiaheyipin started to send free meals to medical workers in Beijing on Feb 2. It has delivered food to Luhe Hospital, Shunyi Hospital and Changping Hospital, which are all designated for novel coronavirus pneumonia care.
"We're contacting more hospitals in Beijing to provide our food to,"Liu says.
Jiaheyipin has created for medical workers four set meals with balanced nutrition and flavor, including minced-pork congee with preserved eggs and steamed buns stuffed with braised pork and eggs.
For Lantern Festival, Jiaheyipin also prepared yuanxiao, a food traditionally eaten on the special day.
Most Popular