Food delivery feeds recovery
Share - WeChat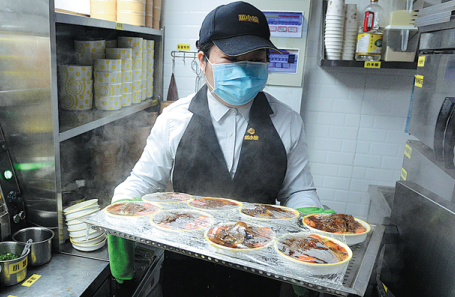 Liu says all of her restaurants' walk-in diners need to order through a WeChat program so each order's information, such as diners' WeChat ID, can be recorded.
"The food we serve is balanced in nutrition, which helps customers maintain good health-it's key to fighting the virus," Liu says.
"We need to ensure our employees' health first. And by providing our service as usual, we ensure people who are self-quarantined at home feel less anxiety or fear about the situation."
Takeout orders
Many restaurants had prepared special menus for family-reunion dinners during Spring Festival, and pre-orders were quite popular. Bookings at some Michelin-starred restaurants in Beijing were made weeks before the holiday.
But most were canceled as the novel coronavirus outbreak spread in mid-January, leaving the restaurants with plentiful food stocks.
According to Wang Gang, founder of Meizhou Dongpo Catering Group, from Jan 21 to 30, the group received 11,144 cancellations in its more than 100 restaurants around China and lost about 17 million yuan ($2.44 million).
This, added to the paycheck outlay of around 50 million yuan per month and monthly rents totaling 11 million yuan, means the novel coronavirus has cost the company more than 70 million yuan.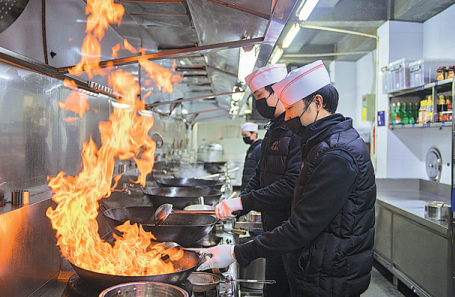 The group's business has declined by 80 to 90 percent, and its income comes mostly from takeout, Wang says.
"Our cash flow can last three months to half a year. The influence of the novel coronavirus' outbreak on our restaurants may last six months-even a year-so we need a long-term plan."
Jia Guolong, CEO of Xibei Catering Group, a restaurant chain focused on northwestern Chinese cuisine, wrote a letter to all 21,870 employees on Feb 6, saying that even though 80 percent of their more than 400 branches had to close due to the outbreak, the group is working on delivery services. About 200 branches are offering takeout.
All online delivery services follow strict rules to lower risks for staff and customers.
Most food deliveries include a card that records the names of the people who cooked and delivered each dish, and their body temperatures.
Most Popular