Leading the fight
Share - WeChat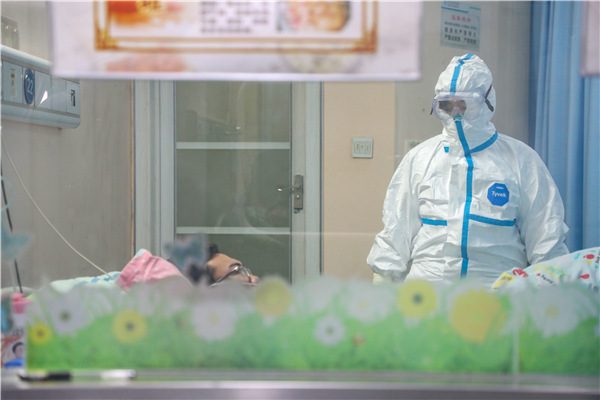 On Jan 17, the inpatient department was transformed into an isolation area. Two weeks later, the hospital was designated as one of those specifically equipped to treat the pneumonia caused by the novel coronavirus. The hospital was divided into six parts, with a total of 160 beds.
As the director of her department, Zhang looked after the most severe patients, but would help her colleagues during busy periods.
"Since the end of December, there has not been a break. We work from morning to night without much sense of time. After work, we go directly to bed," Zhang says.
It takes half an hour to take off the protective suits. There are a total of 27 steps, during which hands need to be sanitized 12 times. After doctors use toilets, they need to put on new protective suits, of which there is a shortage. As a result, in order to save time and to manage the use of the limited number of protective suits, doctors and nurses wear adult diapers, and try to drink and eat as little as possible during their shift. Despite carefully taking all the precautions, some of Zhang's colleagues became infected due to their prolonged exposure to a large number of patients.
Over the past month, Zhang revealed she had burst into tears several times. Sometimes, it was because patients suddenly turned critically ill and died despite all of her best efforts. Sometimes, it was because the supply of N95 facial masks and protective suits ran critically low. Sometimes it was just because she saw how hard her colleagues were working.
"Too many patients. It's such a hard time for my colleagues," she says.
"Everybody is trying their best."
As Huoshenshan (Fire God Mountain) Hospital and Leishenshan (Thunder God Mountain) Hospital opened their doors, with a joint capacity of 2,500 beds for criticallyill patients, and three emergency hospitals were also completed with a collective 3,400 beds for mildly-ill patients, the chance of the further spread of the virus has dropped, as the most infectious sources are largely isolated.
Zhang says that, recently, she has been seeing fewer new cases.
Most Popular