Dating app brings romance into a modern age
Share - WeChat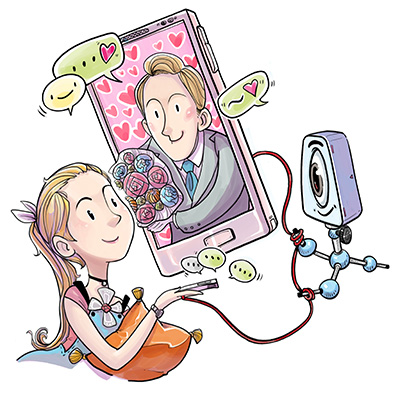 Love is in the air is an old saying from a bygone era. It's more probable for romance, in the helter-skelter of daily life, to be found online. To get that date with destiny, technology is helping to usher in a new romantic age.
By livestreaming more than eight hours a day, matchmaker Jiang Yingying has helped dozens of people across the country get struck by Cupid's arrow over the last year.
The 24-year-old from Shangqiu, Henan province, is a part-time matchmaker for Yidui, a video online dating app which provides real-time dating services.
Striking up a partnership is not just left to the vagaries of romance. Based on the app's algorithm and Jiang's judgment, she recommends potential suitors to people who enter her livestreaming "room".
"A positive attitude and a keen eye for behavior and interests matter in matchmaking, whether it is online or offline," Jiang says. She makes more than 2,000 yuan ($291) per month from the business.
There are more than 30,000 matchmakers (aged 18 to 68) like Jiang-all selected from the app's users who passed tests and interviews-connecting strangers through Yidui. They arrange more than 7 million dates per month.
"For people like me, living in the countryside, Yidui opens my mind and shortens the distance between humans," Jiang adds.
Still single herself, she is also looking to find someone special on the internet.
This is exactly why Ren Zhe, founder and CEO of the Beijing Milian Tech, developed the app.
"Using technology, we want to help the country's growing single population to find love, especially the young generation in lower-tier cities and rural areas," Ren says.
China is quickly becoming a nation of singles. There were more than 240 million single adults in the country in 2018, accounting for about 17 percent of the total population, according to data from the Ministry of Civil Affairs. And the number is continuing to grow.
The market for helping them to tie the knot is among the hottest internet ventures today.
It is hardly a new phenomenon. Online dating has been around as long as the internet made it possible for two people to connect and talk. Dating platform Baihe was launched in 2005. Founded in 2011, Momo, a mobile social networking platform, filed for an initial public offering in the United States in 2014.
The prevalence of smart phones allows dating apps to give people an abundance of choice in finding a suitable partner. Tantan app, the Chinese Tinder, was unveiled in 2016.
With livestreaming becoming the latest fad, Yidui arrived in 2018 introducing a matchmaker service.
Targeting the younger generation in small towns, who have a limited circle of acquaintances, less pressure from work and more time for themselves, the app has more than 40 million registered users. Users can upload videos, pictures, audio and texts; they can also network with like-minded people through chat groups based on location.
Its matchmaker service helps users with the all-important ice-breaking and warming-up conversations.
"When two shy people meet, breaking the barrier and starting an interesting topic of discussion helps enhance relationship building," Jiang says.
Zhang Guangchao, who found his girlfriend on Yidui, agrees. The 30-year-old took various jobs, including courier and livestreamer. After six months in communication, Zhang is in a relationship with his matchmaker.
He also became a matchmaker himself, hoping to bring his luck to others.
This helps explain why matchmaker mechanisms prove popular. Ren said technology, such as big data or algorithms, can picture who a person is, but it cannot tell the real, emotional warmth of a human.
"People's emotions are too complicated for the current technology to understand or calculate," Ren says.
Without registration fees, the app makes money from its virtual gifts with prices ranging up to 3,000 yuan. Matchmakers can get a commission from the gifts.
Once a match is made, entering an exclusive chatroom is a paid service.
Claiming to have more than 10 million monthly active users, Milian Tech posted a turnover of nearly 1 billion yuan last year, compared with the 30 million yuan in 2018.
In December, Yidui raised up to $10 million in a funding round led by XVC. Previously, the platform had secured backing from BlueRun Ventures, a company that has worked with many different startups across the technology sector.
"Yidui made innovations in advancing the online dating experience, which is highly appreciated by users and gradually contributes to high retention and engagement levels… we are optimistic about its future growth," Hu Boyu, partner of XVC, says.
For Ren, a sustainable growth for Yidui means keeping a healthy social environment, strengthening content screening efforts and reducing the risk of romance scams.
With greater convenience comes increased exposure to such dangers. Reports involving romance scams have hit the headlines in recent years.
The government has launched a campaign to clean up cyberspace. In April, the Cyberspace Administration of China closed nine instant messaging apps, such as Liaoliao and Metalk, for spreading pornographic information and facilitating prostitution.
Yidui requires real-name registration and face scans to set up an account.
Ren says his team has shut down 3 million registered users who are suspected harassers, scammers or who use fake information.
On the app's screen, a warning-"Be cautious when adding strangers as friends, no money transaction with strangers"-keeps rolling. There is also video that helps users to identify potential romance scams.
Matchmakers who have received special training can also help identify risks. Users can get advice from them when facing a suspicious situation.
"As a dating platform, we have taken various measures to maintain a clean environment and protect user data, but it doesn't mean no scams happen," Ren says.
He adds that when a scam is reported, the company will cooperate with the police to help its user to retrieve any losses.
Besides reducing the risk of scams, Yidui has strengthened its content screening efforts with a special team keeping an eye on chatrooms around the clock.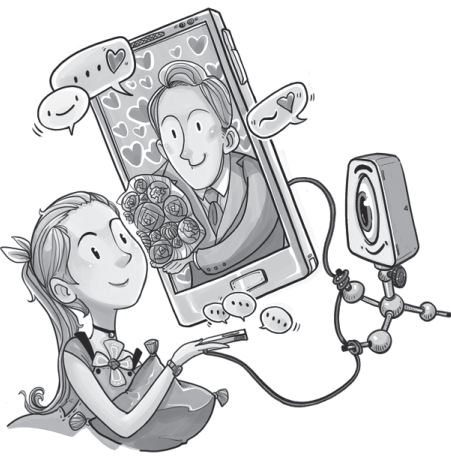 Most Popular