Australia's 'new normal' barrels in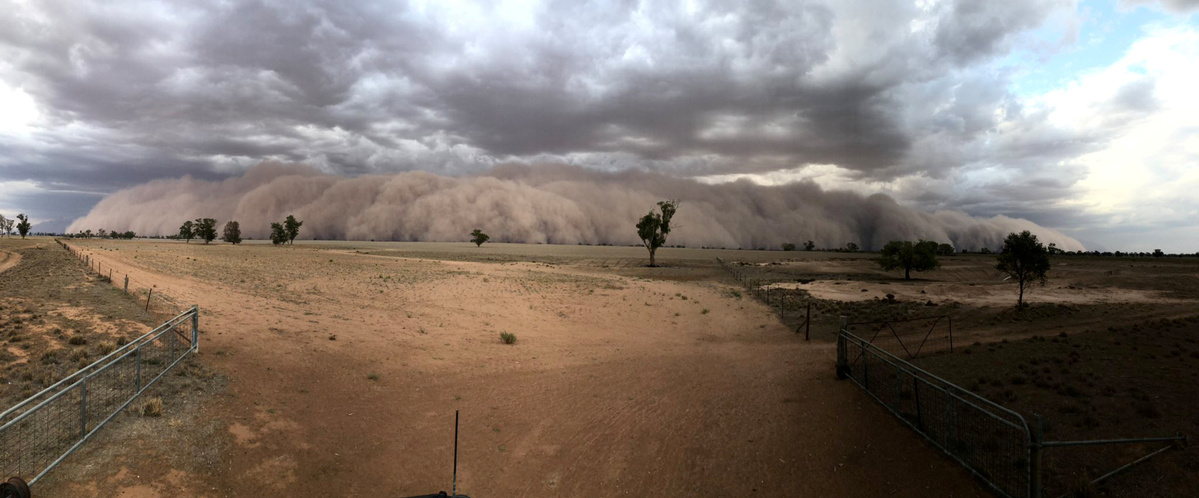 As bushfire threat eases, dust storms and floods portend a destructive climate cycle
First came the drought, then the bushfires, and now the wild storms and flooding. This is Australia's new normal when it comes to climate.
As bushfires still smoldered in pockets along the eastern seaboard, Monday saw savage storms weave a path of destruction through parts of the states of Victoria and New South Wales, or NSW. Canberra, the national capital, was hammered by a freak hailstorm with hailstones as big as golf balls smashing cars, roofs and windows.
In central and western NSW, massive dust storms turned daylight into darkness as they rolled over towns, while in southern Queensland residents were told to prepare for further flooding after days of torrential rain.
Downpours have provided relief for parts of drought-stricken NSW, and helped firefighters slow the spread of bushfires and build containment lines ahead of an increased fire danger as temperatures begin to climb again.
Despite the rain, the drought-which has ravaged large parts of eastern Australia-will need a prolonged period of wet weather before it is broken.
But more rain brings another problem-the pollution of waterways that feed into river systems and catchment areas for cities and towns.
Stuart Khan, professor in the School of Civil and Environmental Engineering at the University of New South Wales, said many of the bushfires have directly affected important drinking water catchments.
"In particular, fires have severely and extensively burned major drinking water catchments for Sydney and the Shoalhaven region in NSW.
"While rainfall is desperately needed to help extinguish fires and alleviate the drought, contaminated runoff to waterways will present a new wave of challenges regarding risks to drinking water quality, he told China Daily.
Bushfire ash is largely composed or organic carbon, which will bio-degrade in waterways, potentially leading to reduced oxygen concentrations and poor water quality, according to scientists.
Growth of algae
Ash also contains concentrated nutrients including nitrogen and phosphorous, which may stimulate the growth of algae and cyanobacteria in waterways.
"Following the fires, these drinking water catchments are now in a very unstable condition and highly prone to erosion of topsoil," said Khan.
"All of these impacts will challenge drinking water treatment plants and make it much more difficult to reliably produce high-quality drinking water.
"While major impacts are unlikely to be encountered before a substantial rainfall event, some will be long term, with observably poorer raw water quality likely to persist for years."
David Blake, at the Center for Ecosystem Management at Edith Cowan University in Western Australia, said the protection of water supplies "need to be a vital part of emergency fire response".
"Wild and prescribed fires can significantly impact aquatic systems and wetland sediments," he told China Daily.
Andrew Butt, an associate professor of sustainability and urban planning at RMIT University's Center for Urban Research in Melbourne, said another consideration is when communities are rebuilt and "how we plan them in fire risk areas."
"Increased fire risk, and increasing populations, make this connection more significant and urgent," he said.
"This risk is significant for rural communities, but also in rapidly growing urban fringe areas, periurban communities and coastal towns."
Ravi Naidu, CEO and managing director of the Cooperative Research Center for Contamination Assessment and Remediation of the Environment and director of the Global Center for Environmental Remediation at the University of Newcastle, said the recent bushfires seen in Australia, Brazil and the United States raise yet another issue.
"Such fires are themselves major sources of contamination. The burning process itself affects air, soil and water quality; firefighting foams contain potentially toxic chemicals such as PFAS (per-and polyfluoroalkyl substances), and when buildings and infrastructure burn down, they release pollutants into the environment," Naidu said.
"The debris left behind after a major fire-including animal carcasses and twisted metal-is also a potential environmental hazard. Climate change will make such fires more frequent and intense."
The warmer soil and extended drought associated with climate change also has consequences beyond increased fire activity.
Scientists say climate change is increasing soil erosion, intensifying storms and, in some areas, delivering more extreme rainfall and flooding.
"These phenomena could increase our exposure to soil contaminants-including heavy metals and metalloids such as mercury, arsenic and lead, as well as PFAS-contained in airborne soil and dust, carried via floods or released from melting ice," Naidu said.