White paper: Benefits of digital technology outweigh economic challenges
Share - WeChat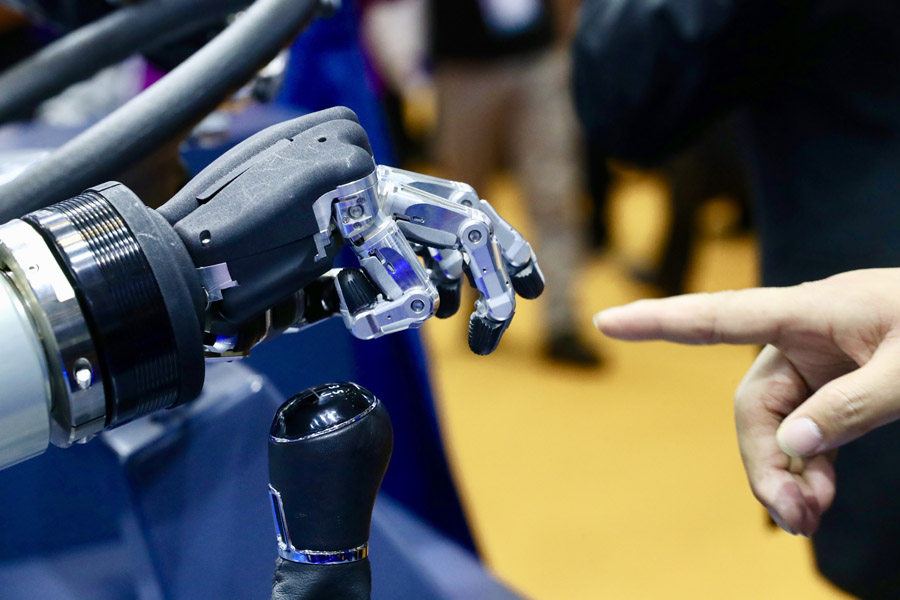 Managing the unanticipated impacts brought about by digital technology is critical, but academic literature on this topic remains sparse with most of the discussion being carried out in the press and social media.
The Luohan Academy, a think tank composed of renowned social science luminaries initiated by Alibaba Group Holding Ltd, attempted to fill the void by publishing its first white paper addressing how digital progress brings material benefits that outweigh challenges to developing economies.
The white paper titled Digital Technology and Inclusive Growth is expected to debut on Amazon soon. It focuses on the crucial issue of the contribution that e-commerce has made to China's growth and to the inclusiveness of the patterns associated with e-commerce, mobile payments and digital financial services.
"Two important objectives of the academic community are first, to understand business models and market structures that enable growth and progress, and second, to identify the impact of digitization on individual and social welfare," said Chen Long, managing director of the Luohan Academy.
For instance, unemployment caused by changes in skill requirements, abuse of private information, lagging competition policy, and increased inequality are some of the major concerns caused by technological advancement.
But industry experts pointed out that global unemployment rates have remained relatively stable since 1991 when comparable statistics became available, even though nearly 1.6 billion people have been added to the working age population since 1991, an increase of 50 percent.
Robots and artificial intelligence are still in the early stages of development and their ability to replicate sophisticated reasoning remains a matter of conjecture.
Previous waves of technological changes have been accompanied by fears that they would cause massive unemployment. Those fears ultimately proved to be unfounded.
China's experience showcased the potential for digitization to transform the process of "creative destruction" into one of "creative construction" in which the benefits from technological advancement can be to the benefit of everyone, Chen said.
A case in point are financial services that have become much more accessible, affordable, and sustainable. Millions of Chinese startups now enjoy access to credit without having to provide collateral.
More importantly, entrepreneurship disparities between regions, gender, income, and age have decreased. This is largely due to the lowered threshold of education and skills needed to take advantage of a new technology.
A World Bank report published in 2016 said because of their exceptionally low skill requirements, mobile phones and the internet have penetrated regions around the world at unprecedented speeds.
Inclusiveness is therefore enhanced by helping small-and medium-sized enterprises to grow, especially those in less-developed regions. There are now 10 million SMEs and startups on Taobao, China's largest e-commerce platform.
"China has accumulated rich experience that can be used to study key issues, opportunities and challenges related to digital technology," said Bengt Holmstrom, who is a 2016 Nobel laureate and an economics professor at the Massachusetts Institute of Technology in the preface. "At a time when almost all economies are increasingly being built on digital foundations, this is timely indeed."
As to the lingering doubts whether it's possible for nations to advance economically while having fewer resources than China, the white paper points out the difference between China and other developing countries is not as vast as one might think.
It said the costs for broadband, the critical digital infrastructure, vary dramatically around the world. China's costs are not the lowest: They are more than five times higher than those of South Korea, and two times higher than in the United Kingdom.
But that does not bar China from investing heavily in improving broadband access in rural areas, which is an important lever to spur e-commerce. That means taking full advantage of the lowest possible skill threshold that is required to adopt and deploy digital technologies.
"We hope that this first report will contribute to research on the digital economy and to balancing the debate that has shifted in a negative direction in the recent past, at least in some countries," said Christopher Pissarides, an economics professor at the London School of Economics and a 2010 Nobel laureate in economics.
"We also especially hope that the China experience as laid out here helps other developing countries integrate digital elements into overall growth and development strategies."