E-buying A to Z from local shops
Share - WeChat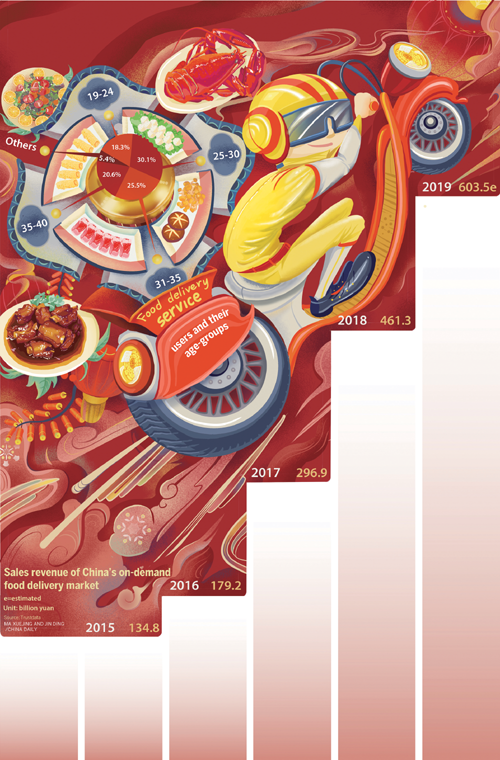 Services, retail intersect on new platforms, boost O2O model and consumer experience
Zhang Chenlin, 31, a bank employee in Beijing, prefers to use mobile apps to buy, well, almost everything these days-lunch, dinner, groceries, flowers, fruits, cosmetics, medicine, magazines, accessories, household stuff, you name it.
Particularly on days when she is unwilling to dine out with colleagues on work days, the apps come to her rescue time and again. In about 20 minutes after placing an online order for lunch, a deliveryman of Ele.me, a third-party online food delivery platform, materializes with Sichuan spicy diced chicken, Mapo spicy bean curd and a bowl of rice.
"With a simple tap on my mobile phone, I can also order daily necessities like towels, tissues, shampoo as well as medicine," Zhang said. "I don't need to go to supermarket after work, and these commodities are delivered to my home or office within half-an-hour. This is really very convenient."
This potentially economy-boosting online-to-offline or O2O business model is made possible by new online platforms of internet giants that bridge consumers and neighborhood businesses like never before.
Company executives of Ele.me and Koubei, a local services company of Chinese tech titan Alibaba Group Holding Ltd, said they are committed to providing digital solutions for local merchants to enhance the latter's operational efficiencies.
Industry insiders said that on-demand food delivery services are expanding beyond traditional catering to include supermarkets, fresh fruits and vegetables, and flowers and plants.
Wang Lei, president of Alibaba's local services company, said they are beefing up resources to drive forward the digitalization plan and upgrade the local services market.
These digitalized services will include site selection of restaurants, supply chain, reservations, queuing, ordering, instant delivery, online payments and service ratings based on evaluation or user reviews.
"The online penetration rate of food delivery and other local services in the country's catering industry is less than 15 percent," said Wang, while noting they will empower catering merchants to digitalize their operations and help these vendors improve online offerings, such as online membership management, smart ordering and discount bookings during off-peak hours.
Alibaba formed its local services company in 2018 by merging food delivery platform Ele.me and lifestyle services firm Koubei. The move intensified a battle with rival Meituan Dianping, which is backed by Tencent Holdings Ltd, in China's fiercely competitive on-demand services market.
The Ele.me-Koubei combine will seek to expand beyond the catering industry and redefine urban life, improving local services so as to make living more convenient for city dwellers.
It is expected to cover a full range of local services and businesses, including supermarkets, beauty salons, KTVs, as well as leisure and entertainment. Its services will likely be used by an estimated 800 million urban residents, according to the company.
In April 2018, Alibaba announced it had acquired Ele.me. The e-commerce giant aims to enhance the last-mile delivery capacity crucial to its New Retail strategy.
New Retail refers to the integration, or interlinking, of online and offline shopping using modern technologies, data and customer engagement techniques. The term was coined in 2016 by Alibaba's charismatic founder Jack Ma. In his words, New Retail is making the distinction between physical and virtual commerce obsolete. It indicates a combination of the best in physical and online retail.
In line with the New Retail era, the country's catering sector is becoming increasingly technology-empowered. The market size of China's online food delivery market is expected to reach 603.5 billion yuan ($87.7 billion) in 2019, up almost 31 percent year-on-year, according to mobile internet big data monitoring platform Trustdata.
Data from the Trustdata said users aged 30 and below are the major force in the online food delivery market, taking up more than 48-percent share.
The market research company iiMedia Research said China's third-tier cities and below have become a new growth point for the food delivery industry. In the first half of 2019, the proportion of new customers in the food delivery industry in the third-tier cities and below exceeded 44 percent.
"The number of orders in the online food delivery market maintained a rapid growth in the past four years, with the figure surging to 10.96 billion in 2018 from 1.7 billion in 2015," said Yang Xu, a life and services analyst at consultancy Analysys. Yang said the booming O2O segment has not only focused on food delivery but also expanded their business scope, spanning supermarkets, fresh products, flowers and medicine to lure consumers. "The digitalized and intelligent solutions that empower merchants and help improve their services will also be a development direction in the online catering industry."
Meituan Dianping, another food delivery and lifestyle services platform, is also operating Meituan Instashopping, a non-food delivery business, to connect local retailers and consumers.
The on-demand grocery delivery services promise 30-minute delivery, including for flowers, medicine and even vegetables. They also help merchants to digitalize their inventories of fresh products.
Wang Puzhong, senior vice-president of Meituan Dianping, said the online food delivery industry is an intersection of some segments of the services sector and the retail industry. "The online penetration rate of fast-moving consumer goods, medicine and flowers is very low, hovering around 3 percent in the past five years."
Wang said Meituan Instashopping aims to empower the traditional catering merchants by offering operational, distribution and technology support, upgrading digital solutions and helping these vendors improve their online offerings.
The company announced its total revenue surged 44 percent year-on-year to 27.5 billion yuan in the third quarter of 2019, buoyed by the growth in key business areas such as food delivery, in-store purchases, hotels and travel, while its net profit reached 1.9 billion yuan.
Revenue from its core food delivery business increased by 39.4 percent year-on-year to 15.6 billion yuan in the same quarter, and the in-store, hotel, and travel business contributed a revenue of 6.2 billion yuan, a rise of 39.3 percent compared with the same period of 2018.
According to Beijing-based market consultancy Analysys, Ele.me and Star. Ele.me, which was formally known as Baidu Waimai until Ele.me acquired it, accounted for 43.9 percent of share in China's food delivery market in the third quarter, while its arch rival Meituan Dianping accounted for 53-percent market share.
In addition, Dada Group, a platform for local on-demand retail and delivery, has cooperated with most of the leading retailers such as Walmart and Carrefour, and more than 100,000 offline stores, to provide more convenient and upgraded shopping experiences. Its services cover goods of all varieties, ranging from fresh fruits and vegetables, groceries to pharmaceutical products. Consumers from more than 600 cities and counties in China are said to be its beneficiaries.
The company has launched omni-channel fulfillment solutions for supermarkets, providing the latter with middle platform systems, smart logistics systems and customized solutions. They integrate warehousing, picking and distribution, and significantly improve supermarkets' working efficiency. They also guarantee one-hour delivery of omni-channel orders.
"Dada Group is rooted in supermarket O2O and grocery delivery, and has proposed the best solution -- omni-channel business aggregation platform and fulfillment system," said He Huijian, its vice-president."The core of retail is efficiency and shopping experience. And it is the mission of Dada Group to help retailers to develop e-commerce efficiently and provide consumers with the best shopping experience."
After covering all first-and second-tier cities and helping retailers to achieve high-speed online sales growth, it will ramp up efforts to expand its presence into more lower-tier cities, Dada Group said.
Chen Liteng, an analyst from the China E-Commerce Research Center, said competition in the on-demand food delivery market has led to the construction of an ecosystem and expansion of service scenarios.
"How to make profits and maintain the stable development became the core of issues for the local life service platforms," Chen said, adding online caterers need to use AI-powered technologies to ensure efficiency and put the quality of services first.