Village making efforts to strengthen bilateral ties
Share - WeChat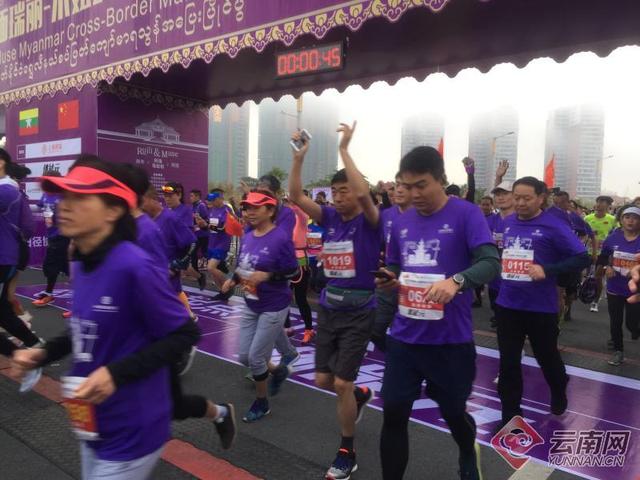 On the last day of 2019, hundreds of residents in the Myanmar city of Muse were standing along the road, cheering for marathoners who had just run from the border city of Ruili in Yunnan province.
About an hour later, the runners crossed back over the border to Ruili after running 12.3 kilometers on the Myanmar side of the frontier.
This is what happened during the Ruili China and Muse Myanmar Cross-Border Marathon, which has been held for four consecutive years.
Su Wenlin, a marathoner who served as a running guide from 2016 to 2018, said that the cross-border marathon is a good platform to deepen friendship between China and Myanmar.
"It is just like a big festival for the Myanmar villagers. I can see the happiness on their faces when they warmly cheered the athletes," said Su.
The journey between the two countries, as experienced by the marathoners, is part of the daily life of some residents living in a village bordering China and Myanmar.
Divided into two parts by a simple yellow line, the village is called Yinjing on the Chinese side and Mangxiu in Myanmar.
Besides the yellow line, the border in other places is simply defined by village road, a ditch or a brick wall. So it is not surprising to see a tree, a house, a swing or a well that stretches across both countries.
With a special pass that allows residents of Mangxiu to visit Ruili but not beyond, it takes less than 30 seconds for a villager to travel from one side to another.
It is common to see villagers from Mangxiu cross the border in the morning to go to the market, do businesses and even visit relatives and attend feasts, and then return to Mangxiu in the evening.
Local authorities have made the village of Yinjing a tourist attraction for people from other parts of China.
By making a trip there, tourists can enjoy performances with Myanmar characteristics and experience folk customs. Looking around, they can easily see the buildings and land on the other side of the border.
"The tourists won't realize that they are stepping onto the territory of Myanmar if they are not informed about it," said Shao Yongbao, chief of Exit and Entry Administration of Ruili Bureau of Public Security.
"With more policy support and financial input in the future, the potential of high-quality tourism on the border between China and Myanmar will surely be greatly tapped."