Locusts threaten food security across East Africa
Share - WeChat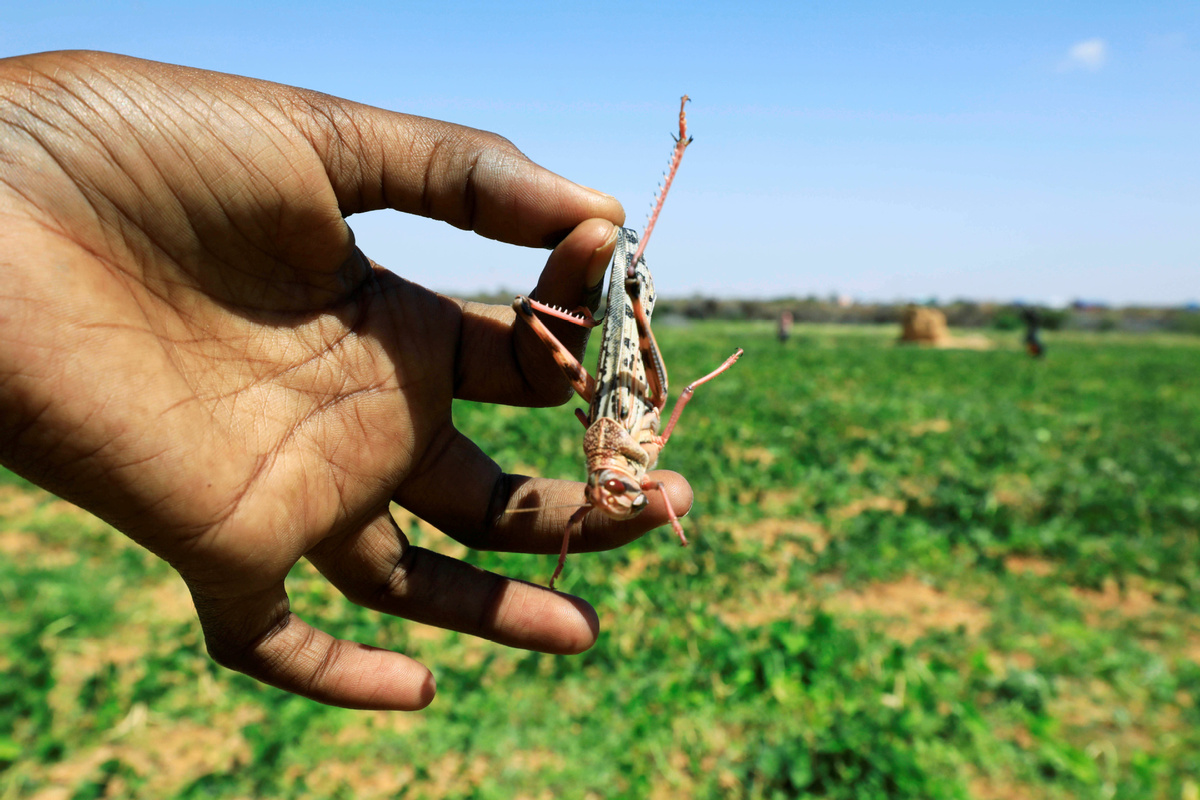 A serious and widespread desert locust outbreak in some parts of Somalia, Kenya, Ethiopia, Sudan and Eritrea has caused panic in the agriculture and aviation sectors.
The invasion, which has lasted for over a month despite efforts by respective governments to curb it, has led to the destruction of crops and pastures, threatening food security in the region despite a promising harvest following successful rainfall.
The outbreak has also caused panic in the aviation sector, following a recent incident where an Ethiopian Airline passenger plane was forced by a swarm of locusts to divert from landing in Dire Dawn Airport in east-central Ethiopia to Bole International Airport in Ethiopia's capital Addis Ababa.
Reports from the airline indicated pilots were preparing to land when clouds of locusts slammed into the plane's engines, wideshield and nose, forcing them to change course after futile efforts to clean the windscreen.
According to the Food and Agriculture Organization or FAO, a specialized agency of the United Nations that leads international efforts to defeat hunger and improve nutrition and food security, the present outbreak is the worst in 25 years.
The UN agency attributed the invasion to unusual weather and climate conditions, including heavy and widespread rains since October 2019. It warned a further increase in locust swarms is likely to continue until June due to the continuation of favorable ecological conditions for locust breeding.
Dr. David Phiri, sub-regional coordinator for the FAO and representative of the African Union and the United Nations Economic Commission for Africa, warned the locusts are making a bad food security situation worse in the sub-region, exacerbating existing food insecurities and malnutrition.
Dr. Workneh Gebeyehu, executive secretary of the Intergovernmental Authority on Development — an eight-country trade bloc in Africa focused on regional cooperation and integration — called on member states and the East African community to pull resources together to prevent, control and possibly eradicate the locust invasion.
"Prevention and control measures must be scaled up to contain further spread of the desert locust," he said. "Countries must act urgently to avoid a food security crisis in the region."
Peter Munya, cabinet secretary in Kenya's Ministry of Agriculture, has assured Kenyans the government is in control as most swarms have been controlled.
Munya said three aircraft and an additional 20,000 liters of pesticides have been deployed to deal with the menace.
"Kenyans should remain vigilant and immediately report any new swarms sighted," he said.
Munya said regional efforts to control the locust invasion are being hampered by ongoing conflicts in Yemen and Somalia.
The locust swarm started crossing the Kenyan border from Ethiopia and Somalia late in December. In Somalia, the insects invaded the country's farmland and rangelands in July from Yemen, after which they attacked Ethiopia.
The locusts have already destroyed 175,000 acres of farmland in Somalia and Ethiopia, according to the FAO.
The desert locust is the most dangerous of the nearly one dozen species of locusts. A typical desert locust swarm can contain up to 150 million locusts per square kilometer, according to the IGAD.
The swarms, migrating with the wind, can cover 100 to 150 kilometers in a day. An average swarm can destroy as many food crops in a day as is sufficient to feed 2,500 people and pasture biomass.