Super League sacrificing pulling power for prudence
Share - WeChat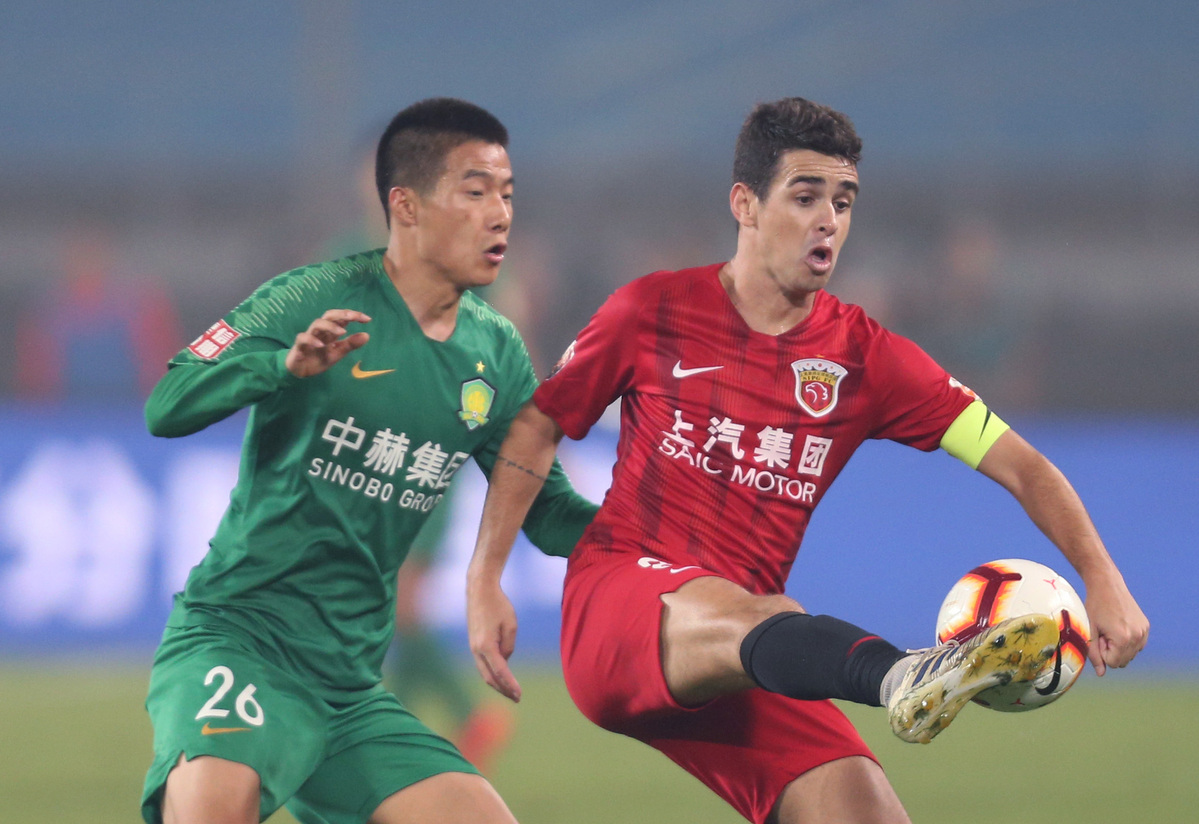 The Chinese Super League has been an attractive destination for some of the biggest names in world soccer in recent years, but now its free-spending days look over.
The likes of Carlos Tevez, Oscar, Ramires, Hulk, Javier Mascherano, Marek Hamsik and Marko Arnautovic have all ditched Europe's major leagues for the CSL, and last summer superstar Gareth Bale looked like following in their footsteps.
Real Madrid ultimately pulled the plug on that deal, and now the chances of Bale reviving the move seem slim to none after the Chinese Football Association last month introduced a salary cap of 3 million euros ($3.3 million) after tax on foreign players.
No longer being able to attract the game's biggest names is sure to affect the CSL's marketability. However, sacrificing some of the league's pulling power in favor of a more stable and sustainable financial environment is a compromise the CFA is willing to make-especially considering the influx of foreign talent has done little to improve the national team's fortunes, with China failing to qualify for the World Cup since its debut appearance in 2002.
"We conducted a survey which found that most of our clubs spend 60 to 80 percent of their money on foreign imports," said Liu Yi, the CFA's secretary-general at a workshop to discuss the new regulations in Shanghai last week.
"The salary cap on foreign players will be the most effective method to help the clubs to deflate their financial bubbles.
"Many teams have been dependent on foreign players in their forward lines. The Chinese midfielders simply need to get the ball and pass to the foreign strikers. So we have to restrict the importation of the priciest foreign players."
The CFA also revealed in Shanghai that it plans to strictly enforce the new cap with the aid of governmental guidance.
"We are working with the Ministry of Public Security and the State Taxation Administration and invite them to help us with the financial supervision," Liu added. "Without implementation and supervision, a policy will be meaningless."
While the salary cap is undoubtedly set to limit the kinds of foreign players clubs can target in the transfer market, the CSL is keen to stress it is not designed to cut the number of foreigners plying their trade in the top flight.
Indeed, foreign-player quotas have actually been increased-next season, CSL clubs will be permitted to register six foreigners, with five of those eligible in match-day squads (up from four last term) and four allowed on the pitch at any one time (up from three last year).
The CFA hopes the changes strike the right balance between quality and quantity to allow Chinese clubs to maintain their competitiveness in Asia's AFC Champions League.
"With one more foreign player, league matches will be more competitive with a quicker pace," said Liu. "What matters is that it will help our domestic players to level up their strength in a more competitive environment... many Asian leagues use more foreign players than we do."
It remains to be seen how the salary cap will immediately affect the CSL's biggest imports-such as Shanghai SIPG duo Hulk and Oscar, who arrived for fees of around 58.5 million euros and 60 million euros in 2016 and '17 respectively.
And while fans should not be expecting the likes of Bale, who earns a reported 14 million euros a year at Madrid, in a Jiangsu Suning or Beijing Guo'an shirt next term, 3 million euros in wages should still be enough to lure some lesser lights to China.
According to the 2019 Global Sports Salaries Survey, published by the Sporting Intelligence, the average salary in the English Premier League was almost $4 million while the median salary was $2.9 million.
And while Spanish giants Barcelona and Real Madrid are not afraid to splash the cash with average salaries of around $12.3 million and $11 million respectively, La Liga's average wages worked out at a relatively modest $2.5 million, with a median salary of about $980,000.
"The CFA's new policy is designed to encourage CSL clubs to invest more sensibly and nurture more young domestic soccer talent," said Chinese soccer commentator Yuan Ye. "The 3 million euros salary cap for foreign players should be good enough and allow clubs to sign the top players in Asia.
"Many of the foreign players in the South Korean and Japanese toptier leagues normally earn 2 to 3 million dollars. We don't need the world's top-level players in the CSL."
With less focus on the big-name foreigners, it's hoped young domestic talent will have a better chance to shine.
Last week's CFA discussion in Shanghai highlighted that about half of the top-20 scorers in the CSL prior to 2012 were Chinese.
That number has dropped to one or two in recent years, but the CFA reckons its new measures can lay the foundations for a new generation of Chinese strikers to step up and hit the net.
"Before 2012, we nurtured a group of great Chinese strikers such as Li Yi, but then we imported more and more super strikers who became the core players of Chinese clubs," said Liu. "The quality and quantity of domestic strikers dropped dramatically."