Blogger-author opens new chapter on marine biology
Share - WeChat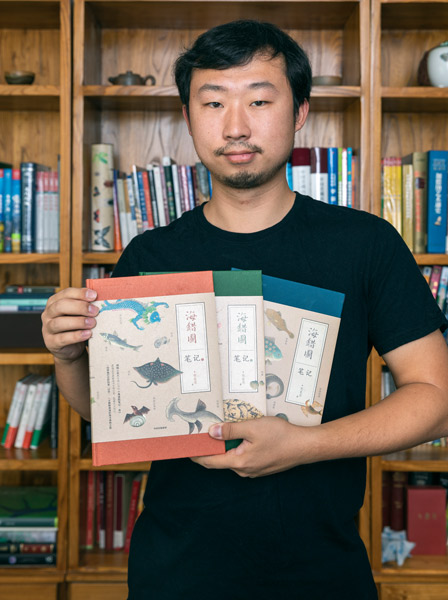 Science education
Zhang's experience in researching insects helps him when verifying marine creatures. "Even though they are not related, the scientific ways of researching are the same."
Besides the elaborate paintings from Nie, Zhang also invites several illustrators to draw pictures for him to pair with his articles so that the readers can understand the content more easily.
Zhang says he writes each article in logical order following questions that a reader would ask.
"If I write about a pearl, besides saying that people in the Qing Dynasty started to breed pearls, I will also answer questions like 'what's the difference between a pearl in fresh water and in seawater'," he says.
"I don't want my readers to have more questions after reading my articles."
In his books, Zhang explains how some of the creatures were quite common in Nie's time but have become rare or endangered nowadays-because of overfishing or environmental destruction.
It's his way of popularizing public science education and educating the readers to protect the environment.
He is planning a fourth book.
He's also running an account on video-sharing app Douyin, known outside China as TikTok, to interact with fans.
The growing use of social media, he says, offers more opportunities to spread knowledge of nature and science.
Yet, it's important to understand how different platforms work, he adds, and present tailor-made content for each in either words or videos.
Zhang Jie, a researcher at the Institute of Zoology, Chinese Academy of Sciences, comments that Zhang Chenliang has brought the seas to life by describing major categories of marine creatures, and their characteristics, behavior and breeding.
"After reading the book, you must feel closer to the oceans," she says.
Most Popular