Blogger-author opens new chapter on marine biology
Share - WeChat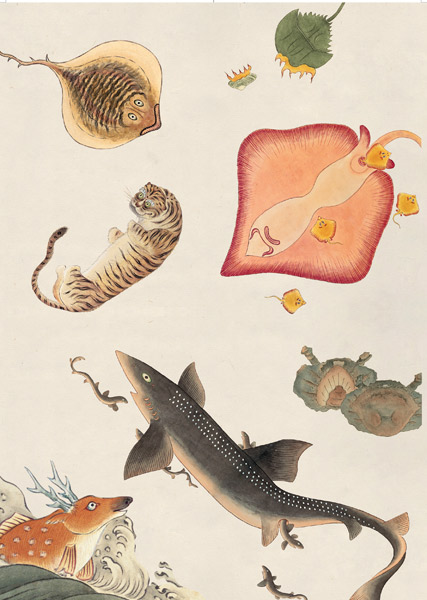 Journey of discovery
Over the past five years, besides answering thousands of questions on Sina Weibo, Zhang has been devoted to researching marine animals in China and writing a series of books titled Hai Cuo Tu Biji (Notes on Illustrated Handbook of Marine Animals). The third book of the series was published recently by China Citic Press Group and Chinese National Geography Books.
Zhang says the series is inspired by an old illustrated book, titled Hai Cuo Tu, by Nie Huang.
Nie lived in the early years of the Qing Dynasty (1644-1911). As a passionate traveler, his journeys took him from North China's Hebei province to the eastern coastal areas.
Nie painted more than 300 marine creatures he had seen or heard about during his trips over the decades and finally finished the book in 1698. The book was then introduced to the imperial court in 1726 and was admired by the emperors.
Nie's book includes four volumes-the first three are now in the Palace Museum in Beijing and the fourth one in the Taipei Palace Museum.
Zhang got his first glimpse of the fascinating book during a visit to the Beijing museum when he was in middle school.
Hai Cuo Tu, featuring the first three volumes of Nie's book, was published by the Palace Museum in 2014, and Zhang read it avidly.
A year later, Zhang decided to write a book to verify some of the creatures in Nie's book. "Nie not only wrote down what he knew or heard, but also left some questions which he hoped descendants could answer for him."
Zhang tried to answer most of the questions with his knowledge and research. He traveled to China's coastal areas and also to Japan and Thailand, visiting local markets and scholars, and read old books or theses to find the answers.
"I think Nie would be happy to read my books," he says.
Zhang published his first book in 2016, verifying 38 creatures featured in Nie's Hai Cuo Tu, and a year later, a second book was published, verifying 40 more. Both books won praise from readers, selling 260,000 and 160,000 copies respectively.
In 2017, the Taipei Palace Museum made the images of the fourth volume of Nie's Hai Cuo Tu open to the public for free, and Zhang got to verify some species from it for his third book. "I'm trying to let the marine creatures across the Taiwan Straits unite."
The third book, including 20 articles and featuring 63 marine animals, took Zhang two years to finish.
"It took longer because for the first two books, I selected the easier creatures to verify, which I already had some knowledge of and are more common," Zhang explains. "For the third book, I had to look into the creatures that were not easy to verify. Some of the creatures are only based on other people's descriptions, and may look quite different in reality."