Chasing the scent of growth
Share - WeChat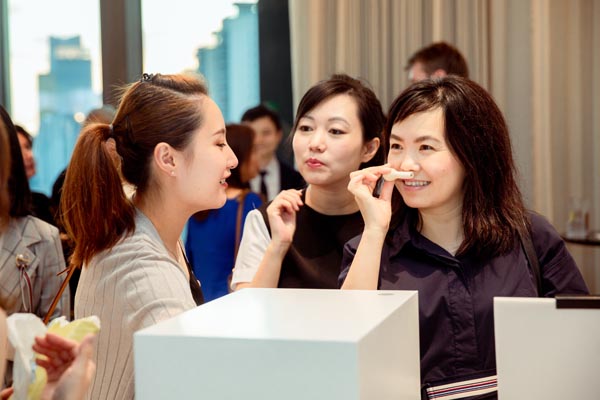 Companies from home and abroad are tapping into the potential of the fragrance market in China, which is set to boom in the coming years, Wang Ying reports in Shanghai.
The retail value of China's fragrance segment is projected to experience considerable annual growth and expand from $1.18 billion in 2018 to $1.81 billion in 2023, according to Euromonitor International, which noted that the market had surged 48.2 percent between 2014 and 2018.
"Following the boom in the skincare segment and the flurry of spending on makeup products, I believe the fragrance sector will experience the same in about five years," says Lim Tzer Meng, managing director of perfume brand Reclassified.
Compared to skincare products and cosmetics, fragrance is a relatively small and slow-growing category as it is still considered a nonessential item by many Chinese consumers. However, the market value will continue to expand in the next five years, driven by a growing diversity in product offerings and consumers' appetite for premium and niche fragrances, according to Alice Li, a senior research analyst with Mintel.
One of the key factors driving growth in the fragrances segment is the maturity of the domestic e-commerce industry. In fact, many international brands consider e-commerce as the first step into the Chinese market, says Kelly Tang, an analyst at Euromonitor International.
One example is British brand Jo Malone London which had launched its online flagship store on Tmall in 2018, selling perfumes, shower and body care products, as well as customized scents.
"Online channels provide companies with access to a larger consumer base and this helps them to gain more market penetration," says Tang.
"The Chinese fragrance market is expected to continue experiencing dynamic growth, mainly driven by premium fragrance, which takes up about 80 percent of the total fragrance market in China."
"There's huge potential in the China market as consumers are still in the elementary stage of wearing fragrances. Awareness of personal grooming is also on the rise."
Lim says the consumption power of Chinese consumers and the growing belief that wearing perfume is part of social etiquette will also give rise to the popularity of fragrances.
"Less than 1 percent of the Chinese population use fragrances daily. This is far below the levels in mature markets like the EU and US," adds Lim.
Sales of fragrances for male and female consumers in China have been expanding. According to Euromonitor, between 2014 and 2018, the retail value of premium men's and women's fragrances soared 59.1 percent and 71.1 percent respectively. During the same period, the retail value of premium unisex fragrances skyrocketed to 532.5 percent.
The growing application of fragrance has also expanded to hotels, shopping malls and even workplaces as a brand signature, adds Lim. Some examples include luxury hotels like Westin, Shangri-La and the Ritz-Carlton, as well as malls like IAPM and K11.
Most Popular