Chinese folk dance kicks off Times Square New Year's Eve countdown
Share - WeChat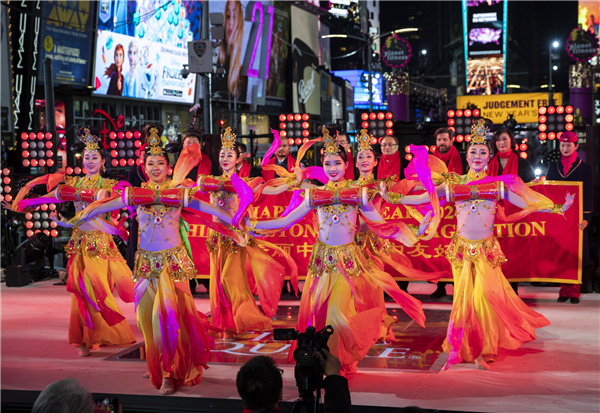 A Chinese folk dance amazed thousands of people at New York City (NYC)'s Times Square Tuesday night by kicking off one of the most famous New Year's Eve countdowns in the world.
Co-organized by the Sino-American Friendship Association and the Times Square Alliance, the performance featured over a dozen female dancers dressing like figures of Dunhuang murals in Mogao Caves, a UNESCO world heritage site in Northwest China's Gansu province.
The 6-minute performance demonstrated the beauty of China along the ancient Silk Road, and the passion and hospitality of the Chinese people.
A video on various LED screens atop the square displayed the scenery of China such as the Huangshan Mountain, also known as the Yellow Mountain, in East China's Anhui province.
The dance was followed by an array of performances from global artists and pop stars.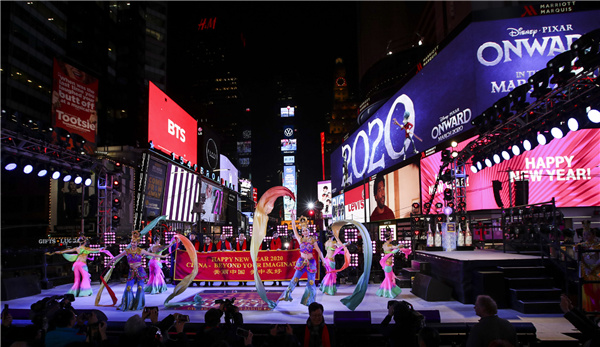 Chinese Consul General in New York Huang Ping, who made brief remarks before the show, wished everyone a happy new year both in English and Chinese.
He also invited people to visit China, saying "China welcomes you with open arms!"
The hours-long celebration, which culminated in the 60-second countdown to the new year and the following confetti-filled festivities, brought an estimated 1 million revelers to the heart of the city each year.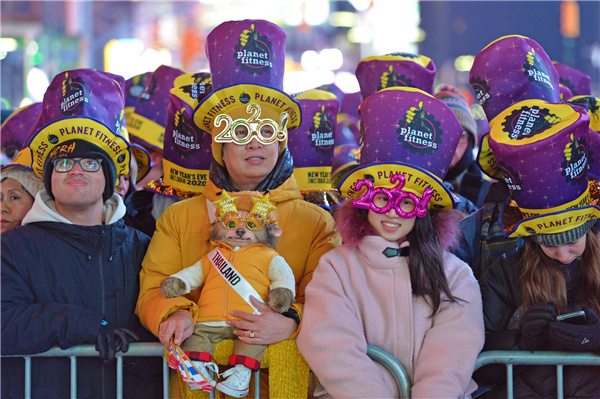 Some people waited for over 12 hours in order to get a good spot to witness the ball drop, a New Year's Eve tradition here since 1907.
The 12-foot (3.65 meters) crystal ball would descend down a flagpole at 11:59 pm local time (0459 GMT Jan 1) and come to a rest as the new year kicks off.
Most Popular