Healthcare companies ramp up their digitalization efforts
Share - WeChat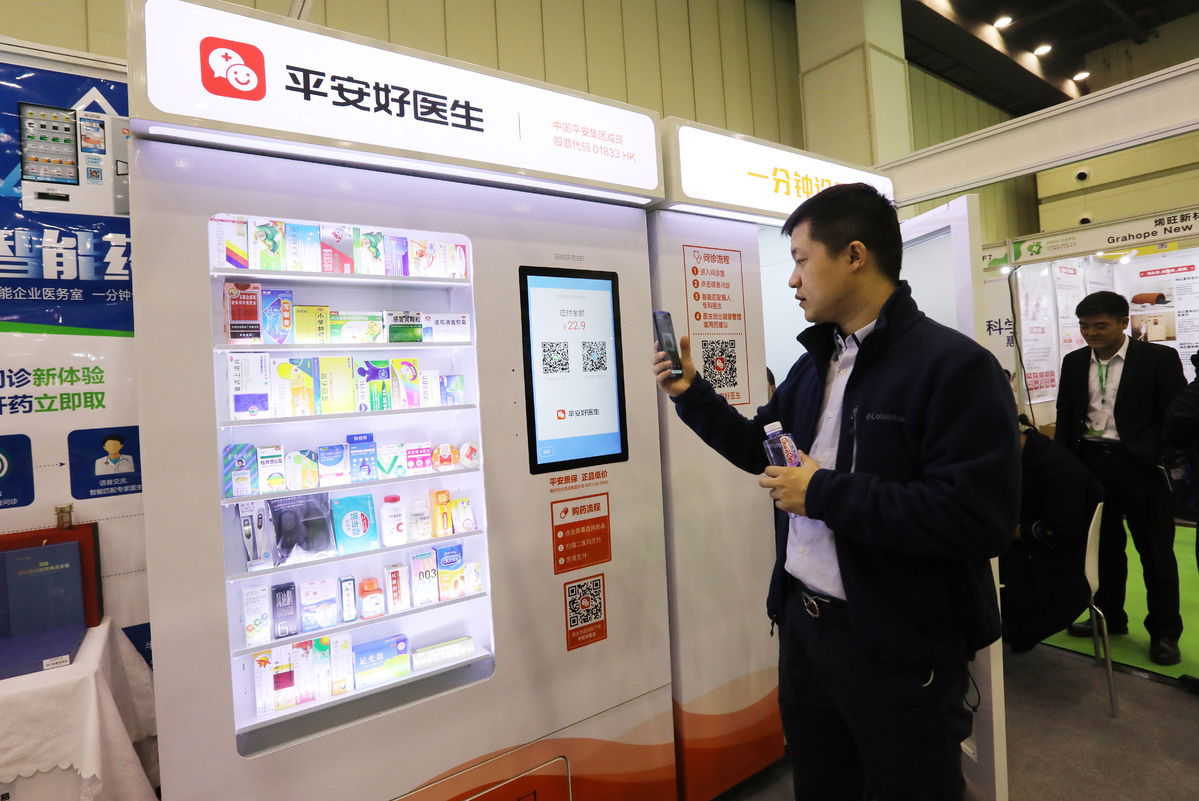 Innovative solutions and effective delivery of services will empower patients and physicians
As businesses in China increasingly tap the internet to boost services, healthcare companies are following suit, ramping up efforts to optimize resource distribution, improve service efficiency, reduce costs and meet increasing demand.
Earlier in December, German conglomerate Merck signed a strategic collaboration with China's Ping An Good Doctor, a one-stop healthcare online platform, to jointly explore integrated solutions to advance intelligent healthcare in the country.
The tie-up will leverage Ping An's extensive experience in artificial intelligence medical technology, insurance provision and online and offline healthcare resources and Merck's medical expertise, high-quality medicines and innovative solutions to develop an integrated one-stop healthcare solution.
According to a joint news release, the duo also pledged to tear down the barriers between online and offline healthcare through innovative retail models that connect pharmacies, hospitals and primary healthcare institutions in rural areas.
"As part of our digitalization strategy, we are seeking out innovative solutions that will offer the highest possible benefits to patients, with the mission of transforming the lives of 40 million patients in China by 2025," said Rogier Janssens, managing director and general manager of Merck's Biopharma Business in China.
The tie-up is not a water-testing endeavor for either party, though: Merck entered into an agreement with Chinese internet giant Tencent in developing intelligent digital healthcare services by populating public knowledge of diseases, whereas Ping An built an internet healthcare platform for the government of Guangxi Zhuang autonomous region.
China's online healthcare market exploded from an insignificant 1.5 billion yuan ($214 million) in 2012 to a projected 23.5 billion yuan next year, according to data from Statista Research Development.
China has unveiled a multilayered grand plan called "Healthy China 2030" to boost people's livelihoods and longevity. Given the imminent struggle to contain rising healthcare costs, much focus will be placed on delivery of primary care and health promotion to empower both patients and physicians.
Digital solutions can address the critical issue of how the industry uses data analytics to drive efficiencies and deploy resources in a smart way, according to Kings Wang, senior director for strategic planning and head of marketing at IQVIA China, a US company serving the combined industries of health information technology and clinical research.
"Internet, AI, and other suites of personalized services will allow premium health resources to revolve around users and actively facilitates the precise implementation of the Healthy China 2030 initiative," said Wang.
Making medical products and services accessible to patients is a top priority. Guided by a so-called omni-protection concept, French vaccine maker Sanofi Pasteur unveiled in December a string of smart and standardized vaccination procedures in China to help users access immunization information, track vaccine data, and manage the vaccination process through the internet and big data technologies.
During the second China International Import Expo in November, Sanofi Pasteur inked a pact to establish cooperation with Chinese internet giant Alibaba Group's healthcare arm to build a vaccination cloud platform, offer related information online and location-based vaccine search services.
"The common thread running through the entire vaccination cycle is data, the sharing and smart deployment of which will assist authorities to keep track of disease prevention and data accumulation nationwide," said Mike Zhang, general manager of Sanofi Pasteur China.
What digital technology can do is to "create that closed loop so that people can be reminded about their second or third vaccine, and using other digital formats for them to be informed about their health," said Joseph Romanelli, senior vice-president of MSD and president of MSD in China.
The US-based company has joined hands with Ali Health to create a preventive health management system combining healthcare knowledge and technologies so that users can get to understand the burden of diseases and where they can get vaccinated.
"The digital platform that we have in China is probably second to none. What's great about China is that all of our customers, whether they are physicians or patients or potential patients, are online," he said.
Li Jinhui, general manager of the oncology and rare disease business of Pfizer China, said internet plus healthcare, which enables top-notch doctors with diverse expertise to be accessible to patients from all over the country, will bring significant benefits to patients prompting them to seek diagnosis and medical treatment instead of staying undiagnosed.
"Such accessibility provides patients with another choice to access high-quality medical services, other than lining up at the country's best hospitals, and helps them save travel costs. It will obviously accelerate medical service development in smaller cities and remote areas," said Li.
Physicians also stand to benefit from the digitalization wave.
Li pointed to big-data analysis, which will also play an important role in elevating diagnosis and treatment standards in the areas of oncology and rare diseases in smaller cities and rural regions.
A tumor patient database can be established and the most standardized models of diagnosis and treatment of certain types of cancer will be formed, Li said, thus establishing a system to guide every step in a doctor's decision-making process when making a diagnosis.
"Such a system will definitely empower medical institutions at a grassroots level and gradually help achieve equal availability of high-quality medical care," she said.
Others are rolling out medical devices backed by technological leaps. Siemens Healthineers, the healthcare unit of German conglomerate Siemens, unveiled in November its latest 5G-powered ultrasound solutions. The locally developed gadget is expected to help physicians in remote areas and county-level clinics better diagnose people with the real-time aid of seasoned doctors thousands of miles away.
"Currently, China lacks physicians especially in entry-level healthcare institutes, primary hospitals and rural healthcare institutes. Also, it is difficult for ultrasound physicians to improve their skills," said Jerry Wang, general manager of Siemens Healthineers China.
"Most 5G applications are in place to help higher-level hospitals to connect with lower-level hospitals. So limited physician resources will be utilized in a much better way," he said.
The company has also rolled out a one-stop stroke solution center, which has fast CT scanning and an angiography system in one room.
Despite all the perks, experts have called for prudence in the marriage of technology and medical care.
Zhang Meng, vice-president of Tencent Medical, said that the internet focuses on speed and pushing forward novel ideas, but the medical care industry is where safety is prioritized.
"Therefore it's difficult to totally change the industry using the internet and attempts may come step by step and slowly," he said.