Digital healthcare moves foster medical industry transformation in China
Share - WeChat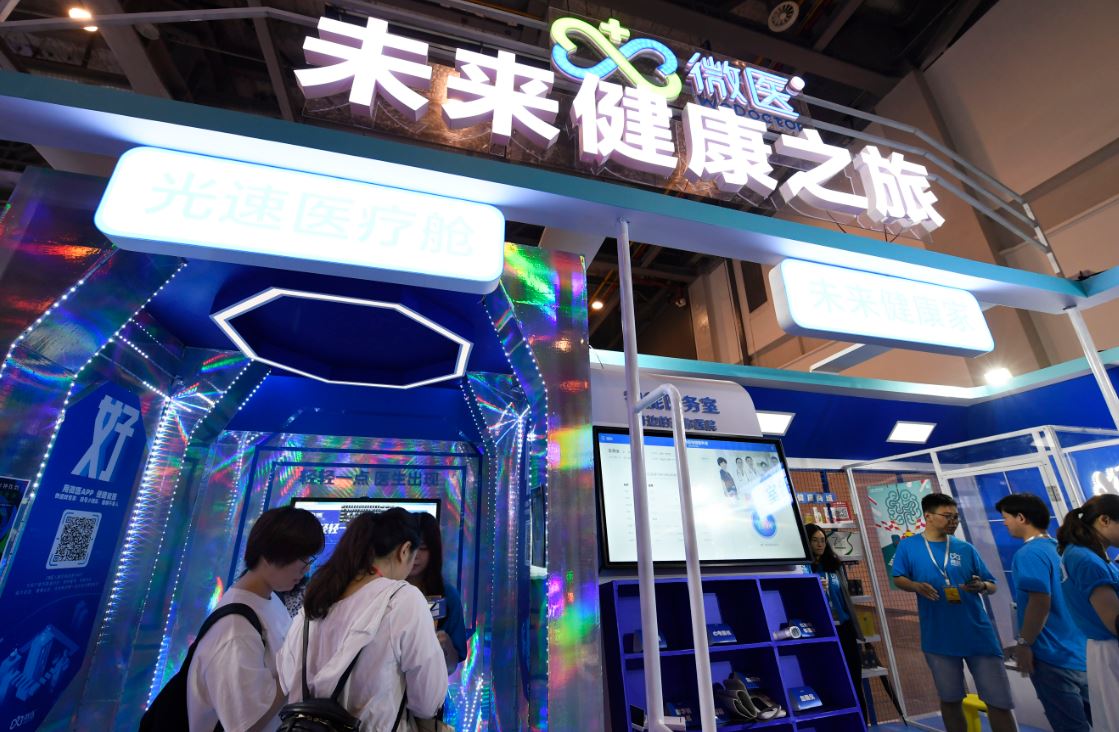 China's next digital platform to have a transaction volume of more than 1 trillion yuan ($142.9 billion) will probably occur in the healthcare sector, as digital healthcare will be the most applied area in internet in the future, said an industry expert.
Liao Jieyuan, president and CEO of global leading digital healthcare company WeDoctor, said that Alibaba is currently China's first digital platform with a transaction volume of more than 1 trillion yuan. Considering the fact that China's pharmaceutical market volume surpassed 2.2 trillion yuan in 2019, the next trillion-yuan-level digital platform will probably occur in the healthcare industry.
In October, the World Health Organization integrated the concepts of medical information, telemedicine and digital medical treatment into digital healthcare, arguing that digital healthcare will upgrade the whole process throughout medical treatment and healthcare management.
It also issued a global digital healthcare strategy (2020-24), to prioritize digital healthcare and affirm the potential of digital healthcare in supporting the development of the medical industry in all countries.
According to a recent report issued by market research consultancy Investank, China is expected to become the largest digital healthcare market in the future.
Compared to the United States and European countries, China, as a newly emerged market, has few existing enterprises and limited infrastructure, which means digital healthcare companies will encounter fewer obstacles when developing new products and services, said the report.
The report also noted that there is a high internet penetration rate among China's large population base, which is fundamental to creating digital healthcare products and services.
A report on digital healthcare issued by Royal Philips Electronics NV showed that China is already taking a lead in digital healthcare application, way ahead of the US.
According to the report, currently, 94 percent of medical professionals in China are using digital healthcare technologies or mobile healthcare apps, while the ratio for the US is 76 percent.
In addition, compared to other countries, Chinese medical professionals are doing a better job in encouraging patients to use digital healthcare technologies or mobile healthcare apps to monitor their physical condition. For example, 60 percent of patients have been advised to monitor blood pressure using digital healthcare technologies, while 51 percent have been advised to monitor body weight using healthcare apps.
As early as 2017, China was recognized as one of the top six digital healthcare innovation centers by The Economist magazine. It was the only developing country in the top six. The other five countries were the US, Belgium, Finland, Israel and Singapore.
In April 2018, the State Council issued a guideline on promoting "internet plus healthcare". Specifically, the guideline underscored the importance of improving the digital healthcare service system, enhancing the support system, as well as guaranteeing industry supervision.
Enterprises in this niche are stepping up efforts to shape the country's healthcare industry.
In April, WeDoctor started construction of a drug purchase platform, which enables drug purchases, price negotiations, transactions, settlement and supervision. Once put into operation, the platform can cut national financial budget by 600 billion yuan per year.
It is also helping cities in China build a healthcare support system, using its cloud platform to connect the data of medical services, drugs, insurance and healthcare management.
"The healthcare support system aims to improve the physical condition of the public, increasing medical efficiency, as well as controlling the financial budget," said Liao from WeDoctor.
According to the company, at present, its healthcare support system is being used in more than 10 cities including Tianjin, Tai'an and Dezhou in Shandong province, and Pingdingshan in Henan province, covering a total of 25 million people.
"From online registration, online consultation to the construction of a digital healthcare community, we are striving to focus on the most important and urgent issues of the country's medical care, so that patients can obtain medical and healthcare services more conveniently and efficiently," Liao said.