China promotes Hunan Province to attract more Egyptian tourists
Share - WeChat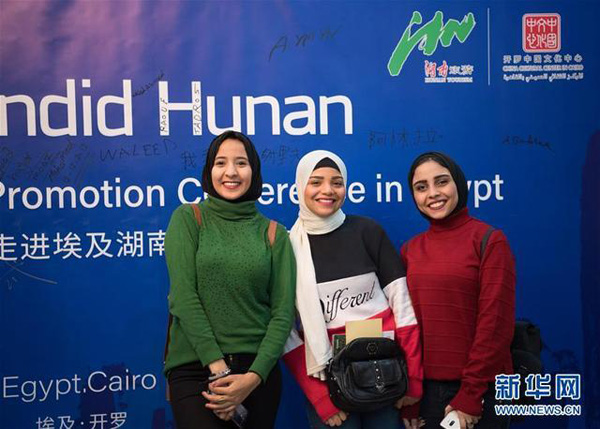 The China Cultural Center (CCC) in Cairo held on Thursday evening a festive conference to promote culture and tourism in China's south-central province of Hunan to attract more Egyptian tourists.
Splendid Hunan Culture and Tourism Promotion Conference in Egypt was attended by the Chinese ambassador to Egypt, the CCC chief, officials from Hunan as well as Egyptian officials, lawmakers, travel agents and others.
During the event, Chinese Ambassador to Egypt Liao Liqiang said Egypt and China are two unique states with ancient civilizations and incomparable tourist sites.
"The two countries have established diplomatic relations for over 60 years and cooperation in cultural tourism between them has recently been deepening, especially since the beginning of the implementation of the Belt and Road Initiative (BRI)," Liao said.
Proposed by China in 2013, the BRI refers to the Silk Road Economic Belt and the 21st Century Maritime Silk Road, aiming at building a trade and infrastructure network connecting Asia with Europe and Africa along the ancient Silk Road trade routes to seek common development and prosperity.
"According to Chinese statistics, half a million Chinese tourists visited Egypt and about 90,000 Egyptian tourists visited China in 2018," the Chinese ambassador said.
Hunan is located in south-central China. The total area of the province is nearly 211,800 square km with a total population of about 73 million.
Wu Guiying, vice governor of Hunan Provincial People's Government, said in her remarks that as the hometown of late Chinese leader Mao Zedong, Hunan Province has deep history and culture.
"Hunan is a well-known touristic province in China that is blessed with breathtaking landscape and rich cultural heritage," Wu told the attendees, noting mountains account for more than 51 percent of the province.
Hunan has contributed to the fields of agriculture, new energy and construction in Egypt, she noted, citing that the first production line of solar panels established in Egypt came from Hunan and some of the towers of Egypt's under-construction new administrative capital city are being built by firms from Hunan.
During the ceremonial conference, a video clip was displayed on a theater monitor showing the attractions and cultural sites of Hunan, including Wuling-Xuefeng Mountains, Dongting Lake, Fenghuang Ancient Town, Yueyang Tower and others.
Mohamed el-Massoud, a member of the Egyptian parliament, said he once visited Hunan and was amazed by the beauty and originality of the province, describing Hunan as "a beautiful province in a great country."
"We need to increase cultural exchange with China through exchanging delegations to boost cooperation in all fields, particularly in tourism. Actually, the Chinese embassy and the cultural center in Cairo are making great efforts in this regard," the lawmaker told Xinhua after the activity.
Egypt should also work to attract more Chinese tourists through similar activities as over 120 million Chinese tourists travel abroad annually, Massoud said.
"I hope Egypt could just get one percent of them," he added.
The ceremony also witnessed the signing of an agreement between two travel companies from Egypt and Hunan to arrange mutual tourist trips.