TAILG shrugs off trade row, eyes e-vehicle exports
Share - WeChat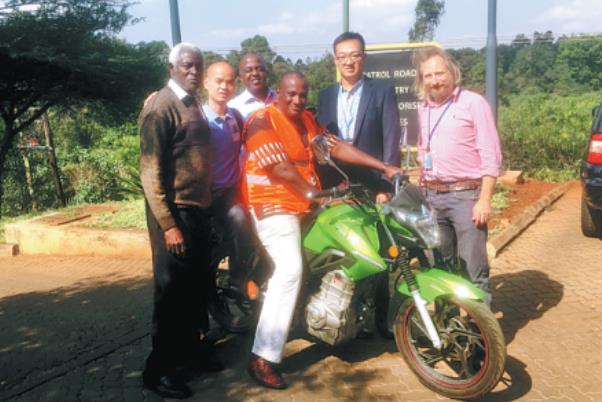 TAILG Group, one of China's leading electric vehicle manufacturers, will step up its efforts to explore the overseas market despite the rising tide of trade protectionism in some countries.
"In the coming decade, we would like to improve our overseas business to 50 percent, from less than 10 percent now," said Hu Dongwen, assistant president of TAILG Group.
Despite the Sino-US trade row, the company's overseas sales more than doubled this year, compared with the average annual growth of 50 percent in the past four years.
"That's because we invest more in exploring emerging markets, especially in Africa and Asia," said Huang Jiangsong, general manger of TAILG's overseas business department.
"The nation's electric bicycle market has entered a phase of stability since 2014, but we have found opportunities for rapid growth in the overseas markets."
As a growing number of developing countries attach more attention to environment protection, there is rising demand for electric bicycles which can save more energy and pollute air less than conventional bicycles powered by fossil fuels.
In Africa, Kenya-headquartered United Nations Environment Programme or UNEP is making efforts to promote environmentally friendly traffic. More African countries took relevant measures, thus creating huge opportunities for leading electric bicycle manufacturers such as TAILG.
"Though our exports to Africa account for a small proportion of our overseas portfolio right now, we believe the growth potential there will be huge and we are going to invest more in that market," said Huang. Meanwhile, sales in the domestic market had peaked around 2015, thus pushing more electric bicycle manufacturers to look for overseas markets.
"Owing to our huge investment in R&D and our efforts in producing products catering to local demand, our profit margin in the overseas markets is almost double that in the Chinese market," said Huang. "So far, the rest of Asia remains our biggest overseas market, contributing 40 to 50 percent of our overseas business."
TAILG recently joined hands with the UNEP, and donated 30 electric bicycles to the Philippine Postal Corporation or PHLPost, helping the country's postal system to increase the use of clean mobility.
In the past two years, TAILG has donated electric bicycles with energy-saving and longer riding range to the UNEP, to launch test projects in many countries.
The ongoing trade friction between China and the United States did affect the company's exports, according to Huang. But due to TAILG's efforts to explore other overseas markets, the impact on the company's overall overseas business remains under control.
"As most US customers are not so sensitive to minor price changes, there is a very limited impact on our sales in the US after US President Donald Trump imposed a 10-percent tariff in September 2018 on $200 billion worth of Chinese products. But our sales saw more obvious downward pressure when the US government further raised the duties to 25 percent in May this year," said Huang. "But the rising protectionism will not change our commitment to expanding overseas."
Established in 2004, Shenzhen-based TAILG specializes in the R&D, manufacturing, sales and after-sales service of a variety of e-vehicles like e-bicyles, e-scooters, e-special bikes, e-motorcycles, and e-tricycles. TAILG ranks third in China in terms of sales among electric bicycle makers. It boasts 5,638 exclusive shops in more than 70 countries and regions.