Photography startups click the right picture for growth
Share - WeChat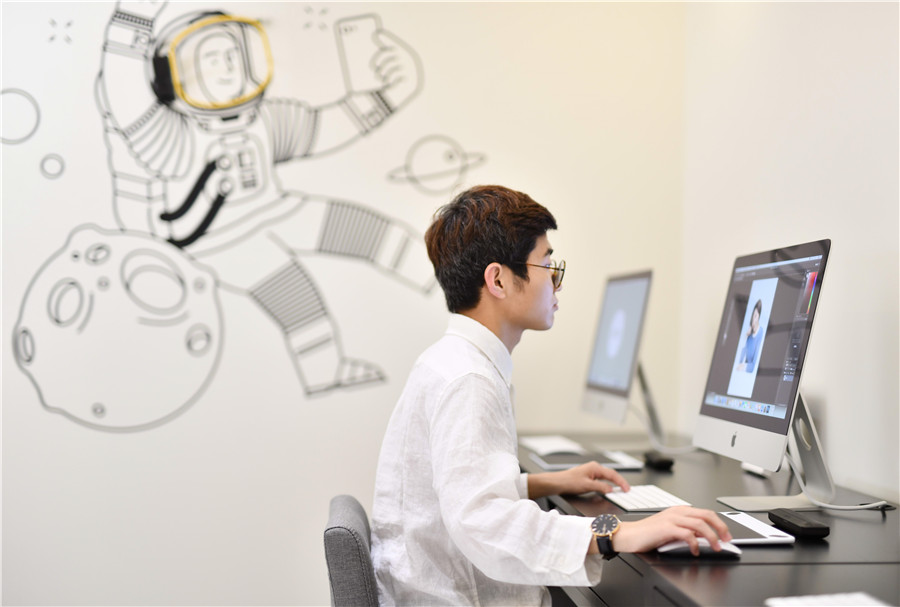 Rising demand for good portraits from young consumers is opening the door for a host of new photography startups in China.
"Jokingly, photographers and hairstylists used to be those who never understood what style I wanted," said Li Xingran, a 24-year-old graduate student from Beijing, who claimed that her ID photos over the past years were "unnatural, stiff, and of course not beautiful".
While Li was distressed about not having a decent photo for her resume since she was hunting for a job, a friend suggested her going to Elefoto, a young photography studio, which in hindsight turned out to be a lifesaver for her.
"It was surprising that I looked naturally beautiful and confident in the photo from Elefoto. The photo has been a bonus point, according to one of my interviewers," Li said.
Li is just one of the several Chinese consumers who are in need of a decent portrait to look for a job and for other purposes, including ID photos, wedding registration pictures and business portraits.
Such demand has spurred huge business opportunities for a group of portrait photography startups like Elefoto, Himo and Naive Blue, industry experts said.
Unlike traditional photography studios, companies like Elefoto scramble to offer high-end portrait photos through professional photography and photoshop abilities as well as full services.
"At Elefoto, we aim to help consumers discover their true beauty through the lens. With our whole set of services, we also want to make the photography process efficient and joyful," said Chong Xiaojie, founder of Elefoto.
To get the perfect portrait, consumers should first make a reservation. Once they arrive at the studio, staff will help them choose a style and clothes. Professional stylists will apply makeup according to the individual characteristics.
After the professional photography, the consumers are involved in the photoshop process to discuss later embellishments. The whole process usually takes around 40 minutes.
"I was treated with respect in these studios and the detailed services made my photo stand out and gave it a personalized touch," said Tong Yang, a 37-year-old employee in an internet firm in Beijing, who had just finished a business portrait.
But at these studios, prices are higher compared with traditional ones, varying from 299 yuan ($42) to 1,990 yuan. Though at least 50 percent higher than the traditional companies, many consumers still opt for them.
Jin Chen, managing partner of investment firm Ventech China, said in a report: "Photos for ID, marriage and business have seen resurgent demand. Companies are building their brands with higher quality photographs and services."
A Goldman Sachs report pointed out that over 30 percent of the total population in China are born in the 1980s and 1990s. With the average annual revenue of these people expected to soar to $13,000 by 2024, they will lead the consumption wave in the next decade.
To tap into such demand, photography companies are also gearing up efforts to offer more diversified portraits, such as family photos and pet photos.
With Christmas Day falling later this month, Himo, another leading portrait startup, has launched portraits designed exclusively for the festival.
Gao Cheng, a 29-year-old engineer from Nanjing, and his wife are having such a photo taken at Himo. Both of them are putting on clothes and makeup.
"With Christmas coming, both of us believe that such photographs will bring good luck and cherished memories," he said.
Zhang Chao, founding partner of EverShine Capital, said: "Consumer demand for portraits has transformed from just a simple photo to an object of beauty. Those who can transform traditional photography studios, offer high-quality solutions and online tools will gain a lead."