News anchor turns host of new lecture show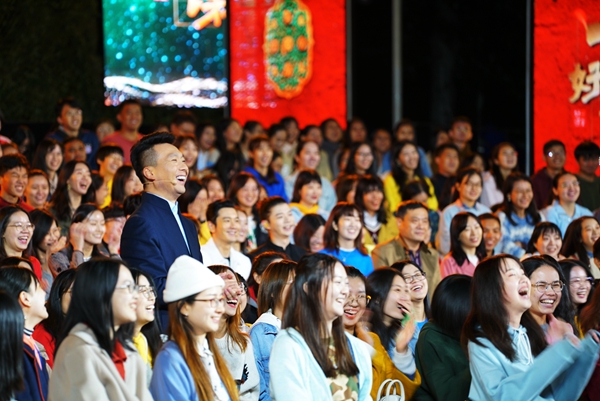 The News Broadcast has been airing on China Central Television at 7 pm daily for decades, and has made its main anchor, Kang Hui, a household name across the country.
After presenting the program for 13 years, Kang, 47, is now taking on a new role-to host a variety show for the first time in his career.
A Good Lecture, which began airing on CCTV in November, presents Kang as a "head teacher" and the studio audience are mainly made up of college students and young viewers. "I organize discussions on related topics, keep the discipline and make brief conclusions," Kang says of the show.
The program also invites leaders from various circles to make presentations, which offer insight and review on their careers and lives, and deliver lectures to viewers to reflect on the achievements made by New China over the past 70 years from their individual perspectives. All the "teaching notes" for the program will be collected by the National Library of China.
"In our live news broadcast, we only need to present the news stories to the audience on time. But in this program, I need holistic preparation and concise expressions to introduce the lecturers' opinions," Kang says.
Another challenge is that the lineup of guest speakers is star-studded.
On the show, Shan Jixiang, a former director of the Palace Museum in Beijing, recalls how he turned the ancient Forbidden City into an "internet celebrity" by taking a creative approach. Chen Kaige, a top Chinese film director, speaks of how he used cinema to record the changes in Chinese society. In later episodes, Wang Meng, the author, will talk about literature, and Fan Di'an, the director of the Central Academy of Fine Arts, will inspire viewers with his insights into fine art education.
The production team realizes its responsibility, as Kang says: "An enlightening moment can benefit a student for a lifetime."
Finding new angles is another pressure for the team. For example, when the director Chen was invited to deliver a lecture on film in front of young honor guard soldiers, he had to break his familiar format of talking about movies. His lecture started with his five years in the army in the 1970s, and he recalled his experience of shooting The Big Parade, a 1986 film inspired by true stories during the preparations for the National Day parade in Beijing in 1984.
"We want to make the atmosphere feel like a concert," Tang Hao, director of A Good Lecture, says. "While many young people pursue fame, here they can be seen pursuing knowledge... And we can offer a fresh perspective to young audiences when serious experts become approachable."
Tang says a "lower threshold" was set for the program to avoid becoming too academic and thus better appeal to a wider audience. The studio where the show is recorded is also visited by young celebrity singers and actors. Without the spotlight on them, they sit in the audience as humble students listening to experienced speakers, asking questions from time to time.
"Young people then think, 'I'd better pursue my idol's interest,'" Kang says. "They are not the stars of the show, but examples for others to follow."
Unlike a TV newsroom, which demands an instant response to breaking news, and scripts are prepared at last moment, this new role offers a slower pace to Kang.
"If I was given a script today and asked to record the show tomorrow, I just wouldn't do it," he says. "I have to make sure everything goes deep into my heart and becomes my own words."
He meets the guests in advance to look for "chemistry". Things seem to work as there is laughter, sentimental moments and patriotic enthusiasm in the studio class. Although the lecturers are usually older, Kang says they "feel young" and inspire people.
"Regardless of their past achievements, their devotion to their work hasn't faded away."
TV programs based on lectures is not a new format for CCTV. One previous example is Lecture Room, a long-running program inviting scholars to deliver speeches focusing on cultural and historical issues.
"Audiences may get fed up with purely academic lectures on TV," he says. "If Lecture Room is like a chef serving a banquet starting with an entree, a main course and then dessert, A Good Lecture is like the best dish cooked by a chef. You can tell everything about the chef just by one bite."