Benitez serving up fresh approach at Dalian
Share - WeChat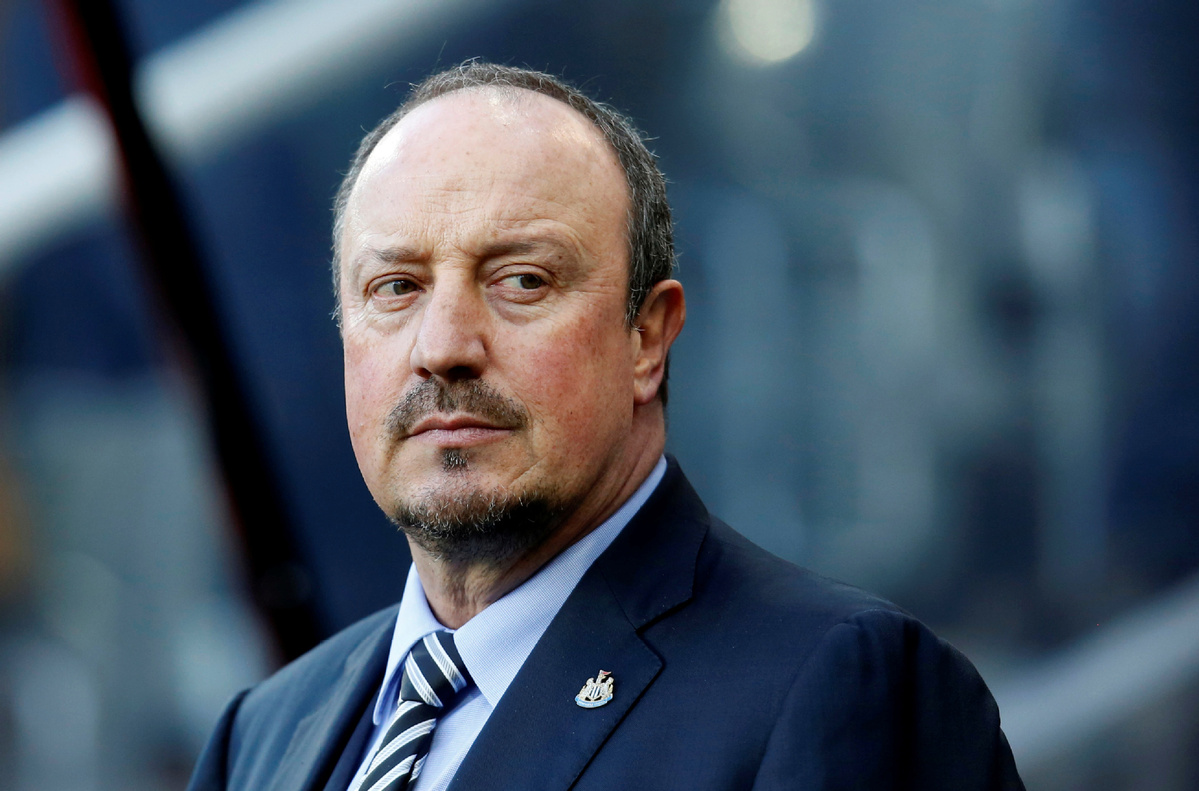 Spaniard using ping-pong to break down barriers at Super League club
Rafa Benitez is employing his very own brand of ping-pong diplomacy as part of his ongoing efforts to transform Dalian Yifang into a Super League superpower.
The former Liverpool, Real Madrid and Newcastle boss, who took the reins in July, told BBC podcast Football Daily that he sometimes uses table tennis rackets to get his message across to players, admitting his Mandarin skills aren't quite up to scratch yet.
"I was explaining how you kick the ball in the same way you position the racket and the different effects (each angle) has. Believe me, you have to use everything that you have at your disposal," said the Spaniard.
"We use the video, one-on-one conversations and we go on the pitch and practice every single thing. And we use examples like ping-pong or whatever, because you have to be sure the players understand what it is you want to express.
"They will follow you but you have to give very clear instructions because in the schools they don't tend to play football when they are kids. And they don't have that habit of competing or doing things that would be normal in Europe, where everyone plays football or rugby in the playground."
Benitez admits the language barrier has been a challenge for him, especially during matches.
"Here you also have to consider the translator… so you have to plan everything that you want to say a little bit in advance with your translator to be sure that he passes on the message properly.
"You have to learn some words-ni hao (hello), zao shang hao (good morning), and jian dan (play simple) is a phrase I use a lot. But in the end, the translator is crucial. I have a great translator, Justin. He is doing a great job, but sometimes you are on the touchline and the fourth official is moving him away and then you are on your own. It's not easy.
"You need the translator even when you go shopping because you cannot read the labels. So, a lot of things are totally different (compared to Europe). People don't realize how difficult it is to perform in this league especially when you arrive in the middle of the season."
Bankrolled by construction giant Wanda Group, Benitez has been tasked with restoring the glory days at Dalian, which in its previous incarnation dominated Chinese soccer in the 1990s.
The Spaniard, who has steered Dalian away from the relegation zone to ninth spot in the CSL standings, rates Wanda's investment in the club as "top class".
"They are behind the team and they will have a new training ground in December with 14 pitches, two indoor pitches, and everything is top class. We have another project in which we are bringing 10 coaches from Spain for the schools and we have around 10 more coaches from Spain to make sure we have the methodology and the way that we coach and do things in Spain. They want to replicate all these things in the academy, in the schools, reserve team and first team.
"Dalian Yifang is a new club in name only but the reality is that they won seven or eight trophies in the past. So it is a very traditional football area. At that time, 75 percent of Super League players were from the Dalian area. And they want to go back to the same level. The fans are very passionate and they love football. Dalian is maybe the biggest city for football in China."
Spearheaded by former Napoli playmaker Marek Hamsik and with Belgian winger Yannick Carrasco back on board having at one point threatened to leave the club, Benitez is now hoping his Dalian side can break into the top six next season.
"When we came here, they were trying to avoid relegation. I said, 'OK, the first step is to stay up and after we will invest, we will try to bring new players, improve the squad. We are creating all the structures-just not the academy and the training ground, also we are creating a scouting department, so we are taking care of every single detail.
"The target will be to be in the top six but it depends how well we do in the transfer window.
"The foreign players can make a difference but it depends on the others…. If you don't have very good Chinese players it's very difficult to compete."