Beijing, Moscow ties cemented at summit
Share - WeChat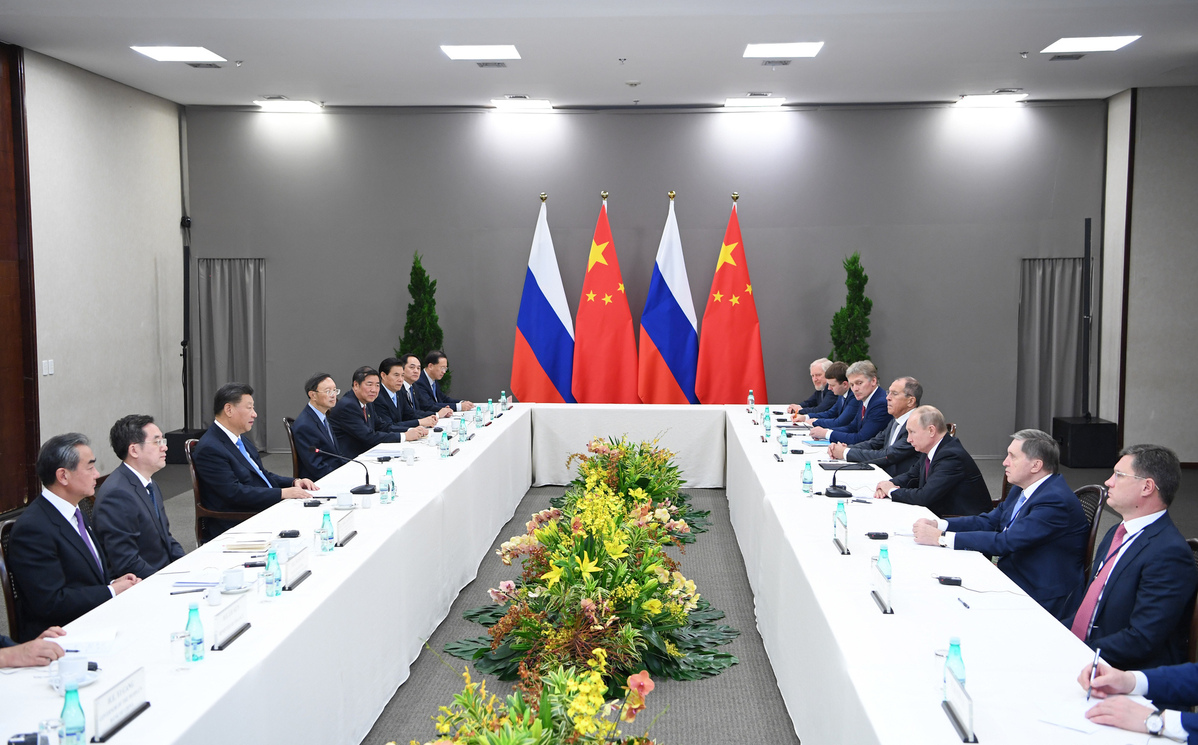 China and Russia should work together to keep bilateral ties developing at a high level, President Xi Jinping said when meeting with Russian President Vladimir Putin on the sidelines of the 11th BRICS Summit in Brasilia on Wednesday.
The year 2019 is an important one for bilateral ties, Xi said.
This year China and Russia celebrated the 70th anniversary of establishing their diplomatic relations, and the two leaders announced their countries will develop a comprehensive strategic partnership of coordination for a new era, Xi said.
As the world continues to experience complex and profound changes with rising uncertainty, China and Russia should conduct close strategic coordination and make joint efforts to protect basic norms of international relations, he added.
They should also oppose unilateralism, bullying and interference in other countries' affairs, safeguard their own sovereignty and security and work together to create a fair and just international environment, Xi said.
Also, China and Russia should continue to expand bilateral trade, Xi said.
Speaking of the recently concluded second China International Import Expo in Shanghai, Xi said the transaction volume of Russian exhibitors grew by 74 percent compared with 2018. The China-Russia East-Route natural gas pipeline will soon begin operating, he said, adding that he looked forward to more strategic energy projects between the two countries.
Xi called for enhancing the aligning of the Belt and Road Initiative and the Eurasian Economic Union.
Also, Xi said the two countries should promote solidarity and cooperation among BRICS countries to signal that member states will stick to multilateralism and uphold a multilateral trading system.
China fully supports Russia in hosting the 12th BRICS Summit and the Shanghai Cooperation Organization Summit next year, Xi added.
Putin said Russia-China ties are solid and have broad prospects.
The two countries share an important consensus and interests in maintaining global strategic security and stability, Putin said.
Russia is confident in further promoting bilateral trade and deepening cooperation in areas such as agriculture, aerospace and energy, and will increase natural gas exports to China, Putin said.
Russia hopes to work closely with China to enhance the influence of BRICS, and hopes to strengthen security and counterterrorism cooperation with China within the framework of the Shanghai Cooperation Organization, he added.