Musical on police officer's 'Rebirth' to launch in Beijing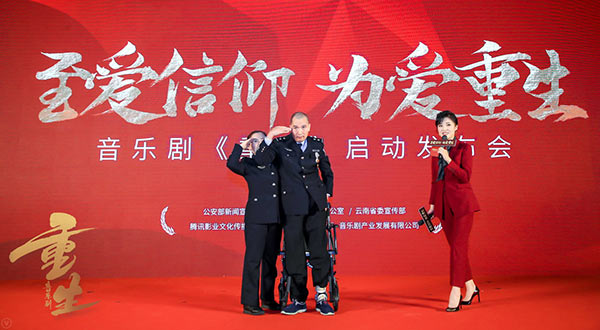 In 2005, Luo Jinyong, a police officer in Yunnan province, fell into a persistent vegetative state after being seriously injured during a fight against three drug dealers. Thanks to his wife's painstaking care, he miraculously regained consciousness after around two years.
Rebirth, a musical based on the true story, has recently announced it will launch its production in Beijing.
Producers said the first performance is set to take place on the United Nations' International Day Against Drug Abuse and Illicit Trafficking, which will fall on June 26, 2020.
Luo Jinyong and his wife Luo Yingzhen joined producers to attend the Beijing launch ceremony held on Oct 28.
Over the nearly 1,000 days that Luo Jinyong had been in the persistent vegetative state, his wife wrote more than 600 diaries, each of them emotionally recording her love and devotion.
Li Dun, the musical producer, says he felt very touched to hear about the Luo family's story.
"When I saw Luo Yingzhen, she told me what happened on the day that her husband was injured. She recalled the details peacefully. I was very impressed and touched," said Li.
The musical is jointly presented by the Ministry of Public Security and Tencent Pictures in association with Beijing Jingmo Film and TV.