Second expo provides 'unique' platform to showcase innovation
Share - WeChat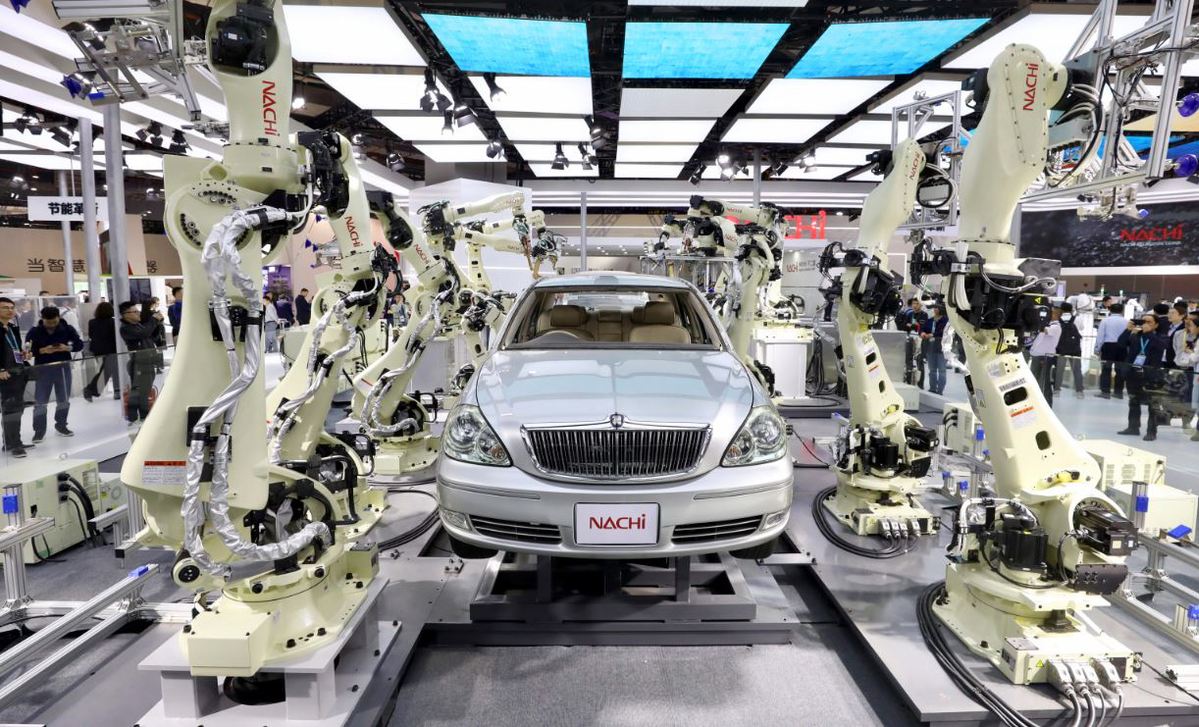 China's new round of reform and opening-up will encourage global companies from the high-end manufacturing sector to further transform traditional industries with smart manufacturing in the country, said business executives.
Their remarks came as China is deploying more resources on upgrading its industrial structure via innovation, encouraging foreign direct investment and holding influential events such as the China International Import Expo to generate both external and internal growth impetus.
As a new comer to the CIIE this year, Thales Group, the French technology company, has showcased its full breadth of different market activities including aerospace, transportation, digital identity and security in one show in Shanghai for the first time.
"The CIIE provides a unique platform to reinforce our relations with our Chinese partners in almost all our markets including aerospace, transportation and digital security," said Pascale Sourisse, president of Thales International.
"I have been impressed by the expo as a rising platform for countries and companies to showcase their latest innovation results and developments," she said, noting the expo has seen a growing number of high-tech products making their debuts in China.
During the first CIIE, deals for intended one-year purchases of goods and services worth $57.83 billion were reached and more than 90 percent of the contracts were completed in 2018, while deals for high-end equipment reached over $16.46 billion, ranking the largest sector by business volume, data from the Ministry of Commerce show.
After signing more than 20 agreements with business partners including State Grid Corp at the first CIIE last year, Swiss conglomerate ABB Group has brought more products to its enlarged exhibition area this year. It has set up three exhibition areas - smart energy, intelligent manufacturing, and smart transportation and smart city, to present its technology in a more vivid form.
"At this year's expo, we are hoping to meet more partners who need to upgrade traditional industries into high-tech business, as well as clients in energy and urban development sectors," Gu Chunyuan, president of ABB Asia, Middle East and Africa Region.
Outside the venue of the CIIE - the National Convention and Exhibition Center (Shanghai) - the company is building a new 67,000-square-meter robotics manufacturing and research facility in Shanghai with an investment of $150 million. The facility is slated to open in 2021, and its goal is to produce 100,000 industrial robots per year.
Many global companies have expanded their exhibition areas at this year's CIIE. Schneider Electric, the French industrial conglomerate, announced that it will make an appearance in its intelligent manufacturing and solution exhibition area with multiple technologies covering power grids, green and intelligent manufacturing, infrastructure, green building development, IT and other fields.
"At our booth, visitors just need to move their fingers on the screen to experience and understand how the next generation power stations, plants, hospitals, commercial buildings and factories work through intuitive feelings," said Yin Zheng, president of Schneider Electric China.
He said China has put forward many measures to promote consumption and activate the domestic consumer market, and this involves food and clothing, household appliances, automobiles, consumer services, cultural entertainment, leisure and tourism. Each of them has a huge market space for businesses to explore.
In an exhibition area of 500 square meters, GE of the United States has displayed industrial equipment and digital solutions in the aviation, energy, healthcare, oil and gas, and intelligent manufacturing sectors, after more than 400,000 domestic and foreign buyers visited its booth and signed a number of deals during the first CIIE.
"It will be the first time GE presents its comprehensive solutions for China's clean energy development under one umbrella," said Rachel Duan, president and chief executive officer of GE Global Growth Markets.
As the chairing member of the CIIE's exhibitors' alliance, she said the firm also hopes to give full play to its role by uniting exhibitors, gathering information, sharing resources and offering advice.
The ongoing second China International Import Expo has attracted more than 250 industry leaders and Fortune Global 500 companies, and its business exhibition area has been expanded to more than 330,000 square meters for segments such as high-end equipment, consumption, healthcare and food, according to China International Import Expo Bureau, the expo's organizer.