SOEs sign cooperation pacts with global firms
Share - WeChat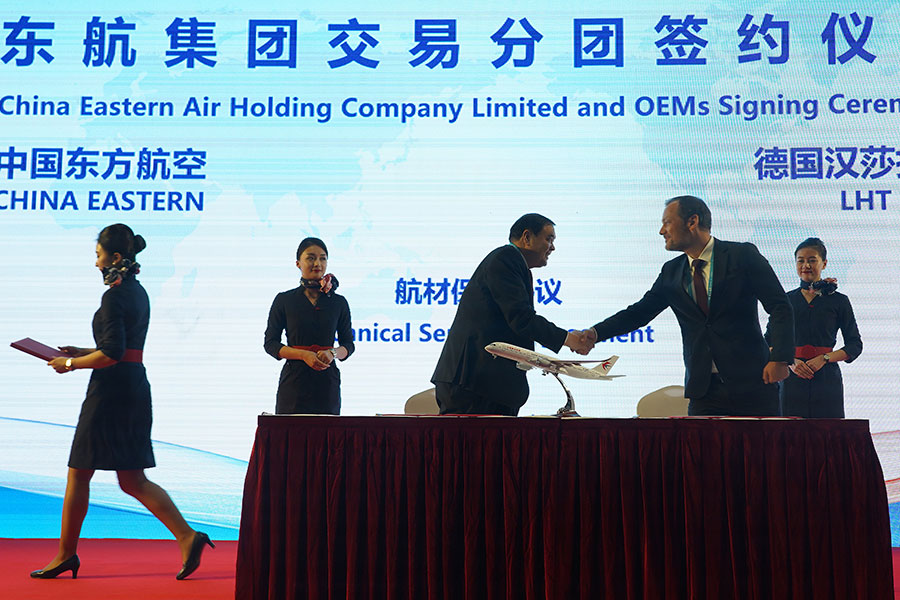 97 central enterprises expected to strike deals with 730 international suppliers
Fifteen centrally-administrated State-owned enterprises have taken the lead and signed cooperation deals with foreign companies and participants on the second day of the 2019 China International Import Expo, which kicked off in Shanghai on Tuesday.
In total, 97 central SOEs have brought about 21,000 professional buyers to the expo this year, up by nearly 20 percent from last year, according to the State-owned Assets Supervision and Administration Commission.
As a result, these central SOEs are likely to strike deals with 730 suppliers from 87 countries and regions this year. Not only have the numbers of suppliers and countries increased in terms of collaboration with SOEs through the expo, it is estimated that the value of potential deals and scope of business are also expanding.
The wider and deeper collaborations between China's central SOEs and businesses around the world further testify to the country's commitment to opening up.
"We are returning to the expo this year with a larger shopping cart and longer shopping list," said Li Yangmin, president and general manager of China Eastern Airlines.
Last year, the Shanghai-based company reached deals with a total value of 15 billion yuan ($2.14 billion) at the expo, focusing on pilot training, aviation fuel and engine maintenance.
Having signed 14 collaboration agreements with companies including Airbus, Exxon Mobil and SITA, a multinational information technology provider, Li noted that the total value of deals reached is sure to surpass that of last year.
"As an international carrier, we are always committed to working with global suppliers and partners to better serve our passengers. And the expo has provided us a great platform for sourcing and collaboration," he added.
Bulent Ozan Diren, general manager of Turkey-based juice giant Dimes, looked at the 500-million-yuan deal it reached with China Eastern Airlines as having "potential larger than the figure suggests".
"It's not only about selling bottles of orange juice in the air, but also building brand awareness among Chinese consumers by having them taste our products, and then translating that into retail sales," said Ozan, a third-generation helmsman of the family business, which has set up a retail office in China.
With a fleet of 700 planes, China Eastern Airlines is the world's seventh-and China's second-largest carrier carrying 130 million passengers annually.
China National Petroleum Corporation, the world's third-largest oil company, announced it has signed 21 purchasing contracts with 20 foreign companies including Honeywell, ABB and Dow Chemical at the expo this year.
Having been involved in 92 oil and gas projects in 34 countries by 2018, Wang Yilin, chairman of the company, noted that CNPC has risen to be one of the industry leaders in terms of globalized operations.