iFlytek banking on third-party developers for platform growth
Share - WeChat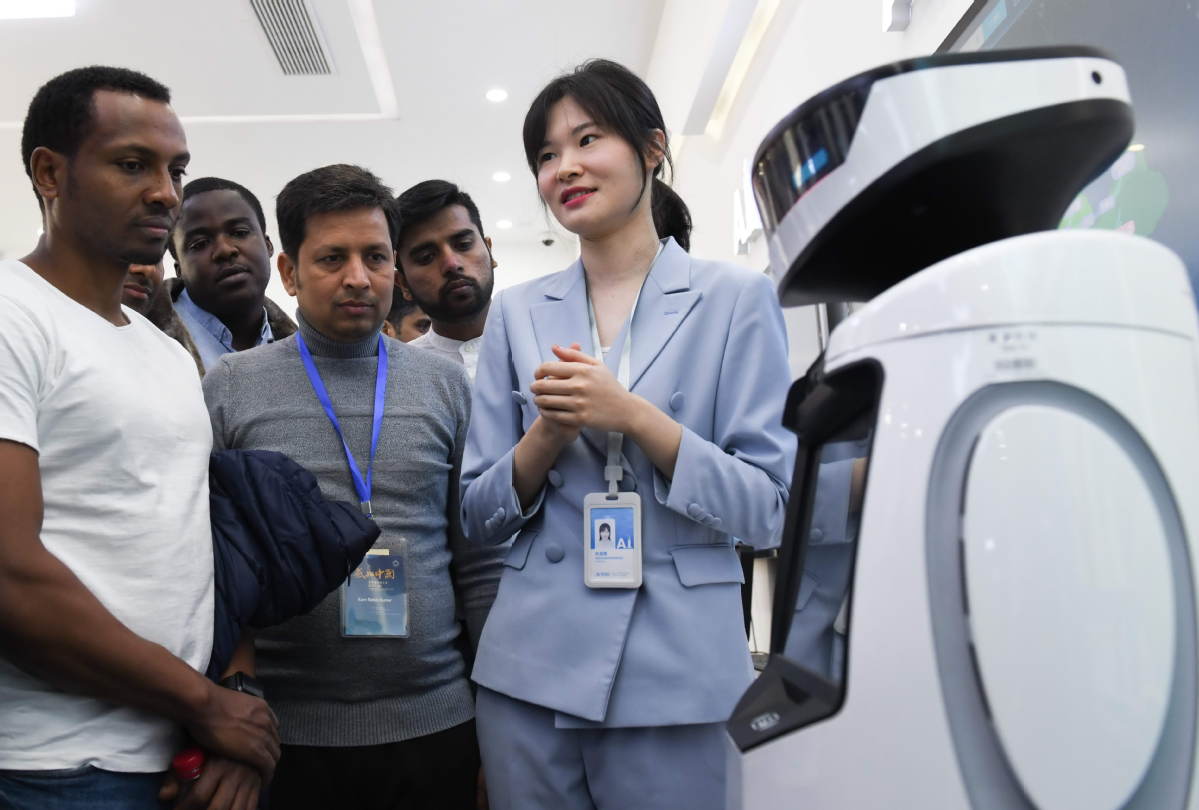 AI firm to ramp up learning interface for accelerating use of cutting-edge tech in the country
Chinese artificial intelligence pioneer iFlytek Co Ltd will ramp up its push to encourage more third-party hardware and software developers to adopt its voice interaction computing platform despite the restrictions it faces from the US government.
The move came as some 1.6 million developers are now using its AI-enabled user interface platform to build products such as robots, smart TVs, smart cars and software applications.
Hu Yu, rotating president of iFlytek, said the company will build an AI learning platform to help cultivate about 100,000 people to accelerate the industrial use of the cutting-edge technologies.
It also aims to support 1,800 enterprises to better integrate AI into their existing products and services, Hu said.
Based in Hefei, the capital of Anhui province, iFlytek has been focusing on voice recognition technologies for 20 years and it is leveraging the experience to help increase efficiency in the education, healthcare, judicial and other sectors.
In December 2017, iFlytek was chosen by the Ministry of Science and Technology to build China's first national laboratory for cognitive intelligence, which is the highest phase of AI. The laboratory focuses on helping machines think like humans.
"Voice interaction has become one of the important essential ways for human-computer communication. A vibrant ecosystem that involves technological edge, a wide range of hardware forms and a robust cloud computing platform is essential to success in the intelligent era," Hu said.
Li Deyi, an academician at the Chinese Academy of Engineering, said AI is being increasingly used in consumer electronics, manufacturing, healthcare and other traditional industries.
"Nurturing more AI professionals is key to being a world pioneer in cutting-edge technology," Li said.
iFlytek's plan came as it is facing restrictions from Washington. The US put the firm and seven other Chinese AI players in the Entity List earlier this month, banning them from buying US components without special government approval.
iFlytek chairman and founder Liu Qingfeng said the company has already been using domestic servers and cloud platforms to do AI training, and the ban will not have a big impact on its business.
The company has stocked US chips for use and it is also working closely with domestic suppliers to come up with homegrown replacements, Liu said.
"Washington's restrictions will pose a short-term challenge for China's AI industry, but in the long term, it is a strategic opportunity for the growth of China's industrial chain," he explained.
The senior executive added the curbs will not stop iFlytek from deepening global cooperation and going global. "We want to leverage AI for the benefit of mankind."
The company posted a net profit attributable to shareholders of 373.59 million yuan ($52.8 million) in the first nine months of this year, iFlytek said in an announcement of its financial results for the third quarter on Thursday.
The company said its profit surged by 70.51 percent year-on-year.
The company attributed the robust performance in the period to its technology-driven strategy amid the sustainable development of the AI industry.