Tianjin Juilliard kicks off inaugural season
Share - WeChat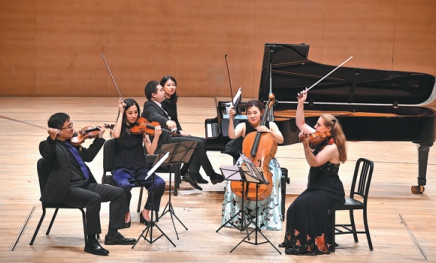 The Tianjin Juilliard Ensemble has kicked off its inaugural season of performances with a concert held at the Tianjin Grand Theater on Friday.
From October to May 2020, the ensemble will embark on an international tour, showcasing nine programs in 15 concerts in China, including Shanghai, Hangzhou in Zhejiang province, and Beijing, and abroad, in such places as South Korea, Singapore, New York and Paris.
With a mixed-instrument ensemble composed of resident faculty members from the Tianjin Juilliard School-the first overseas campus of the New York-based performing arts conservatory-the ensemble aims to promote chamber music on the global stage.
As part of the debut season, the Tianjin Juilliard School and the Tianjin Grand Theater will co-present the Tianjin Juilliard School Chamber Music Week from Nov 6 to 17 at the Tianjin Grand Theater. In addition to three concerts by the Tianjin Juilliard Ensemble, there will be master classes, a chamber music forum and a joint performance by students from the Central Conservatory of Music, the Shanghai Music Conservatory, the Yong Siew Toh Conservatory of Music and Seoul National University. Guest artists will include the Juilliard String Quartet.
Repertoires will vary during the tour, with the opening concert in Tianjin featuring Mozart's Sonata for Piano Four-Hands in B-flat Major, K 358; Claude Debussy's Sonata for Flute, Viola and Harp; and Shumann's Piano Quintet in E-flat Major, Op 44.
A new composition by Chinese musician Shen Yiwen, Tianjin Capriccio, premiered at the opening concert. The piece combines classical music with local folk songs and kuaiban, a traditional oral storytelling performance popular in Tianjin.
"By performing for different audiences, we gain our experience and get inspired as musicians. Back in school, we can share with our students such knowledge that goes beyond classes," says clarinet player Zhou Xiangyu, who obtained his master's degree from Juilliard in New York and is a member of the Tianjin Juilliard Ensemble.
"Our faculty members are world-class musicians who are passionate about ensemble playing. As it is a mixed-instrument ensemble, it is possible for us to present a unique repertoire to audiences in addition to core piano and strings chamber music. Many of the works performed will be premiered in China," says He Wei, the Chinese American dean and artistic director of the Tianjin Juilliard School. The violinist is also a member of the Tianjin Juilliard Ensemble.
"We will commission works exploring combinations of traditional Chinese instruments and folk elements. It is our hope that audiences will enjoy this inaugural season of performances as they embark on this extraordinary musical journey."
He was born in Chengdu, Sichuan province, and has taught at the San Francisco Conservatory of Music for more than 20 years. He says that, as a teacher, he not only wants to show students the techniques of playing their instruments in class but also wants to deliver the message of playing music with other people.
The repertoires for the inaugural tour have been decided by a team led by faculty members, including violinist Guillaume Sutre and flutist Gergely Ittzes.
"With music pieces from different eras and different styles, we want to display the power of chamber music. Though some of the pieces are rarely performed in concert halls, the audience will get a different perspective about chamber music," He adds.
"Our graduate students will have the opportunity to work and perform alongside our stellar group of resident faculty, recruited from seven different countries," says Alexander Brose, the executive director and CEO of the Tianjin Juilliard School.
The Tianjin Juilliard School project started in 2015, when first lady Peng Liyuan visited the Juilliard School in New York while accompanying President Xi Jinping on a State visit to the United States.
The Tianjin school hosted the inaugural class of its pre-college program, modeled on Juilliard New York's century-old pre-college program, on Sept 7. A total of 46 Chinese students from across the country enrolled. In the fall of 2020, the school's postgraduate studies program will be launched, offering three collaborative majors-orchestral studies, chamber music and collaborative piano. The Tianjin school's new campus buildings will also officially open at the same time.