Culture of China puts emphasis on international harmony
Share - WeChat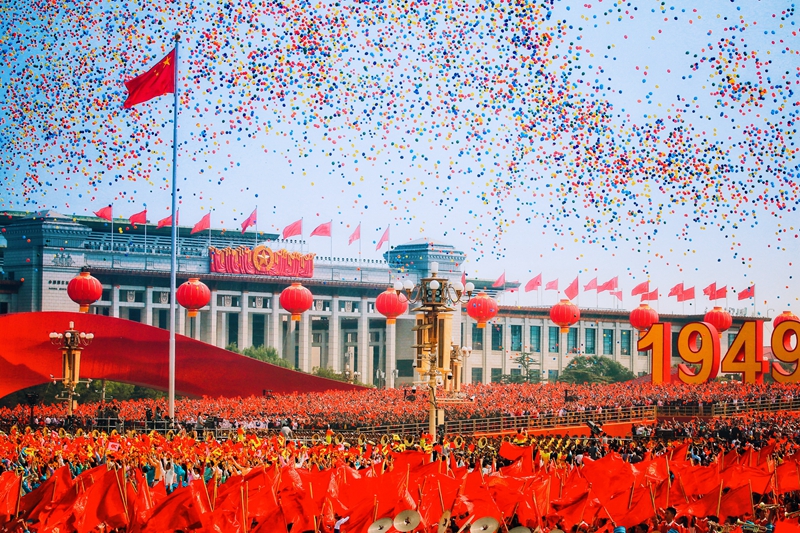 In 1964, I was privileged to attend the National Day parade to celebrate the 15th anniversary of the People's Republic of China's founding. This year, I watched the whole event from the China Global Television Network center in Beijing, where I was part of a team interviewed for comment.
The comparison between the two events showed me just how far China has advanced in the 55 intervening years and demonstrates even more the wonderful achievements of the PRC in economy, military power, society, culture and the confidence and spirit of the people.
There was much justified focus on military hardware, with its advanced technology, long-range missiles, drones and computer systems. The Western media portrayed it as something very frightening, but I think China needs to defend itself now more than ever.
The United States is adopting a much more hostile stance, with its trade war and ban on China's telecommunications giant Huawei. The Trump administration's National Security Strategy of December 2017 labeled China a "strategic competitor" and a revisionist power. This signaled its final rejection of the implied agreement between the US and China that the two countries would not treat each other as rivals. In my opinion, the US is more of a threat to China than the other way around. China has been at the forefront of peacekeeping forces and of using its military for natural disaster relief.
During the parade on Oct 1, President Xi Jinping made a speech emphasizing national unity and the need for stability, and the great advances the PRC has made in its 70 years of existence. What struck me most strongly about his speech was his vision of a bright and shared future for humanity, with China doing its part to contribute to this future. There was certainly a sense that China was now strong enough that it did not need to tolerate the kind of humiliation inflicted on it in the century and more that preceded the establishment of the PRC. But there was no sense of "China first", quite unlike President Donald Trump with his "America first" obsession; no feeling that China's rise meant domination or control.
Contemporary China is worlds away from 70 years ago. Not only is the country more influential in striving for a peaceful world, it is also much more prosperous. People's living standards are much higher, illiteracy and absolute poverty have been almost entirely eliminated, gender inequality greatly reduced, and the latest Gallup research suggests that Chinese are more satisfied than a decade ago, and about one in four urban dwellers rate their lives positively enough to be considered "thriving".
In economic terms, China has progressed more in a shorter time than any other country, to become the world's second-largest economy. Among numerous other advances, one I personally love and use frequently is the high-speed rail system, which is now by far the largest and best in the world.
What struck me most strongly about the parade was the atmosphere of exuberance and pride.
I, for one, do not begrudge the Chinese feeling their place in the world has been restored. They are making progress toward the perfectly reasonable Chinese dream of a moderate level of prosperity.
A few days before National Day, the State Council issued a white paper titled "China and the World in the New Era". It provided major background to the 70th anniversary celebrations.
According to the white paper, "Development is China's top priority." But there is also plenty about care for the environment, about a green economy, and about implementing the Paris Agreement on climate change.
Among the most persistent ideas to emerge from the white paper are that peace and development "remain the underlying themes of our times". China is contributing to this through its own development and by helping other countries achieve this goal.
So getting back to where we started - is all this progress a threat to other countries? - the white paper reaffirms that "China will never seek hegemony or pursue expansion". It says that "Chinese culture contains...the international view of harmony between all countries".
Let us take a long-range view of history. When Italian explorer Christopher Columbus undertook his westward voyage in 1492, he began the process of interconnection between the European and American continents that has affected history so profoundly. His voyages were followed, within a few decades, by large-scale conquest.
The China-proposed Belt and Road Initiative is promoting further interconnections across the vast Eurasian region that were impeded by politics for many centuries. Will that be followed by conquest? Historical experience lends no credence to such a suggestion, and I believe Chinese culture does indeed favor international harmony. Conquest is totally against China's interests, now or in the future.
The author is professor emeritus at Griffith University in Queensland, Australia. The views do not necessarily reflect those of China Daily.