Youth in ancient style
Share - WeChat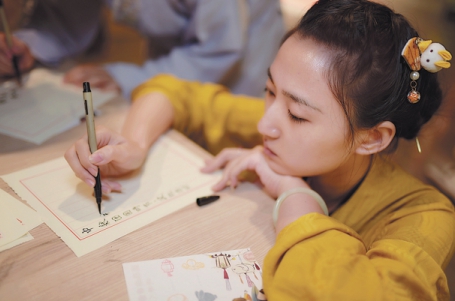 Costume revival
About 91 percent of China's population, or 1.2 billion people, are ethnic Han.
A report by the WeChat public account, Hanfu Information, says there were over 2 million active hanfu enthusiasts in 2018, a 73 percent increase over the previous year.
Their average age was 21, and over 88 percent were women.
Hanfu Information's report also found 129 brick-and-mortar stores selling hanfu in 25 provinces, municipalities and autonomous regions, and over 810 specialty shops on the e-commerce platform Taobao, a 24 percent increase compared with 2017.
Data from online retailer Tmall shows a 92 percent increase in the number of hanfu consumers in 2018 compared with the previous year. Women accounted for 87 percent of the purchases.
Many credit the rejuvenation to an electrician named Wang Letian, who wore hanfu on the street in Henan's provincial capital, Zhengzhou, one day in November 2003. His image went viral online.
"Since then, it has no longer been just a costume for dramas or portrait photography," Yang says.
Zhuang Shaoqing, deputy manager of the Beijing Hanfu Association, recalls the trend taking off.
"Ten years ago, if I saw someone in Beijing wearing hanfu, I probably knew their name because there were fewer than 100 people who wore it," says Zhuang. "But now, I wouldn't know 99 percent of them."
The nonprofit the 32-year-old exhibition curator co-founded in 2009 claims to be the capital's largest and oldest Han-clothing cultural association with over 600 registered members.
"About 30 or 40 people would attend our activities a decade ago," Zhuang recalls. "We worried too few people would show up.
"Now, we have to cap the numbers. Otherwise, there may be too many."
The Beijing Hanfu Association hosts such activities as public performances, lectures on etiquette and training in such traditional arts as calligraphy, needlework and handicrafts.
"We don't want hanfu to be just a piece of clothing … but also an expression of our national spirit and cultural heritage," Zhuang says.
Association member and activity organizer Xu Gangyu began to learn about hanfu when she was in high school.
"I'd blush six years ago when people on the street would stare at me when I wore hanfu, but now hanfu is commonplace," says the 24-year-old female computer engineer, who adds that she wears contact lenses, rather than glasses, with the traditional clothing to make her look more authentic.
Working with the association also helped her learn about traditional festivals, she says. For example, singles would court each other during Lantern Festival. And during Qixi, or "Chinese Valentine's Day", girls would show off their sewing and embroidery skills.