Major takeaways from Xi's South Asia tour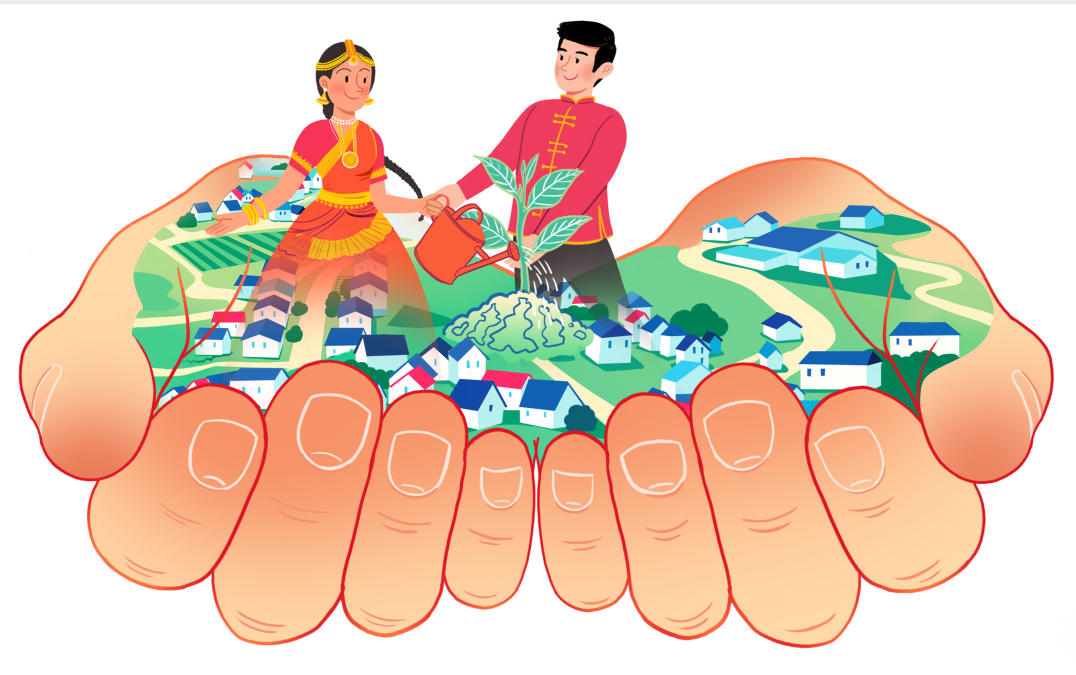 The visits of President Xi Jinping to India and Nepal from Friday to Sunday produced both tangible and intangible outcomes.
Among the tangible outcomes, Xi's second informal summit with Indian Prime Minister Narendra Modi not only showcased their camaraderie but also their shared commitment to improving bilateral relations. It reinforced their "Wuhan Spirit" forged after their first informal meeting in Wuhan last year with their "Chennai Connect" implying further strengthening of strategic communications to build a win-win partnership of these two large and rapidly transforming nations.
And of special significance for India was their decision to address the perennial challenge of the expanding trade deficit. This has impeded their enormous potential for economic partnership. For this, they have set up a new upgraded ministerial mechanism, the High-Level Economic and Trade Dialogue, which will explore the deployment of new tools such as increased investments and opening up of the services sector to ensure better trade balance. The two will also strengthen their joint initiatives in third countries.
Terrorism remains a common challenge for China and India, both of which have been victims of this menace, and the two leaders again stressed the need to address the twin challenges of terrorism and radicalization.
China and India will be holding their annual anti-terror military exercises in December and the two countries will soon hold the next round of their special representative talks to further strengthen border related confidence building measures.
The two also reiterated their "Astana Consensus" to ensure that their differences do not become disputes. Likewise, in order to broad-base their relations the two agreed to enhance people-to-people exchanges. Indeed, just like Prime Minister Modi's 2014 unilateral move to issue e-visas for Chinese visitors, the Indian embassy announced last week it will allow Chinese citizens five-year multi-entry visas.
The choice of venue for the meeting underlined the millennia long history of China-India ties. The 7th century Mamallapuram's connect to China had once seen a flourishing cultural, commercial, defense, security, people-to-people exchanges between the Tang (618-907) and Pallava (275-897) dynasties.
Also, next year being the 70th anniversary of the two countries mutual recognition, it brought a big-picture perspective to the leaders' exchange of ideas. All this must have inspired these two ambitious and decisive leaders to imagine their roles in their countries' long histories and brought home to them their common responsibility to rejuvenate their nations' past glories, as China and India led the world till their agrarian societies were overtaken by the 19th century industrial revolution in Europe.
As Prime Minister Modi said of this summit: "The Wuhan spirit gave a new momentum and trust to our relations. Today, our Chennai Connect will lead to the start of a new era of cooperation between the two countries."
China and Indian leaders may soon have their next meeting at the November ASEAN summit in Bangkok. Their rapport should help in early announcement of 16-nation Regional Comprehensive Economic Cooperation. As of now, China has been keen to an early conclusion of this world's largest free trade area while India has so far remained a reluctant partner with multiple concerns.
The second leg of Xi's trip was equally productive. It resulted in the signing of 20 documents and China's pledge of support to strengthen Prime Minister K. P. Oli Sharma's commitment to transform Nepal from a "land-locked" to a "land-linked" nation. Among other agreements, China and Nepal have agreed to begin conducting a detailed project report for a 72-kilometer trans-Himalayan railway link between Kyirong and Kathmandu and to upgrade the Arniko Highway linking Kathmandu to the Tatopani transit point, which was damaged in the 2015 earthquake.
That year also saw Nepal having difficulties with New Delhi. India's concerns about Nepal saw incumbent prime minister K. P. Oli Sharma being re-elected in 2017 under the banner of national assertion and the signing of a memorandum of understanding on China's Belt and Road Initiative that has since facilitated Oli's fine tuning of Nepal's balance between India and China. Xi's visit to Kathmandu will go a long way to ensuring the success of Nepal's balancing act.
The author is a professor on international studies at Jawaharlal Nehru University (New Delhi) and adjunct senior fellow at The Charhar Institute (Beijing). The views don't necessarily reflect those of China Daily.
Most Viewed in 24 Hours
China Views