Remarks by Ambassador Liu Xiaoming at the 21st Century China Forum: Take the Lead in Open Cooperation on Innovation and Deliver Win-Win Results
Share - WeChat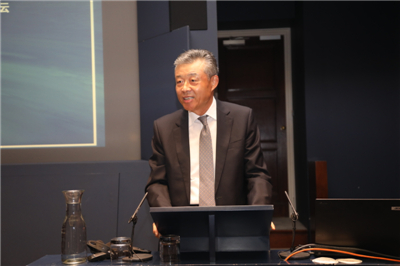 Vice Chairman and President Chen Zhu,
Professor Richard Catlow,
Lord Bates,
Ladies and Gentlemen:
Good morning!
It is a real delight to join you at the time-honoured and prestigious Royal Society for the 21st Century China Forum. This is the 17th such event hosted by the Western Returned Scholars Association. Let me begin by extending a warm welcome to Vice Chairman and President Chen Zhu and his delegation!
The world we are living in is undergoing profound changes unseen in a century. As the new round of scientific and technological revolution and industrial transformation unfold, the integration of technology and finance is having an extensive and far-reaching impact on the development of the world.
This is a particularly opportune moment for intellectuals and entrepreneurs from both China and the UK to come together and focus on the theme of cooperation in "Technology and Finance".
Ten days ago, we celebrated the 70th anniversary of the founding of the People's Republic of China. The past 70 years witnessed China's miracle in the history of human development, from gaining independence to becoming prosperous and growing strong.
In this process, China has achieved fruitful results in science, technology and innovation. It now leads the world in quantum communication, super-computing, aerospace, artificial intelligence, 5G network, mobile payment and high-speed rail.
In the past 70 years, China also achieved remarkable success in the financial sector. We have established a well-rounded macro-regulatory system, an effective supervision framework, a complete institutional network, and an effective financial market.
China's development is not only an achievement for China itself but also a contribution to the whole world. China has been committed to opening its market wider to the world and deepening mutually-beneficial cooperation with other countries. This means China's progress in science, technology and innovation has delivered benefits to the people of the whole world. China has lived up to its responsibility as a big country, standing firm during the Asian financial crisis of 1997 and the international financial crisis of 2008.
The future is promising for China's development. Going forward, we will continue to follow the strategy of open and win-win cooperation, and we will continue to open our markets in more areas and at a higher level. This will create more opportunities for cooperation between China and other countries to ensure that the benefits of development will be shared by all.
Ladies and Gentlemen:
This year marks the 65th anniversary of China-UK diplomatic relationship at the chargé d'affaires level. In the past 65 years, China-UK relationship has achieved great progress despite winds and rains.
In 2015, President Xi Jinping paid a successful state visit to the UK, which ushered in the China-UK "Golden Era" and charted the course for China-UK cooperation across the board.
The tenth China-UK Economic and Financial Dialogue concluded last June saw 69 outcomes reached in financial services, innovation and other areas. This has given a fresh boost to deepening cooperation between our two countries.
In my opinion, China-UK cooperation on science, technology and financial services bears three salient features and faces three important opportunities:
First, our cooperation has a solid foundation.
Since the governments of our two countries signed the Science and Technology Cooperation Agreement in 1978, China-UK cooperation on science and technology has been deepening over the past 41 years. In 2017, our two countries issued the China-UK Joint Strategy for Science, Technology and Innovation Cooperation. This has facilitated more fruitful cooperation. The UK is now China's second largest partner in scientific research.
Financial services sector is the most vigorous and promising in China-UK cooperation. The UK is the first major Western country to issue RMB sovereign bond and the first to apply to join the Asian Infrastructure Investment Bank. London is now the world's largest RMB offshore trading centre and the second largest RMB offshore clearing centre outside China. Last June, our two countries successfully launched the Shanghai-London Stock Connect, which for the first time connects the Chinese and a foreign capital market.
Second, our cooperation has the benefit of complementary strengths.
The UK, as the cradle of the Industrial Revolution, is strong in science and technology. It is also known for its rich experience, unique culture and capability in innovation. China is strong in engineering, and has a rich talent pool and a vibrant ecosystem for innovation and entrepreneurship. It also has a huge market.
In financial services, London is a world-leading financial centre, with a time-honoured history, rich management experience and adequate professionals. China is accelerating the opening up of its financial sector. Last July, it announced a number of new opening-up measures.
With these complementary strengths in science, technology, innovation and financial services, China and the UK working together will achieve multiplying effect.
Third, our cooperation enjoys a promising future.
Against the backdrop of Brexit, the UK chose to build a "global Britain" and follows an industrial strategy centred on innovation.
China is pursuing innovation-driven strategy as it enters a new era of development. High-level innovation and a high-calibre labour force will be the new drivers of China's economic and social development.
Going forward, China and the UK have enormous potential in their cooperation on sustainable development, climate change, clean energy and the Belt and Road Initiative. Enhancing cooperation in these areas will give wings to the development of our two countries and make greater contribution to the development of the world.
As new technologies continue to make progress in recent years, traditional financial models are undergoing profound changes. FinTech, which combines technology and financial services, is playing an important role in improving the efficiency of financial services and promoting inclusive finance. It is becoming a new area for China-UK cooperation and it is creating new opportunities.
China has a vibrant ecosystem for FinTech innovation and entrepreneurship. The market is huge, and there is a particularly strong growth momentum in mobile payment and online loans. The UK has rich experience in consumer finance, digital banking and big data analysis. It is also the birth place of effective "regulatory sandbox".
With these complementary strengths, China and the UK could work together to give more support and guidance to FinTech companies and take the lead in international rule-making to facilitate the growth of FinTech. We could also explore innovative solutions for the global digital economy, especially to promote digital financial inclusion in developing countries. This will be win-win for our two countries and for the world.
Ladies and Gentlemen:
At the 100th anniversary of the Western Returned Scholars Association in October 2013, President Xi Jinping said, "Innovation is the soul of the progress of a nation and the inexhaustible driving force behind the prosperity of a country."
China and the UK both attach great importance to innovation. As major countries of global influence, our two countries should follow the trend of our times, stay committed to innovation and openness, deepen our win-win cooperation, and take the lead in international cooperation on innovation. Working together, we can deliver more benefits to the people of our two countries and to the people of the world.
In conclusion, I wish today's Forum great success!
Thank you!