Instrumentalist helps people understand 'celestial beauty' of Chinese pipa
Share - WeChat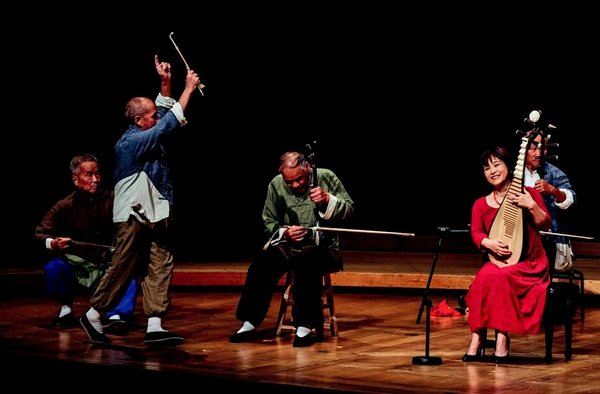 Exploring Roots of Traditional Chinese Music
The longer she lives in LA, the more eager Wu is to promote traditional Chinese music worldwide. She never forgets her roots — the treasures that define who she is, and from where she comes.
Early in 2006, Wu was overjoyed when officials of Carnegie Hall (one of the world's most prestigious music venues, in Midtown Manhattan, in New York City) asked her to help them produce two traditional-Chinese- music -themed concerts within two years. Within a short time, she began laying the groundwork for the concerts. She made special trips to remote rural areas in Shanxi (in North China) and Shaanxi (in Northwest China) provinces, to watch folk musicians' performances and to explore the origin of the traditional Chinese folk music, so she could display the music's unique charm to audiences outside of China.
"It was quite an interesting experience when I played, with my pipa at Carnegie Hall, the tunes of Shaanxi opera (Qinqiang) and of shadow play in 2009. I invited the Huayin Shadow Puppet Band, from Shaanxi, to perform a shadow play in the hall. Many of the spectators were fascinated by the unique charm of the traditional Chinese culture," recalls Wu.
Promoting Pipa on Global Stage
In recognition of her virtuosity and collaborations across disciplines, Musical America in 2013 named Wu "Instrumentalist of the Year," marking the first time the prestigious award was bestowed on a player of a non-Western instrument.
In 2017, Sing Me Home, produced by Wu and other members of Silk Road Ensemble, earned them the Best World Music Album during the presentation of the 59th Grammy Awards . Wu composed
Green (Vincent's Tune), the album's first melody, based on a tune created by her son. By drawing inspiration from the tune, which her then-four-year-old boy often hummed, Wu created the melody. She named the tune "Green," to praise the beauty and exuberant vitality of spring, a season as vigorous and enthusiastic as a four-year-old.
Most Popular