If the Yellow River's estuary is calling, it must be Autumn
Share - WeChat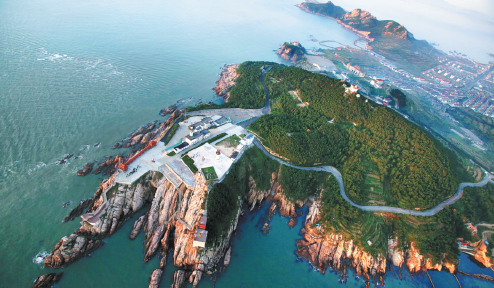 It's the time when guests, winged or not, throng the wetland and give it a vibrant hue
As we approach mid-Autumn, the Yellow River estuary ecotourism area, where China's second largest Yellow River flows into the Bohai Sea, transforms into a popular tourist destination, with visitors arriving to watch other, winged, guests and take in the wetland's vibrant and colorful landscape.
Dongying city in East China's Shandong province, just five hours' drive from Beijing, is a good stopover choice for a self-driving travel along the province's north coastline.
Covering 153,000 hectares, the Yellow River estuary area is home to more than 1,600 types of wild animals, including 368 kinds of birds. Among them, 12 species of birds belong to the most protected clan in China. It also boasts of more than 390 varieties of plants spread over 55 percent of the area.
In autumn, a vast expanse of reeds dot the shining water surface with flocks of widgeons and spotbilled ducks flying over. There are also egrets twittering in the woods and whooper swans resting on the lake, making the area one of the most beautiful wetlands in China.
Drive east from the area and you reach Binhai district of Weifang city, which has the world's biggest shaftless Ferris wheel.
Due to nice wind conditions and seaside views, the district is an ideal coastal venue for the annual international kite festival, which sees over 30 countries and regions attending.
Bordering on the east of Weifang is Yantai, a city with a 909-km long coastline dotted with a few famous tourist sites.
Among them is the Penglai Pavilion, built during the Song dynasty in the 11th century and expanded into a 100-hectare complex with moats during the Ming dynasty (1368-1644).