If the Yellow River's estuary is calling, it must be Autumn
Share - WeChat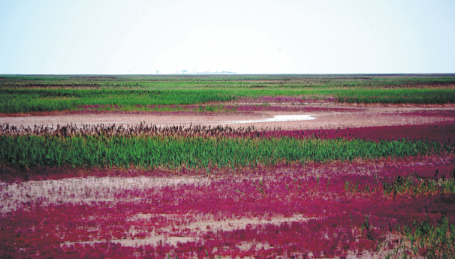 Penglai is widely known to the Chinese as a place where eight immortals set out in search of the lands of eternity. For those with children, Penglai Ocean Aquarium is adjacent to the pavilion and claims to be one of the biggest aquariums in Asia.
Taking ships at Penglai, tourists can reach Changdao, which has 32 picturesque islands, of which 10 are inhabited. A three-and-a-half hours' yacht ride can take tourists to some uninhabited islands in the deep sea.
Taking the coastline highway, tourists can reach scenic spots, including the Yantai Mountain, famous for its century-old architecture; the Piano Museum where around 300 ancient pianos showcase how the piano culture developed in the western countries; and Yangma Island, where tourists can appreciate the sea view by driving along the 37-km long round-island highway.
Seaside restaurants are there, serving fresh seafood.
To the east of Yantai is Weihai, a city whose air quality takes the lead among coastal cities.
Coastline at Weihai is dotted with Liugong Island which has been an important strategic location since the Qing Dynasty (1644-1911) and known as the "birthplace of China's first modern navy", the 500,000 square meter pine-covered areas where tourists can relax in hot springs and the seaside wild animal zoo.
The Chengshan Mountain Head located on the most eastern point of the coastal province is said to be the place in China where one can view sun rise at sea at the earliest. Tourists can even travel the southern coastline of the province to appreciate more attractions.
zhaoruixue@chinadaily.com.cn