A toy story in Chinese culture
Share - WeChat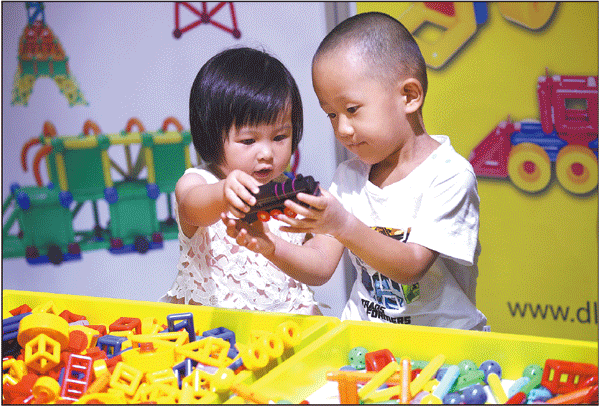 Branding and original design are prerequisites for Chinese toy manufacturers to add Chinese cultural elements to toys.
Even after two months, Wang Zhenhua is furious with the tour guide at Hemudu Neolithic cultural site in Zhejiang province for opening her remarks on the ancient Chinese mortise-and-tenon joint (sun mao) culture by asking the 30-odd about-12-year-old visitors whether they have played with Lego building toys.
"The mortise-and-tenon joints that Lego uses are primitive. They are ... much coarser and soulless compared with the ones unearthed in Hemudu," he says. "It's a pity that young people today know so little about Chinese sun mao culture."
Partly driven by a longing to help spread sun mao culture, an architectural technique known for its nail-less joints, Wang, a 61-year-old intangible cultural heritage inheritor in Shanghai's Minhang district, is committed to making toys that will help Chinese children embrace the wisdom and exquisiteness of the culture.
Daredevils lead the way
Wang's lament over the lack of toys reflecting Chinese culture does not come out of thin air. China is the world's biggest toy producer and exporter - and the second-largest toy consumer, after the United States.
Yet Chinese toy makers, despite being good at bulk production, lag far behind the world's leading toy makers such as Mattel, Hasbro and Bandai in design, research and development. In the top-end of the toy market, few Chinese brands have been able to carve a niche for themselves.
"When buying ten-cent toys, I would not buy labels. But when picking up expensive and sophisticated toys, I tend to go for foreign brands since they seem more reliable given their decades-old history," said Jiang Fei, a mother of two.
Apart from being poor at branding and design, many Chinese toy companies also find themselves caught in price competition and lag behind in intellectual property protection awareness. For example, in late April, police busted the Shenzhen-based Longjun Toy Factory for counterfeiting Lego products in a scandal involving more than 200 million yuan ($28 million).
But changes are underway. Some Chinese toy makers, after realizing the disadvantages of being low-profit and unsustainable manufacturers for the lack of original design, have aspired to climb up the toy industry's value chain. Alpha Group, a leading domestic animation and toy producer, is one such company. Kingson Cai, general manager of Alpha Group's Global Product Center, said: "If the company had not chosen to go global and build its own brand in the international market more than 10 years ago, the room for its growth would have been much smaller, because as China's demographic dividend wanes and the labor and raw material costs surge, the drain on toy makers is becoming increasingly serious."
"Now, Alpha group owns a number of patents in animation, as represented by Xiyangyang (Pleasant Goat and Big Big Wolf) and Super Wings, which have boosted its toy sales. The company is one of the few Chinese brands that have been recognized by the international toy industry," Cai said.
Most Popular