Lin can't wait to play
Share - WeChat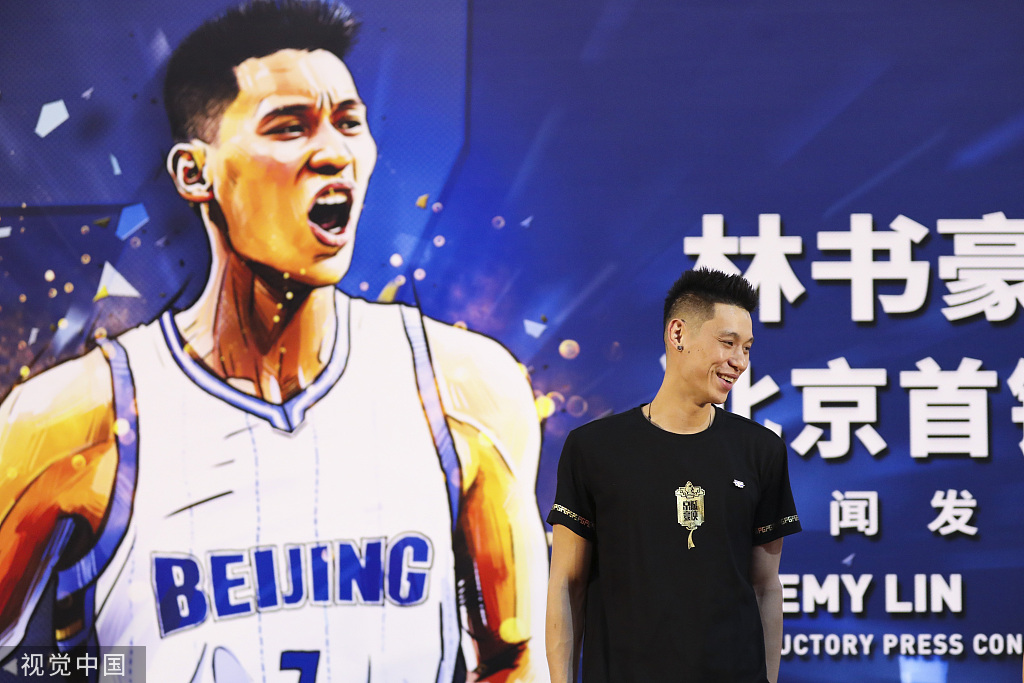 Former NBA star anxious to debut with Beijing Ducks
Having brought his talent here after nine turbulent NBA seasons, Jeremy Lin isn't ruling out the possibility of one day representing China internationally.
Seven years after inspiring "Linsanity" as a member of the New York Knicks and months after becoming the first Asian-American player to win an NBA title as a member of the Toronto Raptors, Lin is focused on his new high-profile role with the Chinese Basketball Association's three-time champion Beijing Ducks.
"My goal is trying to be the best player I can be while playing a leadership role to help my teammates become better," the 6-foot-3 point guard said at his introductory media conference on Thursday.
After going through a frosty free agency during which he was shunned by NBA teams, on Aug 27 Lin, who was on the Raptors' championship roster last season, signed a one-year contract with the Ducks worth a reported $3 million.
Born in California to parents with family roots in China, Lin's move to the CBA has raised hopes he might one day represent the country as a naturalized player.
"It's definitely something that has always been on my radar," said the 31-year-old Harvard graduate, who speaks fluent Mandarin and enjoys a huge fan following in China.
"The best way I can describe it is that it's a very, very complex decision. It's really not a decision one person can make," Lin added.
"It's something I have considered and something I'll continue to consider. But right now I am really focused on the upcoming season with the Ducks and staying healthy."
Naturalizing foreign-born players to bolster the national program is nothing new, as the Chinese Football Association has recruited former Brazilian striker Elkeson and London-born midfielder Nico Yennaris to the Team China roster for the 2022 World Cup Asian qualifiers.
The host's disappointing performance at the recent FIBA World Cup, which saw Team China fail to advance to the second group phase while losing a direct berth to next year's Tokyo Olympics, has triggered debate over the need for naturalized players in the basketball program.
Lin said his immediate goal is to help the Ducks regain their status in the CBA.
"Going through a lot of injuries like I have, I don't think too far down the road anymore," said Lin, who played for eight NBA franchises over nine seasons after joining the Golden State Warriors in 2010 as an undrafted player.
"I just take one day at a time and one season at a time. My focus right now is right here."
After leading the Knicks to a seven-game winning streak in 2012 with an explosive combination of scoring and playmaking, Lin, who was on the brink of being waived by New York, ignited the "Linsanity" craze that later earned him a two-year contract with Houston Rockets, former team of CBA chairman Yao Ming.
A series of injuries took a heavy toll on Lin's performance, forcing him to sign a series of one-year contracts until splitting last season between the Atlanta Hawks and Toronto, where he was rarely used off the bench.
During the Raptors' 4-2 Finals win over the Warriors, he played just 51 seconds.
"This is the healthiest I've been in three years and I've worked hard in the offseason on my strength and speed so I can play the way I know I can," said Lin.
"I understand the expectations are high and I will embrace a big role in leading the team. I feel like the Ducks, with the way they play as a team, are the perfect fit for me as a franchise."
For the Ducks, Lin's arrival is certain to translate into a higher profile for the team-on and off the court.
"Jeremy is bringing the quality of not just a great player but mostly a great person," said Ducks head coach Ioannis Christopoulos.
"I think his presence will help all of us to become better."
Most Popular
Highlights
What's Hot